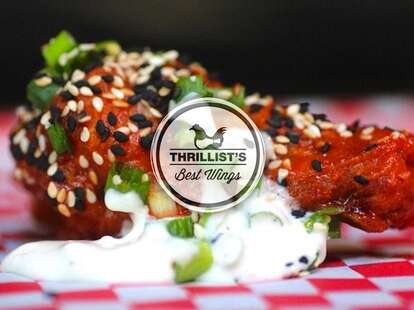 The very best Wings... is obviously the episode where Joe and Helen finally get married. Or maybe the one where Lowell goes into witness protection, or... aargh, there're so many good ones it's impossible to choose! Picking the very best chicken wings, on the other hand, is easy: it's gotta be someplace in the International District that makes 'em, right? But what about the ones by super-chef Tom Douglas? Aargh, forget it -- just check out Thrillist's list of Seattle's best wings, below:
Cha:n
Downtown
A plate of these spicy, reddish-colored fried chicken wings w/ a chili caramel glaze, peanuts, and scallions only costs four dollars, but you'll probably want 16 bucks worth... either 'cause they're just that good, or because... um, there's only three on a plate? Yup.
Tat's Delicatessen
Pioneer Square
These dudes are known for repping Philly with their cheesesteaks, but they're making Buffalo proud with authentic-style wings fried crispy, and served either regular or hot.
Slim's Last Chance Chili Shack
Georgetown
Besides serving five kinds of their titular dish, this dive-y SoDo spot has got crispy poultry parts smothered in their smokey, signature wing sauce, and served with a house-made blue cheese dressing.
Palace Kitchen
Belltown
Tom Douglas' smokey hot-pepper wings w/ cilantro sour cream are what he calls "He-man" sized, and they definitely have the power of Greyskull to satisfy any late-night craving.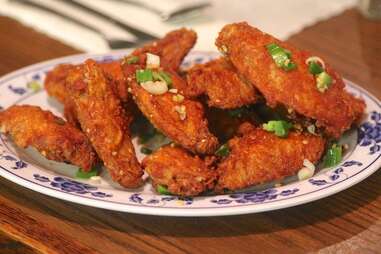 Roxbury Lanes
White Center
The Chinese-style jointed wings will... waitforit... bowl you over with their sweet, garlic-heavy flavor, and with the fact you've gotta hit this old-school bowling alley to get 'em.
663 Bistro
International District
Try the slighly spicy/garlic-y bits of flightless bird at this ID mainstay and you'll understand what the rapturous reviews of their deep-fried Pepper Salted Chicken Wings are all about.
The Attic Alehouse & Eatery
Madison Park
This Madison Park mainstay makes classic Buffalo-style wings that're spiced with a house-made marinade, served with a house-made blue-cheese dressing, and topped with toasted sesame seeds. Oh, and they come in BBQ and teriyaki too.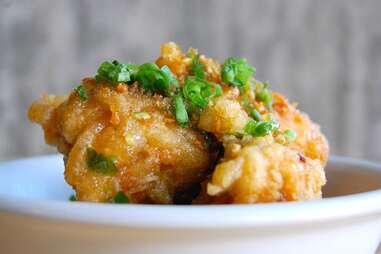 TanakaSan
Belltown
Just like the other T-Doug wings on the list, these suckers are huge, plus they come in two flavors (smoked chili w/ kimchee ketchup, or salty caramel, serrano & garlic), and are fried about the same number of times you actually watched Wings: twice.