Like most North American cities these days, many of Seattle's most exciting Xi'an noodle spots and curative Yunnan soup purveyors sit in the suburbs, but the traditional home of Chinese food, the Chinatown-International District, stays relevant and still holds the highest concentration of excellent restaurants. Big-budget modern regional Chinese chain outlets share streets with old-school chop suey spots, and takeout dim-sum counters are interspersed with all-you-can-eat premium hot pot vendors. It's a far cry from a generation ago, when most Americans outside the Chinese diaspora barely understood the difference between Americanized Chinese food and the cuisines of China.
Food writer Hsiao-Ching credits more people traveling, or even exploring other cultures from their couches. "What's on TV, Tony Bourdain… even people on YouTube, broadcasting from wherever they are," she says. "That has opened up the access to these regional cuisines and ingredients, created a broader demand and customer base."
When Chou's parents first moved to the US and opened a Chinese restaurant in 1980, traditional dishes didn't sell. The author of Vegetarian Chinese Soul Food jokes that "Cashew chicken paid for my college education," and notes that customers favored Americanized options and only tried the more traditional dishes her family cooked, like dry-fried string beans, when served buffet style.
Now, Chou relishes in the variety, and even resents the idea of picking favorites. "There are different types of restaurants, and they will fulfill different types of needs, and the type of food that you want," she says.
Any list of favorites can only barely scratch the surface of including every spot and style in the International District worth enjoying a meal at, especially when it comes to honoring the neighborhood's long history. "Regardless of any particular cuisine, being able to run a business for decades in this market, that's to be celebrated," says Chou. So consider this a pupu platter of International District Chinese restaurant options: a few tastes before you dig deeper into the near-infinite menu.

One of the first Chinese hot pot chains to come to the Pacific Northwest recently re-opened in the ID with a remodel and a rebrand of-sorts. Originally an outlet of Little Sheep Mongolian Hot Pot, a large, well-known chain from China, it is now Happy Lamb, a new brand that the original founder of LSMHP began to distance the overseas restaurants from the China-based chain sold to Yum! Brands (KFC, Taco Bell) a decade ago. But business dealings aside, the re-opened restaurant features all-you-can-eat hot pot, served via checklist menu. It's not quite up to the glitz and glamor of the new high-end chains in town, but the significantly lower prices (and endless quantities) more than make up for that, and specialties like the Seven Star Pepper Beef Tallow broth and cilantro lamb meatballs, as well as a stocked sauce bar keep it well above the budget spots.
This classic Cantonese seafood spot draws customers with big, flavorful family-style dishes of high-quality that catch eyes as they come flying out of the kitchen. Prawns and scallops in crispy bird's nest, abalone with black mushrooms, and seafood sizzling rice pair up with staple dishes of the cuisine, including mustard green soup and pea vines with garlic sauce. Always a favorite for celebrating, Ho Ho's Holiday set menus and seasonal specials feature dishes like Peking duck and king crab.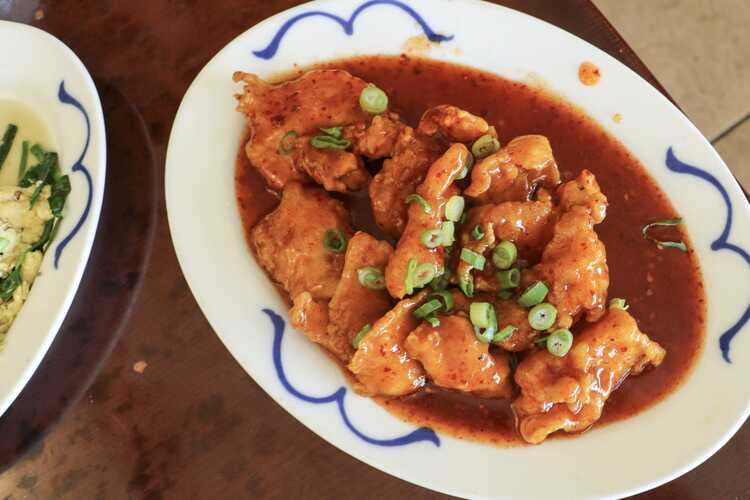 Sichuanese Cuisine

| Ivana Thng/Flickr
This little strip mall spot, serving up Sichuan dishes including hot pot, mapo tofu, and dan dan noodles, embodies that longevity of which Chou spoke. Though Chou notes that it first found fame for serving absurdly low-priced and enormous plates of dumplings—then and still on the menu as "Sichuan Ravioli''—the sprawling menu covers the whole gamut of Sichuan favorites, including the innocuously named boiled fish, couple's beef, and the pork and clear noodle dish of ants climbing the tree.
This showy outlet of the California mini-chain gives Seattle diners the chance to try the specific style of Sichuan cuisine hailing from Chengdu and its many spicy specialties—often with a creative flourish or a twist on the traditional. More than anything, the food here gives flavor freedom to go big: The boiled fish comes in zingy green pepper sauce, the mapo tofu buzzes with the Sichuan peppercorns, and the chili oil lights mouths on fire.
Seattle's two recent waves of regional Chinese food brought Xi'an food and Hunan cuisine to the city, but while the former hasn't shown up in the ID yet, this outlet of a California restaurant brought the latter in a flashy, fiery way. While the eponymous dish looks great on the table, the best tastes of the region's spicy, sour, and strong flavors come from the specialties menu: the sauteed pickled beans with diced lotus root, preserved eggs with eggplant and green pepper, and sauteed shredded beef with wild pepper.
The Northwest's homegrown competitor to Taiwanese mega-chain Din Tai Fung for Shanghai-style dumpling supremacy, the modern, swanky flagship location also competes with Din Tai Fung on another matter—the wait. "I'm really impatient about standing in line," laughs Chou. "But they're delicious." And so people continue to line up for the crisp-bottomed, fluffy Q-bao (sheng jian bao) and rich, soup-filled xiao long bao.
Since its opening in 2003, this dim sum restaurant earned its laurels by meeting the long lines of siu mai-seeking Seattleites with a steady stream of consistently good dumplings, rice noodle rolls, phoenix claws, and all the other classics of the morning meal. Consistency, notes Chou, is one of the biggest struggles for Seattle's Chinese restaurants—things change, chefs move around. But through it all—and for almost 20 years—Jade Garden has been the dim sum darling.
"Hot pot is generally a communal dish," notes Chou, "But there are some times you just want something comforting. You can go in, you can sit by yourself, enjoy a little mini-hotpot, and it's so soothing." The chain out of California serves about a dozen variations of personal bubbling soups including Taiwanese spicy Korean bean paste, and milk cream curry, each filled with a different selection of meats, noodles, vegetables, and assorted toppings to match the flavor.
The city's oldest Chinese restaurant, started in 1935 and now run by the third generation of the same family, serves foods shaped by the same forces that Chou remembers from when her parents opened their restaurant almost 50 years later. Time seems to slow down here, where the specials hang on paper slips on the wall and the retro rooms match the old-school Chinese American food like chop suey, egg rolls, and egg foo young, all made with care and fresh ingredients.
The big menu and long hours of this 300-plus-dish, little-bit-of-everything restaurant might raise worries of the kitchen spreading themselves too thin, but they manage to do just as well at putting out dim sum in the middle of the night as they do hot pot at lunchtime. It also serves classic Cantonese dishes, simple noodle soups, Hong Kong-style adapted specialties like baked spaghetti and borscht, and milk teas—and somehow manages to do a good job at nearly everything.
Ping's Dumpling House & Market

| Shin OGATA/Flickr
This tiny dumpling shop started out as a mini mart, but soon people flocked here mostly for the freezer full of home-made dumplings. Over time, the dumpling operation took over more and more of the space, eventually becoming the full-fledged restaurant of its current incarnation. Though it earned a reputation for making Shanghai-style soup dumplings before any of the bigger players came to town, the owner—and the best dishes on the menu—actually hail from Qingdao, including street food, meat skewers, and many other varieties of dumplings.