Homer once famously said, "Sing, o muse, of the rage of Achilles, son of Peleus, that brought countless ills upon the Achaeans." Another Homer once said, "Donuts. Is there anything they can't do?" Guess which one this roundup is about? Yep, here are Mr. Simpson's five favorite Seattle establishments:
Daily Dozen Donought Company
Downtown
The Must-Get Donut: Sprinkled.
It's worth braving the throngs of tourists inside Pike Place Market for a dozen of these always hot-out-of-the-oil mini donuts, the best of which are chocolate- & sprinkles-topped, but the pro move is to grab a mixed bag for just under a buck.
Top Pot
Downtown/Capitol Hill/Wedgwood/Bellevue Square/Pioneer Square
The Must-Get Donut: Apple Fritter
Seattle's dominant donut-purveyor and a Food Network favorite, Top Pot specializes in classics like apple fritters, maple bars, and sprinkled cake donuts that're wayyy better than the ones from the grocery store you grew up on, and... um, are now available in lots of area grocery stores.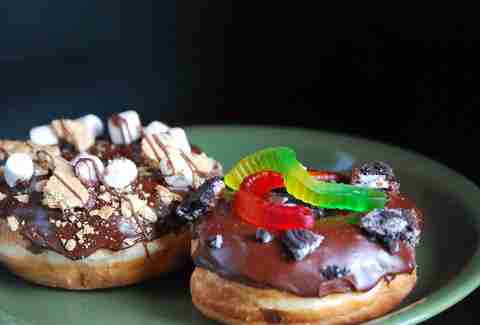 Legendary Doughnuts
Auburn/Tacoma
The Must-Get Donut: The Oreo & Gummy Worm Donut
Sure, they're in... ugh, Pierce County, but they've got three different donut levels: Amateur, which is a plain donut with frosting; Famous, which includes simpler toppings; and Legendary, which involves things like bacon and, yes, gummy worms & Oreos AT THE SAME TIME!
Mighty-O
Tangletown/Served at Caffe Vita shops across town
The Must-Get Donut: The French Toast
Mighty O's donuts are (gasp!) vegan… something you'd never believe by biting into their dense cake-y delectables, like this one with cinnamon, cardamom, coriander, ginger, orange peel & maple syrup.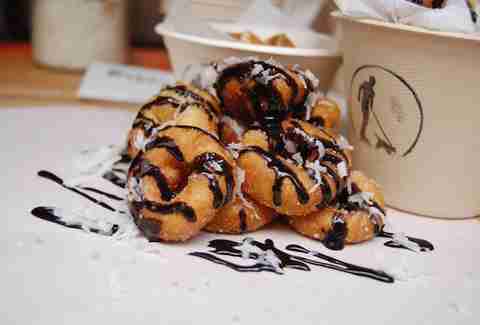 Street Donuts
Mobile
The Must-Get Donut: Chocolate & Coconut
This tow-able jet-black donut dispensary slings fresh mini-rings by the bowl-full, then tops 'em with various sauce/ dusting combos like mango chocolate & coconut, or Nerds candy dust w/ vanilla pudding sauce.