It's been over a month since 2016 started, so it's about time to start breaking your New Year's resolutions, especially if they involve not eating delicious pieces of fried dough from James Beard nominees, a teriyaki shop, and every other spot listed below.
Downtown
All day long inside a tiny stall in the heart of the always-teeming Pike Place Market miniature rings of dough are plucked from a bath of hot oil by an aging Donut Robot (Mark II!) and served almost immediately, still hot and deliciously greasy. Sure, they only come in four flavors -- plain, tossed in sugar or cinnamon, and chocolate-sprinkled -- but they are so good you'll want at least... wait for it... a dozen!
Downtown (& other locations)
We'd be remiss not to include this critically acclaimed donut slinger: with 17 locations in the greater Seattle area Top Pot is dominating the PNW... and your belly. Our sprinkle-loving hearts rejoice.
Northgate
Located up in Northgate, this nondescript strip mall donut shop is a mom-and-pop donut haven for crullers and fritters galore. Straight and simple, the donuts here are legit and the selection is vast. Family Donuts also has a location in Lynnwood, should you find yourself in that neck of the woods.
West Seattle
A couple blocks from the Vashon Ferry dock in South Seattle lies a bakery with donuts so mouthwatering it's well worth the trek. The Original Bakery's daily donut selection includes apple fritters, bismarks, maple persians, and much more, but you're there for the specials. Swing by on a Wednesday for French Cruller Wednesday, Friday for applesauce donuts, and Thursday and Saturday for buttermilk donuts so good you'll want to take one or two for the road.
Ballard (& other locations)
You know the spiel -- these donuts are vegan AND the real deal. Well-loved on a ton of Food Network shows, Mighty-O has three brick-and-mortar locations but its donuts are carried in a lot of cafes about town( like Caffe Vita), so you're never too far from one of the delectables, including a French toast donut, the Cocoloco, lemon poppy, and more.
Auburn (& other locations)
Sure, they're in... ugh, Pierce County, but they've got three different donut levels: Amateur, which is a plain donut with frosting; Famous, which includes simpler toppings; and Legendary, which involves things like bacon and, yes, gummy worms & Oreos AT THE SAME TIME.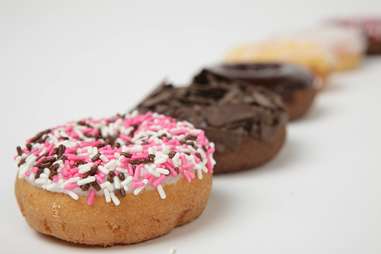 Bellevue (& other locations)
It started as a suburban donut shop before quickly expanding to,,, ugh, Everett, and more recently to uuuuuuuggggghhh, Bellevue. And although the menu includes cupcakes, you're there for the 18 daily flavors of fried dough ranging from classics like the Old Fashioned Glazed to the Butterfinger Blast covered in chocolate and this candy bar you've probably heard of.
Capitol Hill
One of three new Cap Hill spots (the others are a steakhouse and an oyster bar) from the women behind The Walrus & The Carpenter, The Whale Wins, etc., GP is turning out donuts made with fresh eggs from La Ferme des Anes and filled with handmade jams, jellies, custards, creams in classic flavors, all of which were inspired by the owner's trip to famed London restaurant St. John.
Rainier Valley
It wouldn't matter if the donuts here weren't any good (however, they are great), this unique spot would make the list if only because you can also get some of Seattle's best teriyaki. AND do your laundry.
Various locations
One of the few donut trucks that's still on the streets, this mobile dough house does fresh minis in flavors ranging from maple & bacon, to some flavored with bourbon and other types of booze, which is what you'd have to be drinking to pass on the maple & bacon number.
Ballard
This former pop-up sells fresh-from-the-frier treats daily until they run out, which they pretty much always do because these brioche-based suckers -- topped with one of a dozen fresh-made glazes and made using local ingredients -- are possibly The Town's best new(-ish) donuts.
Love free donuts? Find out where to stock up for this year's National Donut Day on Friday, June 2, 2017.
Sign up here for our daily Seattle email and be the first to get all the food/drink/fun in town.
Bradley Foster is former Thrillist editor who is waaaayyyy too familiar with Seattle's donut options.