Summer in Seattle is great, but for the sake of this slightly dubious introduction to an article about ice cream, let's just go ahead and agree that the real reason Seattle summers are amazing is that it's the one time of year absolutely no one will judge you for eating entire pints of ice cream. Delicious, artisan ice cream... preferably from the 11 local shops below that we wholeheartedly endorse.
Recommended Video
This Pizza Dip Lets You Throw a New Kind of Pizza Party
Capitol Hill (& other locations)
This oh-so-artisanal "Microcreamery" boasts three locations where they serve the usual coffee/frozen dairy desserts. But since 2014 -- when they were inspired by a beer-flavored ice cream created in collaboration with their Capitol Hill neighbor, Elysian Brewing -- Bluebird has been brewing its own beer and craft sodas (often in dessert-appropriate flavors) and serving 'em in their shops. So, in other words, screw the root beer float.
Capitol Hill (& other locations)
When it opened over a dozen years ago, CR was Seattle's first cupcake bakery (now there are six spots spread throughout the city). Killing the individual baked goods competition apparently wasn't enough, so last year the crew launched one of Seattle's best donut operations, and before that, started slinging seriously next-level ice cream available in a selection of rotating flavors ranging from the standout red velvet cupcake, to coffee with dark chocolate ribbon, made with Stumptown's Hair Bender brew.
Ballard (& other locations)
Started in White Center in 2008, FT's four locations are worth checking out for the old-school video game/pinball machines lining the walls, as well as the solid selection of Northwest beers on tap, and the eclectic collection of tunes bumping in the background. But then, there is the ice cream: rich, creamy stuff that's still light enough to make you eat more than you should, and is available in an array of sometimes-too-creative flavors ranging from bourbon maple walnut and coffee Oreo, to peanut butter & jelly and strawberry basil.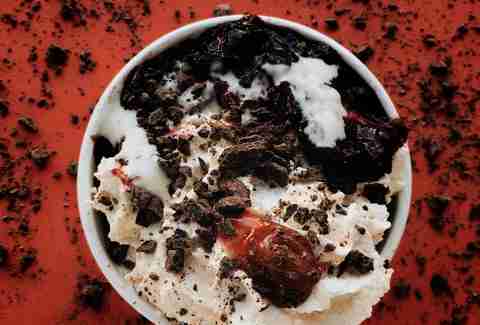 Capitol Hill (& other locations)
MM's seven almost invariably tiny ice creameries are charming -- and crowded! -- but who can blame people for lining up to shove a scoop of handmade "Scout" mint ice cream made with real Girl Scout Cookies (one of the few ingredients not produced locally), or Melted Chocolate, flavored with bars bought from Theo, or local strawberry sorbet in their faces? Not us. Oh no, not us.
Maple Valley (& other locations)
Boasting three brick-and-mortar spots, plus a vivid red trike that gets trotted out at farmers markets and catering gigs, this gelato operation is named for the nuts (hazelnut, pistachio, peanuts, etc.) found in many of its flavors, which rotate seasonally. In addition to scoops, the cream is available in "pop" form, or in an affogato... which basically just means you pour fresh-brewed espresso over it.
Capitol Hill
This venerable creamery once had three stores under its belt, but all of them were closed by April of this year. Then the original location was resurrected a month later -- with all of the same recipies, much of the same staff, etc. -- by a husband-and-wife team who loved the place and its classic flavors, like cookies & cream, chocolate malt, raspberry, etc., too much to see it go. Plus, the wife's cookie company was already providing the cookies OSFC uses in its ice cream sandwiches, so this was clearly a no-brainer.
Pike Place Market
This bright, brand-new (but still seriously old-fashioned) spot, complete with a restored soda fountain from the '30s, doesn't make its own ice cream. But it'll gladly serve you some from Lopez Island Creamery by the scoop, in a sundae, or float-style with beer or Champagne, OR by mixing carbonated water with house-made syrups in a variety of flavors. Even better, there are plans to start serving ice cream cocktails soon.
Ballard
This former mobile dessert operation prides itself on making organic, artisan ice cream with local ingredients sourced almost entirely from a variety of area farms, or even right in the neighborhood (Theo Chocolate, True North Coffee Roasters, etc.). But it also takes pride in serving said ice cream creatively, which is why you owe yourself a trip to Parfait's novelty freezer, where you'll find everything from from ice cream macaroons, to ice cream cakes, to push-up pops like the ones you used to eat as a kid... only way better.
Capitol Hill
It's a little hard to figure this pretty new restaurant out -- is it a noodle house? BBQ joint? But one thing is very clear: the ice cream it's serving from a walk-up window (whimsically decorated so it looks like an ice cream truck) by the door is not to be missed. Available in flavors ranging from Cinnamon Toast Crunch to bananas Foster, Trove's to-go-style sundaes come in a glass mug that you can keep, or return when you come back (trust us, you'll come back) and get a buck off your next dessert.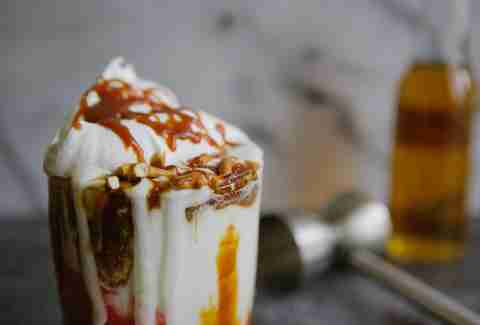 Snohomish, WA
This stuff's available in almost every Seattle-area grocery store, but it's worth a trip into the foothills of the Cascade Range to check out Snoqualmie's adorably small-town scoop shop, where there are over 40 flavors on offer and, in addition to getting a cone, you can totally buy that same pint on sale at the QFC down the road from your house.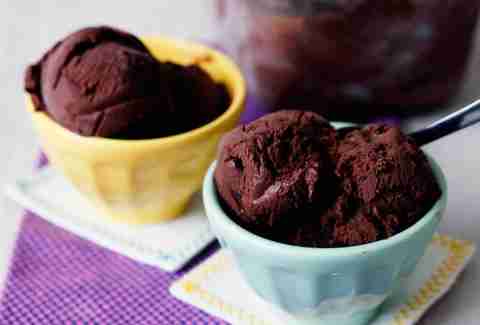 Ballard (& other locations)
Launched in 2010, and run by a father-and-son team, this operation combines premium Italian and Northwest ingredients to create an authentic, but uniquely "Seattle" style, of gelato. Made from scratch daily at the Ballard location, the can't-miss flavors include chocolate hazelnut, the signature pistachio, and mascarpone-based tiramisu.

Sign up here for our daily Seattle email and be the first to get all the food/drink/fun in town.
Previous Venue
Next Venue
Venue Description
1. Bluebird Brewing
7400 Greenwood Ave N, Seattle, WA 98103
This being Seattle and all, of course there's a "microcreamery" doling out boozy, ice cream confections in Cap Hill. Sharing a space with Elysian Brewing, this retro-esque soda fountain cum craft brew bar serves sweet sodas (Snickerdoodle, Root Beer,), and dessert-focused beers, like the Theo Chocolate Milk Stout and Caffe Vita Coffee Porter.
Previous Venue
Next Venue
Venue Description
2. Cupcake Royale
2052 NW Market St, Seattle, WA 98107
The little cupcake shop that could expanded from one location to six, and since apparently complete cupcake domination of the Queen City wasn't enough, started doling out handmade artisanal donuts and now, ice cream at all their outposts. Creative confections using seasonal ingredients reign supreme, ranging from a Whiskey Maple Bacon cupcake, to Fresh Mint and Fudge Ribbon ice cream.
Previous Venue
Next Venue
Venue Description
3. Full Tilt Ice Cream
5453 Leary Ave NW, Seattle, WA 98107
This pairing of two of our favorite things (pinball and ice cream) scores with fresh, inventive flavors. Bourbon maple walnut, coffee Oreo, peanut butter & jelly, and strawberry basil are just some of the flavors on offer at this Seattle area mini-chain. Local Pacific Northwest craft beer and flavored coffees and iced teas will whet your whistle if all the rich and creamy options have got you thirsty.
Previous Venue
Next Venue
Venue Description
4. Molly Moon's Homemade Ice Cream
917 E Pine St, Seattle, WA 98122
This friendly albeit pint-sized Capitol Hill scoop shop offers gourmet, homemade ice cream using seasonal ingredients. Ice cream aficionados line up around the block for fresh flavors like Homey Lavender, Maple Walnut, and Stumptown Coffee. Vegan friendly sorbet and coconut-milk based scoops are also churned out on the regular.
Previous Venue
Next Venue
Venue Description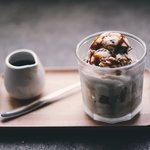 5. Nutty Squirrel Gelato
7212 Greenwood Ave N, Seattle, WA 98103
This family owned and operated gelato shop's got three locations across greater Seattle doling out fresh scoops of housemade gelato and sorbetto. True to its name, nutty flavors (hazelnut, pistachio) feature prominently, but the shop also offers fruity flavors that'll satisfy any sweet tooth, plus some more experimental options like avocado cream, chili chocolate, and mango haberno.
Previous Venue
Next Venue
Venue Description
6. Old School Frozen Custard
1316 E Pike St, Seattle, WA 98122
This husband and wife duo's old school creamery churns out classic frozen custard in a retro-esque scoop shop in Capitol Hill. You can get your custard in a waffle cone, but we suggest a more exciting option in the form of a cookie sandwich, courtesy of the wife's cookie company, who makes all of their cookies in house. Tasty flavors like Bananas Foster, Pina Colada, and Snicker Doodle are sure to satisfy.
Previous Venue
Next Venue
Venue Description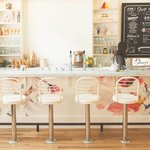 7. Shug's Soda Fountain and Ice Cream
First Avenue, Seattle, WA
This cute as a button soda fountain in Pike Place Market leans heavily on its retro charm and 1950s' by way of Pinterest aesthetic from its cheery wallpaper to its cozy counter top seating. Stop by for boozy ice cream floats, made with your choice of Champagne or beer, classic hot fudge sundaes, and ice cream cocktails. Friendly service, in addition to the fresh flavors provided by Lopez Creamery, will make you smile from ear to ear.
Previous Venue
Next Venue
Venue Description
8. Parfait
2034 NW 56th St, Seattle, WA 98107
This formerly mobile-only scoopery turned brick and mortar in Ballard is truly a local operation. By sourcing their ingredients from its milk to its produce entirely from network of Washington State farmers and small batch outposts, Parfait offers distinctly fresh and flavorful organic treats ranging from ice cream cakes, pies, cookie sandwiches, macarons, and old good fashioned cones.
Previous Venue
Next Venue
Venue Description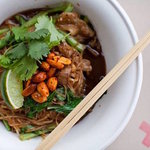 9. Trove
500 E Pike St, Seattle, WA 98122
This vibrant and bustling Korean BBQ/shabu shabu shop and noodle den serves up imminently slurpable soups and grilled meat and veggie sides in addition to pouring up a nice selection of international craft brews at their in-house bar. Come summertime, be sure to stroll by their window and sample frozen custard parfait treats served out of a pop-up "ice cream" truck facade.
Previous Venue
Next Venue
Venue Description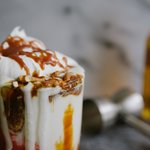 10. Snoqualmie Gourmet Ice Cream
21106 86th Ave SE, Snohomish, WA 98296
This hard to pronounce (but simply delicious) scoop shop in the rural, hilltop environs outside Seattle is well worth the both tongue-twisting and the trek. Sure, it's available in most Seattle-area grocery stores, but why not take a trip to Snoqualmie Ice Cream HQ in Snohomish and visit the grounds where all the over 40 fresh flavors are hand churned? There's nothing better (or more local) than sampling a scoop of French Lavender ice cream after touring the gardens where its ingredients were grown!
Previous Venue
Next Venue
Venue Description
11. D'Ambrosio Gelato
5339 Ballard Ave NW, Seattle, WA 98107
Get your gelato fix courtesy of this father and son duo doling out fresh flavors on the regular in their cafe-like Ballard area storefront. By combining Pacific Northwest bred ingredients with traditional Italian flavors, the folks at D'Ambrosio offer up uniquely "Seattle" options like creamy chocolate Tiramisu made with fresh marscapone. A full service espresso bar amps up the space's Euro chic vibe and satisfies any and all caffeine cravings.