There's nothing more American than a hot dog... except, given its reliance on the native-to-North-America tomato, maybe... err, Italian food (?!), but we're not going to let a little thing like "facts" get in the way of the US' love affair with the totally-invented-in-Germany hot dog. Instead we're gonna round-up the eight best dogs in Seattle, dawg.
Capitol Hill/Lower Queen Anne
$5 gets you a flame broiled dog with all the fixings, like caramelized onions and pickled jalapeños, plus you can throw in a bag of chips or soda for a buck. You can usually find this sizzling stand in Lower Queen Anne (off Mercer), Capitol Hill, or at your party -- that's right, these guys cater!
Downtown
For a Japanese take on American classic, look no further than the corner of 2nd and Pike.  We recommend the Matsuri, which has Kielbasa beef, carrots, green onion, teriyaki glazed onion, and nori (Japanese seaweed), and it comes topped with a tasty mayo.
Georgetown
Since 1992, MFCD's been slinging super-cheap dogs like its signature, Matt's Famous Chili Dog, which'll only set you back $3.60 and gets you the standard issue of mustard, onions, and chili. You can also opt for the 3 a.m. Dog, which is basically a Seattle dog, or the Slaw dog, which is a staple of the South.
Multiple locations
Helmed by the crew behind Auto Battery, Grim's, etc., PD boasts two slim, spare locations in Ballard and Capitol Hill, where they sling super-creative specialties like the bacon-wrapped Deep Fried Danger Dog, and the scrambled eggs/ Tillamook cheddar/pepper bacon Morning Glory.
Wallingford
This sit-down-style establishment serves everything from bratwurst to andouille to Linguiça, which is Portuguese-style pork sausage with vinegar and garlic, and DD claims that even if you don't like hot dogs, they'll convert you. Challenge accepted!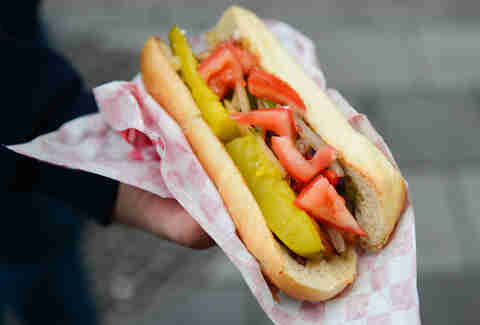 Downtown
Located smack dab in Westlake Park, this diamond in the rough press of ambling shoppers can be a real lifesaver. Options here include the spicy Louisiana Sausage, topped with whatever you want from the self-service topping bar, and the classic all-beef combo, which comes with chips and a soda. Dog in the Park is laden with accolades, so you can't go wrong on this one.
Multiple locations
Monster Dogs has four locations between Belltown and Capitol Hill. The Capitol Hill location is conveniently located next to Neumos, so there's no way to miss it and no excuse not to go. Take your pick between beef hot links, the beef Polish sausage or veggie and top it off with some cream cheese and onions for the ultimate 1am pick-me-up.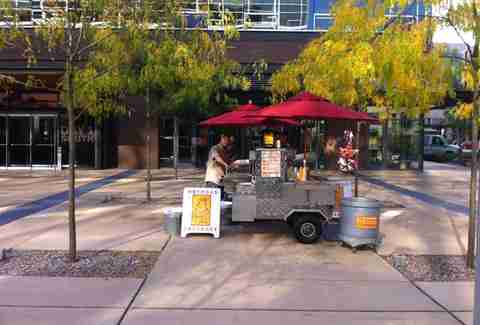 Multiple locations
On Fridays and Saturdays you'll find the Dante's cart in Ballard by King's from 11pm-2am, and on Sundays you'll find it at the Ballard Market from 10am-3pm. Dante's dogs will set you back $4, but for a little bit more (okay, quite a bit more) you can have Dante's cater your next party. Hot dogs for everyone!
Sign up here for our daily Seattle email and be the first to get all the food/drink/fun in town.