Some cities are famous for the mark left by Italian immigrants: New York has its own style of pizza and iconic Little Italy. Seattle has... well Seattle has a little Scandinavia in Ballard. That said, Italian food has become such an indelible (and inescapable) part of our culinary culture that even here in the Northwest there's phenomenal Italian food -- from pizza places to authentic gelaterias -- almost everywhere you look. To walk the walk, here are our picks for the best Italian restaurants in Seattle.
Pioneer Square
The signature menu item at this all white tile-walled spot -- opened by the guy behind one-time Fremont restaurant Rialto -- is the sauce. They sell it by the jar, and put it on favorites like spaghetti and meatballs that, along with classics including penne puttanesca and thinly sliced, lightly breaded eggplant Parmesan layered with pomodoro, pesto, mozzarella and fontina, manage to attract both regulars and pre-Sounders match crowds.
Roving all over Seattle
After growing up in the kitchen of his parents Italian restaurant, Perche No, and learning to make sophisticated and robust plates of pasta like black spaghetti made with fresh squid ink noodles, sardines, capers, garlic, chili, and parmesan, or local stuffed salmon ravioli served with a creamy tomato vodka sauce, he did the next obvious thing: launched a food truck you can find at random farmer's markets, outside Starbuck's HQ, and other food truck-friendly spots around Seattle.
Wallingford
Its success has led to a second location in Bellevue, and the smaller, more wine-focused Bar Cantinetta in Madison Valley. And it's easy to see why when you step into this sepia toned space on a quiet corner between Lake Union and 45th street, where they're serving Tuscan inspired handmade pastas like cappellini with peavines, pancetta & a farm egg, and cavatelli with roasted tomato, fennel sausage & mint, plus things like burrata & heirloom tomato, or flank steak with Parmesan butter.
Ballard
Opened last year in what used to be Seattle's two oldest residences, this impossibly charming restaurant offers rich yet refined takes on Italian American classics ranging from saffron spaghetti bolognese with pork, veal, rosemary, fennel & Parmigiano, to smoked rockfish cioppino with manilla clams, penn cove mussels, gulf shrimp, and a grilled baguette, all elevated by seasonal Northwest ingredients.
Ballard
It's called Staple & Fancy for a few reasons: 1) Their staple a la carte offerings as well as their chef's tasting menu, and 2) from the original eponymous hand-painted signs found behind a plaster wall. What was once a machine/mercantile shop is now the most interesting of local chef Ethan Stowell's various Italian-inspired ventures, especially when you let the chef feed you his own choice of apps, mains, desserts, etc.
Madrona
Perhaps inspired by the restrained Italian food infused with Northwest ingredients of his most recent employer (Ethan Stowell), the chef at this year-old establishment manages to keep both the menu and the space small and simple... but still classy as hell. Look for hand-made pastas, fresh and seasonal vegetables, and a spot at the chef's counter for a completely up-close-and-personal experience you won't find elsewhere.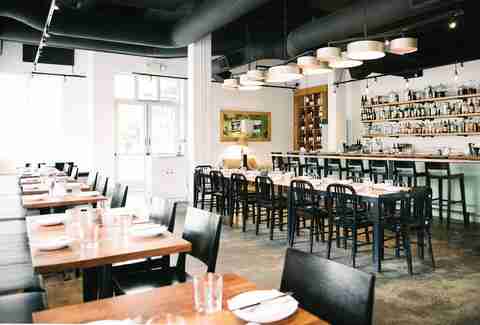 Ravenna
This understated neighborhood spot with concrete floors, pops of seafoam green, and big bright windows, was one of the best things to happen to Seattle in 2015, and even if this place isn't technically an Italian restaurant -- it uses fancy Northwest ingredients in dishes influenced by everything from Southern cooking to traditional African fare -- ordering one of the pastas on the menu (casarecce with oxtail, toasted garlic & ricotta) will be one of the best things you've done for your stomach in a long time.
Downtown
Warmly lit and intimate, this recently renovated space in Pike Place Market is great to slip into on a rainy night and enjoy a pasta dinner for two (if you do it after 11pm on Saturdays, you'll get an eyeful of tantalizing burlesque too), or on a sunny day so you can laze away the afternoon on their rooftop patio with stunning views of Elliott Bay.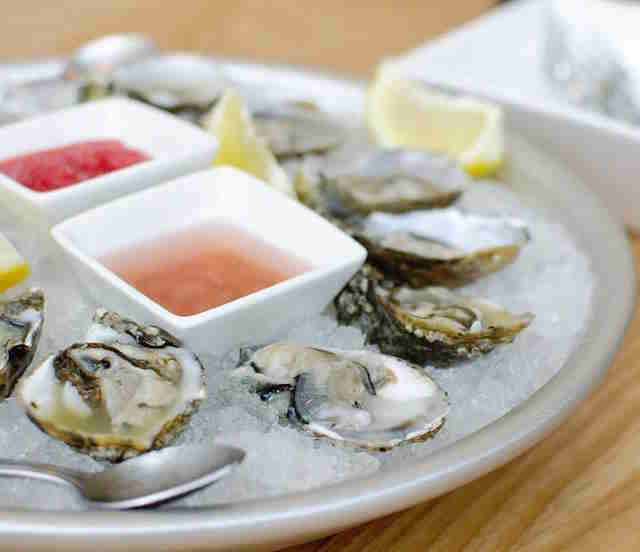 Downtown
This sleek establishment from the crew behind local mainstays Barolo and Mamma Melina brings a taste of the Riviera -- courtesy of a rotating seafood-focused menu, an oyster bar, and even Neapolitan-style pizza -- to Amazon's new Doppler Building. And your stomach, obviously.
Pioneer Square
This famously sophisticated restaurant boasts meals like the Ravioli di Capriolo filled with venison and wild mushroom sauce, or a pepper-crusted New York steak with shoestring potatoes, plus an adjacent space called Intermezzo Carmine that serves up some satiating cocktails, small plates, and happy hour deals -- and also happens to be one of the most beautiful bars in the city.
Capitol Hill
Despite losing noted local chef Jason Stratton a couple of years ago, this elegant restaurant located near the corner of 14th and Pine boasts a picturesque interior wrapped around an open kitchen. We recommend the fine hand-cut egg pasta like the tajarin al ragu o burro e salvia, which you could get a small serving of, but why would you when it also comes in large?
Capitol Hill
Helmed by a husband and wife team who met crushing Deluxes at nearby Dick's, this showy spot boasts seasonal food like a Salish sea halibut and Ellensburg lamb rack with braised neck, fried ribs, marinated olives, polenta, and orange. But don't worry about those, get the chef's tasting menu, which will set you back well over a hundred bucks, but gets you five main plates, plus small bites and snacks in between.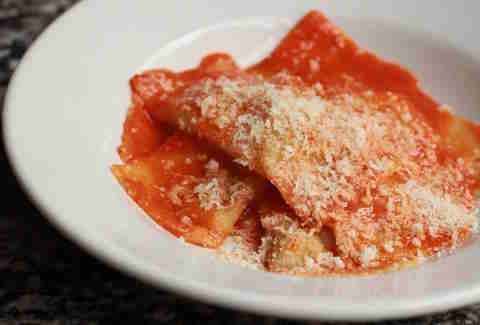 Pioneer Square
This former pop-up shop's only open a few hours a day for lunch, during which it offers a rotating selection of what might be Seattle's best pasta. Our favorites include tagliatelle with wild boar ragu and a farfalle with spicy coppa, sugar snaps, Parm, and a light butter sauce. But honestly, you'll get whatever it's serving that day and like it. Possibly even like-like it.
Sign up here for our daily Seattle email and be the first to get all the food/drink/fun in town.