If you work in Downtown, or are just in town for work, the not inconsiderable frustrations -- interminable traffic, paying about what you pay for rent to park your car, the fact that you actually have to… like, do work --  can all be worth it. No, not because you can earn the kind of salary that will secretly make your friends who write articles about good lunch spots jealous, or because your work is personally fulfilling. It can all be worth it if, instead of spending your legally mandated lunch hour at one of the 17 Starbucks Downtown, you choose to hit one of these fine daytime eateries instead. Here are the best places for lunch in Downtown Seattle.
Recommended Video
Acquired Taste: Blood Rice Cakes With Timothy DeLaGhetto and Justina Valentine
200 University Street, Suite 120
Opened a whole 8 blocks from the original location in Pioneer Square (one of Seattle's best sandwich shops), what this utilitarian, symphony-adjacent version lacks in terms of turn of the century charm and booze, it makes up for with convenience and a menu that features most of Delicatus' hits including the "underrated, but arguably the best" Mudd Honey with roast beef, smoked turkey, bacon, white cheddar & horseradish.
94 Pike St #32 
Technically part of Seattle's famed Pike Place Market -- which is packed with great things to eat and with a ton of tourists, Matt's sits blissfully above the fray (as evidenced by unbeatable views of the market's iconic sign) serving a small, but exquisite lunch menu highlighted by steamed mussels and clams with chorizo & piquillo peppers, and a not-to-be-missed pan-fried cornmeal crusted catfish sandwich with sambal mayonnaise on soft potato bread.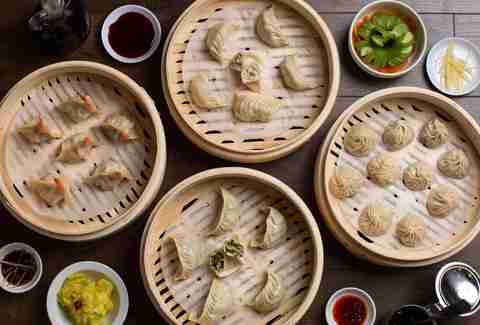 815 Pine St 
Just blocks away from (and a local alternative to) famed international dumpling purveyor Din Tai Fung, DZ's sixth Seattle area location JUST opened in the old Sansei Seafood Restaurant and Sushi Bar space, and is serving largely the same menu that has enchanted diners at their other locations: Xiao long bao (aka soup dumplings), their signature Q-bao (which is basically pork wrapped in fluffy dough) and, since this is lunch we're talking about, a spicy beef sandwich on a fresh steamed bun.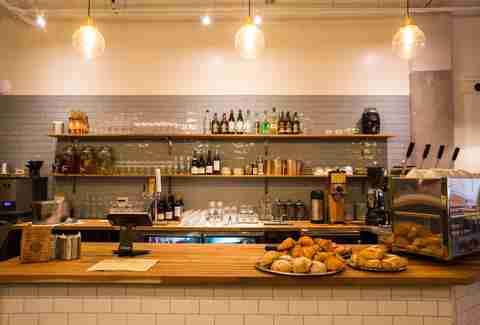 818 1st Ave (Downtown)
Part of chef Brendan McGill's burgeoning food empire, the Cafe features a spartan, concrete-floored space offset by warm, comforting finishes (lots of natural wood, subway tile, etc.), and is a destination for bright fresh foods, including their signature salad with chicken, bacon, egg, bleu cheese, tomato & pickled veg, and sandwiches, like a chicken club with bacon jam & herb aioli, or the Lazio with house made porchetta, dijon, salsa verde, arugula & local Mama lil's peppers.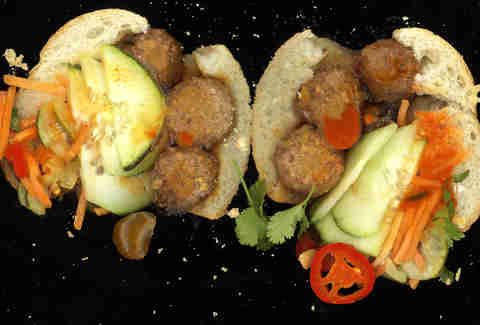 304 Union St.
It's basically just a lunch counter (with a handful of bright red stools shoved against the opposite wall), but there's nothing basic about the sandwiches their serving up, all of which come on freshly baked, locally-sourced French rolls, including the award-winning Teriyaki Meatball Banh Mi with Pickled cucumbers & carrots, fresh cucumber & cilantro, and their BBQ beef brisket that they roast in house then top with wasabi coleslaw.
1400 1st Ave
It may not be the best sushi in Downtown, but it's certainly the most accessible. That's thanks to Seattle sushi legend Billy Beach's casual, Latin inspired take on classic Japanese dishes. Highlights include a range of rolls like the spicy tuna/cucumber/cilantro Tres Diablos roll topped with tuna, salmon, yellowtail & strawberry habanero sauce, and the shrimp & anago tempura/cream cheese Double Dragon topped by eel, a soy glaze, and possibly a lawsuit from Ninja Gaiden.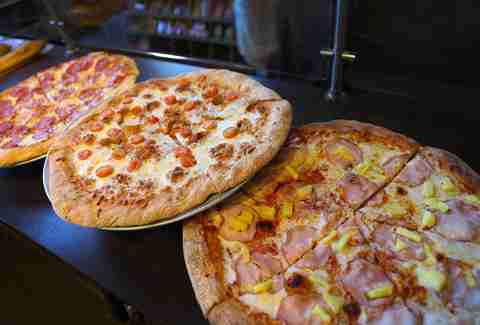 2121 6th Ave.
Part of famed Seattle chef Tom Douglas' sprawling collection of restaurants along 6th Ave, Home Remedy is a specialty grocery store/deli counter offering everything from rice bowls (get the espresso rubbed pork shoulder with brown rice, soy-cured egg, miso spinach & shitake) to sandwiches like a meatball sub topped with pickled peppers, or a Beecher's cheddar, swiss & provolone grilled cheese. Oh, and if that's not enough, they also sling pizza by the slice or pie, including one topped with the aforementioned espresso rubbed pork.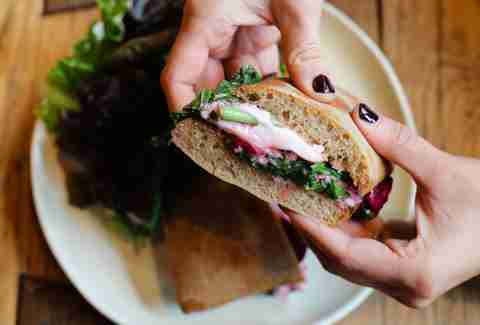 2121 Westlake Ave.
Back when this gorgeous protein emporium (one of the 31 best steakhouses in America) first opened they'd sell a limited number of steak sandwiches from their Butcher's counter during the day, which was awesome but made lunch kinda hard to get. Now they have a full but small lunch menu boasting Mishima Reserve beef options like steak tartare or steak frites; oysters and yellowtail from the raw bar; a handful of sandwiches including Beecher's cheese steak served open-faced with peppers and onions; and a steak sandwich topped with avocado, lime & cilantro.
2020 6th Ave
Serving the same bold, upscale Lebannese/Syrian food that made the original location on Cap Hill a Seattle favorite, the walk-up window at this takeout-focused version does a brisk business in Mana'eesh (grilled wraps called that come with anything from minced lamb to Za'atar); sides like hummus and spiced french fries; and shawarma (like our favorite -- the lamb topped with pickled turnips, mint, arugula & "street sauce").
2050 6th Ave
What started as an Airstream-based mobile food operation has grown into a mainstay on the Seattle food scene with a handful of brick & mortar locations, including this latest one, where they do an all day breakfast with fried chicken & waffles, plus skillet favorites (the grass-fed burger on brioche topped with brie & their signature bacon jam), and a handful of additional options like meatloaf and mac & cheese. Several of which are also available in a "happy" size that comes with your choice of fries, soup, or salad.
Sign up here for our daily Seattle email and be the first to get all the food/drink/fun in town.