Maybe it's the traffic, maybe it's the rain, but Seattleites tend to stay close to home. Just try to convince your friend that lives on Capitol Hill that he wants to sit in Thursday evening traffic to get to a meal in Ballard (unless, of course, you're paying). But that doesn't mean there aren't neighborhoods worth making the trek to, and this list offers them up in order -- also an excellent crib-sheet for food lovers wondering where to find their next apartment.
11. Queen Anne
Essential restaurants: Eden Hill, Lloyd Martin, Taylor Shellfish
Queen Anne is an excellent place to go on a date. Slurp a few oysters and crack some crab at Taylor or head up the hill for a tasting menu at Eden Hill. While I'm a big fan Lloyd Martin and have been known to stop in for some wine and pasta at How to Cook a Wolf or for chicken at Crow, Queen Anne needs to fill out its roster a bit better if it wants to climb the list: good low-budget spots to grab a bite, maybe a good Chinese restaurant, Ethiopian, something to change it up.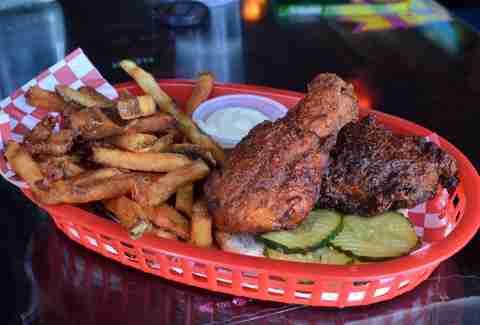 10. Georgetown
Essential restaurants: Ciudad, Katsu Burger, Sisters and Brothers, Stellar Pizza
Once the nitty-gritty neighborhood tucked between an airport, a freeway, and a river, these days it's a nitty-gritty neighborhood tucked between an airport, a freeway, and a river, with really freaking good food. While fancier places like Ciudad and the Corson Building have shown that higher-end places can flourish even under the airplane noise, Georgetown is at its best at innovative, casual spots like Katsu Burger's original location and Sisters and Brothers. And how could we forget Stellar Pizza!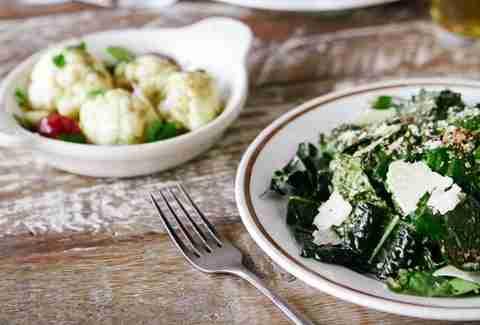 9. Central District
Essential restaurants: Meskel, The Atlantic, Fat's Chicken and Waffles
The Central District is probably the most underrated eating area of the city. For decades, it's been a fried chicken destination (Fat's Chicken and Waffles), home to the highest concentration of great Ethiopian restaurants around (shoutout to Meskel), and just generally harbored the type of little, independent gems that make dining out in Seattle's neighborhoods great like the Atlantic.
6. Fremont
Essential restaurants: Uneeda Burger, Manolin, Revel
To rank at this spot or higher, versatility is key. And whether you're looking for a darn good burger or a place to splurge for your anniversary (Manolin or Revel anyone?), Fremont's got it. Between the huge lunch crowds pouring from its offices and the nightlife, it offers something for all hours and all styles.
5. South Lake Union
Essential restaurants: Pam's Kitchen, Butcher's Table, Anar
Five years ago, we would have laughed you out of town for suggesting this even be on the list, not to mention top five. But times have changed: there's hardly a big-name chef or restaurateur in town without a spot here -- Tom Douglas has a half-dozen alone, followed by Kurt Beecher Dammeier (standout: Butcher's Table), Ethan Stowell, Josh Henderson, and Dan Bugge. But, miraculously enough, small shops have held their own: Row House Café, Pam's Kitchen, and Berliner Doner Kebab keep affordable lunch within reach, along with a daily dose of food trucks and the lovely Anar.
4. Ballard
Essential restaurants: Café Munir, Copine, The Fat Hen
Ballard's sleepy Scandinavian roots are all but forgotten as it has shifted entirely to an eating-out based economy. Only in Ballard can you find a one-hour wait for brunch... on a Tuesday... that's still seriously worth it. Hit Café Munir, Copine, or The Fat Hen to find out.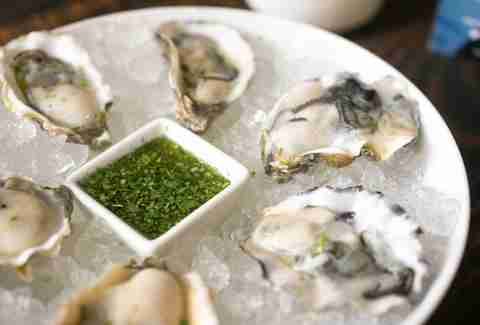 3. Columbia City
Essential restaurants: Safari Njema, La Medusa, Salted Sea
It's not surprising that Seattle's (and one of the country's) most diverse neighborhood also holds the best restaurants, after all, variety is the spice of life. This is the neighborhood where Kenyan hot sauce at Safari Njema sits just a few blocks from romantic Italian cuisine at La Medusa and delicious oysters at Salted Sea.
2. International District
Essential restaurants: Sichuanese Cuisine, Maneki, Little Sheep Mongolian Hot Pot
If you dismiss this part of a town as a pile of hole-in-the-walls all serving the same thing, it's probably been awhile since you were here (and you'd have been wrong about it then, too). Here's where to find a 100-year-old Japanese restaurant still serving some of the city's finest fish (Maneki), a glitzy International chain that serves hot pot (Little Sheep Mongolian Hot Pot), the Vietnamese restaurants we use to show off our city's finest versions, and yes, even a few wonderful hole-in-the-walls... we see you Sichuanese Cuisine.
1. Capitol Hill
Essential restaurants: Little Uncle, Altura, Dino's Tomato Pie
There's no question about it: for the greatest variety at every budget level, in every style, you've got to head to the Hill. Altura, which recently switched into a tasting-menu-only format, quietly serves what just might be the best high-end meal in town. Places like Little Uncle, Tacos Chukis, and Kedai Makan show off what the neighborhood offers from a global perspective, and Dino's Tomato Pie makes American restaurants great again.
Sign up here for our daily Seattle email and be the first to get all the food/drink/fun in town.