If there's one thing you can count on, it's your fingers. But if there are two things you can count on, it's your fingers and a shton of new restaurants and bars opening in Seattle every month. To help you pick the best ones, we've helpfully compiled a list of eight eat/drink spots you should try right now...
Recommended Video
You've Been Waiting Your Whole Life to Face San Diego's The Kraken Burger
Octopus Bar
Wallingford
The nautical-themed bar just off 45th is serving rustic, deconstructed pub fare, and sports seaward-centric cocktails like the Landlubber (Knob Creek bourbon & Hales Ale Supergoose IPA), and the Davy Jones Locker, which is made with raspberry vodka, lemon, pineapple juice & Curacao, and which thankfully doesn't belong to the Davy Jones you played JV basketball with, or it'd smell like socks.
Roaring Bowl
Queen Anne
A rarity for Seattle, this new Queen Anne spot's serving shabu shabu-style eats: It has tables with burners built into them where, once you pick a broth (seaweed, spicy miso, wakame, etc.), you take pieces of your favorite meat and boil those suckers right at your table.
Brimmer and Heeltap
Ballard
Opened in the old Le Gourmand spot, B&H boasts a laminated coin floor made with thousands of pennies... which is probably what you're about to spend on next-level bites ranging from broiled pork shoulder and chilled dungeness crab trifle, to octopus soup and rabbit crepinette.
Cone & Steiner
Capitol Hill
Jam packed with everything from barware to local artisan cheeses, and pretty much anything else you could possibly need from a corner store (greeting cards... ok?), C&S is really a grocery, but they do have a tiny beer bar boasting a selection of taps so good you'll probably exclaim something that rhymes with the bar next door...

Tallulah's
Capitol Hill
The newest addition to the Linda behind Linda's empire, this well-appointed boozer serves fun eats (Hanger steak w/ charmoula & baby turnips, Lamb Burger w/ zucchini, harissa & fries), and to drink? Tallulah's keeps two cocktails on tap (a Basil Rickey and Marley's Tonic), plus a hefty selection of original cocktails like the scotch/ fernet/ dry Curaçao-based Fallows Aid -- something which, given his success as President Carter's speech writer, you should probably turn down if James offers it.
Udon Stand
Wallingford
Replacing the short-lived, sporadically open hot dog vendor at the intersection of 45th and Stone in Wallingford, is a nondescript, name-and-social-media-less hole in the wall that slinging some seriously sweet udon prepped by an LA transplant, who's offering up bowls of warm noodles in a special sauce Monday through Saturday from 11am-6pm. But be warned, just like the music line-up at Folsom Prison, this place is (Johnny) Cash only.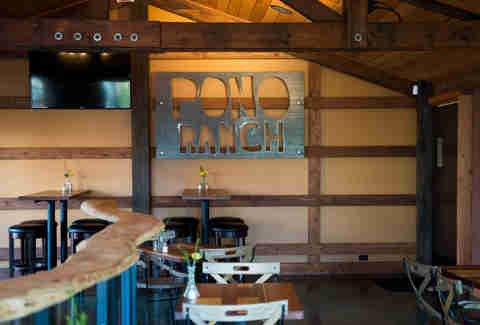 Pono Ranch
Ballard
Just off the Burke Gilman trail, this brand-new spot touts a daily brunch menu and a walk-up window where they're serving pastries, espresso, fresh juices (pineapple! lime! yay!) for now, but're promising a wide array of sandwiches, wines, and inventive cocktails in the near future.
Teddy's Bigger Burgers
Greenlake
This lake-adjacent meat-slinger is grilling up as-advertised burgers like the Monster Double Combo that can be topped with up to 18oz of chuck, which, just like 18mins of Chuck, is about all a human can handle, unless it's one of the episodes Yvonne Strahovski's in her underwear.