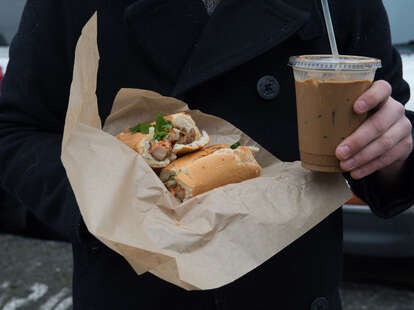 The single best kind of truck is obviously a Tonka Truck (mostly 'cause it'll carry wayyy more G.I. Joes through your mom's garden than their stupid troop transport), but the second best kind is probably a taco truck. Or maybe a truck carrying Sloppy Joes. But whatever it is, it's definitely some kind of food truck, like these seven sweet new mobile eats operations...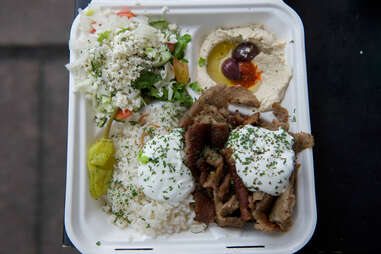 Mr. Gyros
Seattle's favorite gyro-slinging brothers are now on wheels (in addition to their Ballard and Greenwood brick-and-mortar spots), so now you can catch The Town's sweetest Mediterranean eats in places like Bothell, West Seattle, and Redmond. Or... um, on second thought, just stick to the brick-and-mortars.
Napkin Friends
Three words (two of which we understand): potato latke sandwiches, like the O.G. (house pastrami, Mama Lil's peppers, arugula, Thousand Island, horseradish & Gruyere), the classic combo (Honey Crisp apple, caramelized onions, sherry, vinegar, thyme, spinach and brie), and other potato-y goodness, all of which you can grab lunchtimes in the Banya 5 parking lot in South Lake Union.

Chick'n Fix
Haunting West Seattle and SoDo these days, Chick'n Fix is... um, fixing... all-star offerings like their "bola bola" chicken balls, rosemary fries, lumpia (fried filipino egg rolls), and more.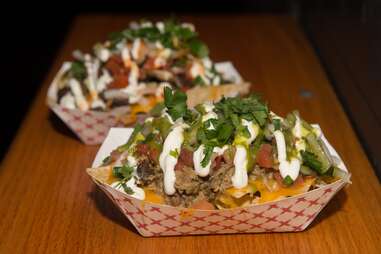 Hotbox Street Gourmet
A former promoter-turned-taco-tycoon has turned Tacos de la Noche (located right next to Belltown Billiards) into a hot spot for nachos, quesadillas, and more… so if you find yourself in the otherwise barren late night culinary territory that is Belltown on a Saturday night, you won't have to do something lame like go into the aforementioned Belltown Billiards home hungry.
Buddha Bear Bagels and Cafe
Posting up in the formerly truck-less downtown Tacoma, BBB & Cafe is dishing up everything from grab-and-go breakfast sandwiches, to more involved lunchtime eats like this apple-smoked sausage on a Greek pita flatbread w/bacon ranch, smoked bacon & Sriracha.
Neema's Comfort
From a husband and wife team -- the latter of whom spent the last 20yrs convincing the former to stop landscaping and start cooking for a living -- this Southern foodery is serving a small but hefty selection of eats like ribs; their pulled smoked chicken Big Texan sandwich; and sides like collard greens and mac and cheese.
Brown Bag Baguette
Splitting its time between Bellevue and SLU, BBB slings super-tasty banh mi's and other French bread-based sandwiches made with things like steamed Vietnamese ham (from an old family recipe), and housemade marinades, aiolis, and pickles you'll want to immediately put in your GI (Joe) tract.