There's nothing people in Seattle love more than eating at a sweet restaurant... except maybe eating at a sweet NEW restaurant, or telling people all about the sweet new restaurant they just went to. And because you can't do the latter without knowing knowing about the former, we rounded up the 10 best new bars and restaurants in the 206. Feast your eyes:
Recommended Video
Send Foodz: New York City Wine & Food Festival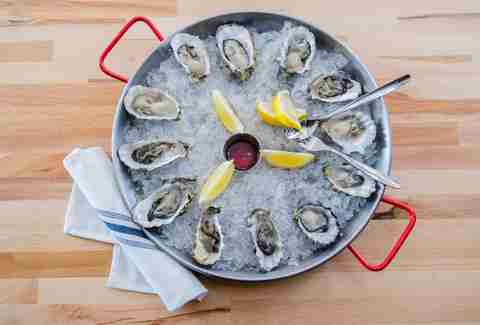 Edmonds
Only a week old, this steak and seafood spot's just a short walk from the Kingston Ferry and boasts a menu that is divided into salt (seafood), which means you'll find oysters, sea bass, etc., and iron (meat), which includes dishes like seared beef tenderloin and more.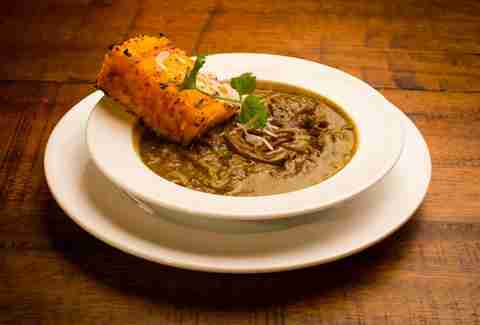 Capitol Hill
Inspired by the travels of owners Uyen Nguyen and Chris Cvetkovich, Nue's menu touts tasty international eats like Latvian Smoked Sprats, Trinidad Goat Curry, Romanian Mititei, and more, so pack your passport (or not) and try your hand at some of the best street foods from around the world.
Belltown
Located in The Palladian Hotel, this bright and naturally lit restaurant offers a refreshing retreat from the bustling pavements of the neighborhood. From fish stew to cod suppli, the hearty, sea derived dishes here are sure to satisfy.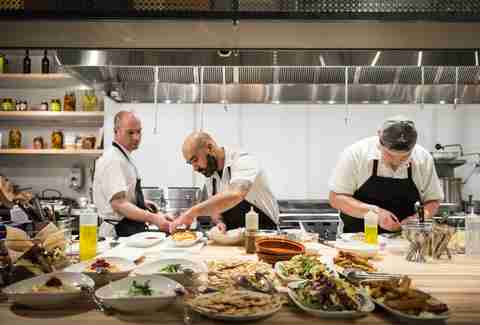 Capitol Hill
Specializing in "Greek recipes from Earth and sea," OO boasts a large communal table for family-style feasts, and several smaller, more intimate tables where you can enjoy the Lavraki (whole grilled branzino) and Octapodi, which is grilled octopus with Yukon gold potatoes and goat horn chile vinaigrette, in peace.
Downtown
This combo market/restaurant/bar is essentially foodie paradise. Oh and did we mention they have espresso, a cheese and charcuterie bar, and more? Whether you're looking for something to grab and go or want to savor a glass of something nice, at Market Hall you've come to the right place.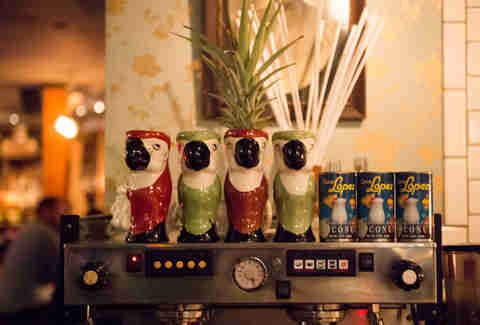 Ballard
A partnership between the folks at Ocho and Hazlewood, Hotel Albatross is the new Tiki haunt off Market.Taking up shop in the former location of Azteca in Ballard, we'll be the first to say it's an upgrade. What to expect here? Puffy tacos, a cool walk-up window, and parrot garnished cocktails.
Pioneer Square
Yet another reason to visit Pioneer Square! Casco Antiguo is split into two different parts -- a restaurant, and a speakeasy-style bar complete with a back alley entrance where the margaritas flow freely (on tap, actually). From house made salsas to tacos with tilapia, this stylish spot with exposed brick walls is the perfect spot to spend happy hour at (3-6pm).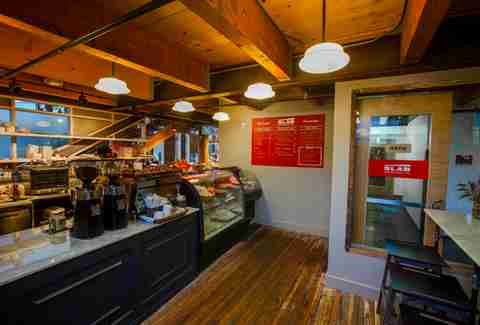 First Hill
A slab of pie just sounds so much better than a slice of it. Part of the ever popular Lark, Slab purveys all kinds of goodies like its Cubano (with pork confit, jamón, grilled scallion aioli, smoked pickles & Comté) and Slab Meat Pie (with beef short rib, caramelized onion & hedgehog mushrooms). But the real beauty of this place? You can add crispy chicken skin to any sandwich for just $2 more.
Belltown
The latest by Tom Douglas, Cantina Leña has re-emerged after a quick pause. Inspired by the flavors of the Yucatan, this spot has a complete bar and you never have to make a reservation. Pop in for the crispy pork carnitas nachos and stay for the Leña Toddy (Ancho Reyes Liqueur Ancho Chile, lemon, and honey).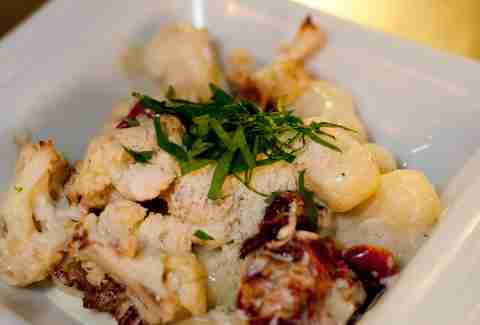 Capitol Hill
Meet pasta's richer sister at this Packard Building spot helmed by Lisa Nakamura. All the gnocchi dinner party pop-ups she's hosted over the years have paid off with this brick-and-mortar location, where you can enjoy said starch prepared in myriad ways but you can't go wrong with the potato gnocchi with braised chicken, capers, asparagus, and cider butter.
Sign up here for our daily Seattle email and be the first to get all the food/drink/fun in town.