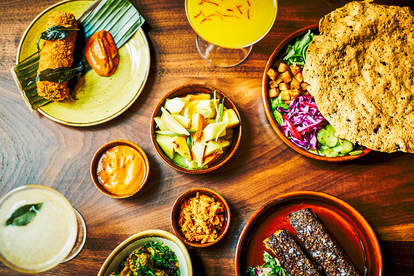 Here Are Seattle's Best New Restaurants of 2019
After a relatively lackluster 2018, Seattle jumped right into opening great restaurants in 2019 (okay, to be fair, two of these opened at the very tail-end of 2018), keeping audiences excited with second offerings from local favorites, lots of Filipino flavors, and a few spots that are worth hopping on a ferry for. And, for the first time in a long while, Seattle gained restaurants at the high end -- ones that actually require reserving way ahead of time. Yes, that means you need to make a plan, but in a few months, when it's time to dine, you'll thank your past self for reading this list and making that reservation.
The Ruby Brink

| Courtesy of Sheereen Hitner
Vashon Island
Island-fresh food worth the ferry ride
The Ruby Brink is a Vashon Island restaurant made for Islanders first. But mainlanders who make the trip will find a pastoral, idyllic Island spot they fantasized about on the ferry over. Butcher Lauren Garaventa and chef Rustle Biehn work to tie what's on the table to what's around them -- both on the island and in the restaurant's in-house butcher shop. The results are edible-flower dotted noodle soups, a burger that would beat out any in Seattle in a taste-test, and rabbit rillettes served with hot-pink turnip pickles. The eclectic menu works because the elegant space and expert service tie together any loose ends. And because the execution makes the ferry trip over from Seattle worth every minute.
West Seattle
Mike Easton's pastas finally find an evening home
Eating Mike Easton's pastas at a spacious, reservable table -- accompanied by a long wine list -- has been the dream since Il Corvo first opened inside a gelato shop in Pike Place Market in 2011. Now, it's a reality (though the reservations are still hard to score) that also comes with olive-studded focaccia, grape-leaf wrapped taleggio, and plenty of amaro options at the fireside bar at Il Nido -- the nest to Il Corvo's crow -- inside the remodeled Alki Homestead building.
Dacha Diner

| Courtesy of Uan T. Wilk
Capitol Hill
Comfort food from Eastern Europe
When Dacha Diner first opened, it was the Georgian khachapuri -- dough boats filled with eggs, cheese, and butter -- that made the headlines. But in the year since the Eastern European Jewish food spot welcomed us in, it's delivered so much more: perfectly arranged herring salads ("under a fur coat" of grated vegetables and egg), latkes, and matzoh ball soup. Basically, they've got everything your inner Jewish grandmother dreams of -- and the golumpkis (stuffed cabbage) to go with it.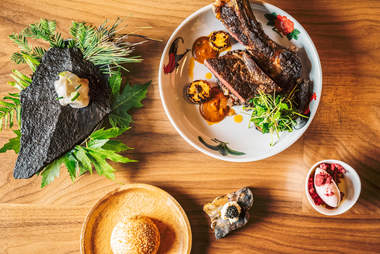 Archipelago

| Courtesy of Jaclyn Warren
Columbia City
Filipino flavors and Pacific Northwest Ingredients
Though the impressively good and intriguing plates of Filipino-inspired food made with local scallops, pork, or tiny vegetables are the stars here, it's the eight-course meal that truly shines. This can be attributed to the hospitality and passion of owners Aaron Verzosa and Amber Manuguid. From the little shelf under the table for your cell phone to the fascinating history given for each dish -- from which island, made by whose grandfather, with fruit from which farm -- there is no detail too small to be perfected by these two.
Rupee Bar

| Courtesy of Noah Forbes
Ballard
Manolin vets bring Sri Lanka snacks to the bar
In a tiny hallway of a space in Ballard, the team behind Manolin looks to bring Seattle its first bar to focus on the food of Sri Lanka. Though there's not room for groups larger than four, the place stays packed as people crowd in for the pillow-soft ghee-brushed naan, crispy Kerala fried chicken, and turmeric-fueled fish curry. Drinks bring similar flavors, like in the curry leaf gimlet and the coconut milk based Last Night in Negombo, and the deep, rich colors and dark wood give it a transportive feeling.
Bainbridge Island
A true chippy lands stateside
Seattle didn't know how good it had it when Nosh, the fried fish food truck from the same owners, roamed the streets. Now, they're firmly ensconced in Downtown Winslow, a quick walk from the ferry on the Bainbridge side. But once you're there, the same light, flavorful batter on wild, sustainable cod, thick-cut fries, and mushy peas await. And, on land, they've also got a few other options including prawn and crab cocktail, octopus, a lobster roll, and -- most importantly -- beer.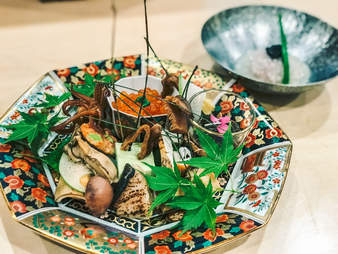 Courtesy of Taneda Sushi and Kaiseki
Capitol Hill
Sushi and a show
Behind the low counter in a ground-floor space, across the hall from a vape store in an aging mall, a chef quietly turns out course after course of stunning seasonal dishes. Reservations book months out for the $124 set menu, but when patrons sit at the low counter for the meal, it's a show well worth the effort. The chef prepares each course, from starting bites, nigiri, and sashimi, through cooked fish, tempura, hand rolls, and even dessert, as he serves it, handing each piece across to the guest. Book now if you haven't already.
International District
Fun colors, Filipino flavors, and cool coffees
The vivid purple of Hood Famous's ube cheesecake -- combined with how good it was -- got the bakeshop its start, but with its second location, Hood Famous is bigger and better. The shop takes the same idea of Filipino ingredients woven into classics and expands it to the coffeeshop world with calamansi espresso tonics and pandan lattes. There's also quiches with longanisa (sausage) and mochi waffles with calamansi syrup. And as of the fall, they're open in the evenings with a full bar and an even bigger menu.
Sign up here for our daily Seattle email and be the first to get all the food/drink/fun in town.