Where to Eat Oysters Outside in Seattle Right Now
Cool off and fill up.
Shuck 'em, grill 'em, fry 'em, bake 'em, or eat 'em right off the shell—whatever your preference, 'tis the season for indulging in arguably the best delicacy the PNW has to offer: oysters. Of course, you can eat shellfish year round here, but when it's the height of summer, there's nothing quite like a cold drink and a dozen on the half shell to keep us entertained. Which begs the question: Where is the best place to partake in town? Consider it a nine-way tie… or try all nine and decide for yourself. Ahead, where to eat oysters outside (and inside, if you can't stand the heat) this summer in Seattle.
Fremont
Tucked away on the north shore of Lake Union is Westward, where chef and restaurateur Renee Erickson's menu hones in on her speciality—seafood—with a Mediterranean twist. The best seat in the house is inarguably outdoors, inches from the water, but inside tables are available if that's your preference. Arrive by foot, car, bike, or boat (in true Seattle fashion, they have a private dock), and make your selections from a list of East and West Coast raw oysters.
Downtown
Often overlooked as a tourist trap thanks to its Great Wheel-adjacent location on the Waterfront, this mainstay is not to be overlooked. It boasts a sprawling patio that extends out into its eponymous bay, and fresh oysters on the half-shell for $2 a pop during happy hour, pan fried Pacific Oysters served with a bourbon sauce, and a seafood "celebration" for that table that comes with chilled Dungeness crab, oysters, prawns, snow crab claws, and more.
Ballard
Just upstairs from the iconic Ray's Boathouse, the more casual (and relatively inexpensive) Cafe is literally located on the waters of Shilshole Bay thanks to a series of pylons jutting out from the shore. That makes the deck lining the front of the restaurant, with its unique views of Puget Sound and the Olympics, the perfect place to try a selection of local oysters on the half-shell served the traditional way, on ice with a red-wine mignonette.
Lower Queen Anne & Pioneer Square
It's hard to get any closer to the source than an oyster bar run by a local shellfish farm. This kind of connection means that the restaurants are entirely designed around offering the finest oyster experience -- from wine choices to color schemes. It also means you'll find the most knowledgeable staff in town here: They spend time at the farm learning everything there is to know about oysters. You won't find a ton of outdoor seating, but the handful of streetside spots at both locations do make for a fun and vibrant place to bolt down your bivalves.
Alki
This little fish & chips shop with the big fish on the roof has been doing the same thing for decades: serving up some of Seattle's best fried seafood, including a basket of oysters & fries for less than 10 bucks that, like the rest of their menu, come delicately fried in a light crunchy batter, and still tasting of the sea water they were pulled out of.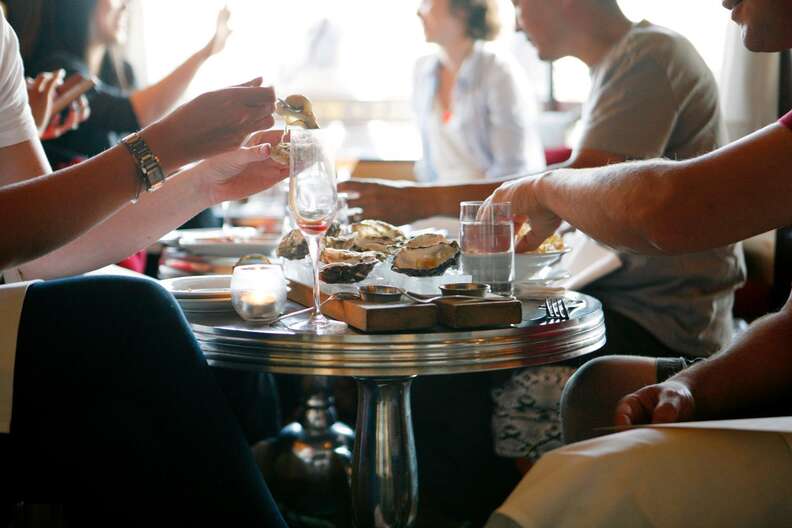 Ravenna
Frank's is more like the classic East Coast oyster bar, with blacks, browns, and woods forming the décor, than the bright, white marble West Coast ones, and it's unquestionably going for the cozy vibe… until you get outside, where together with the brewery patio across the street, their sidewalk seating can make you feel like you stumbled into a chill neighborhood block party.
Wallingford
This cavernous modern spot boasts a large outdoor dining space where you can enjoy a rotating selection of local oysters, from classics (on the half-shell, or a Totten inlet Oyster Po' Boy with bacon, spicy aioli & Mama Lil's peppers) to more creative raw bar options like a Mezcal oyster shooter with mango, pineapple, cilantro, and fresno chile.
Pike Place Market
Deep inside the Soames-Dunn building, this venerable glass-enclosed oyster destination makes social distancing a little difficult unless you post up in the courtyard outside where, hidden away from the bustling Post Alley above and the crowds of tourists outside lining up to see the "original" Starbucks next door, you can enjoy oysters that've been broiled and topped with bacon, cooked in a delicious stew, or fried and served with a basket of chips. Or you know, freshly shucked and served on the half-shell.
Eastlake
Posted up in the former Terrible Beauty and BluWater Bistro space, two-story WS features an outdoor patio that's perfect for watching seaplanes land on Lake Union and spending an evening eating buttermilk-soaked, cornmeal-crusted fried oysters, or enjoying some Shells & Champagne, which includes up to two dozen oysters and a "bottle of bubbles."
Sign up here for our daily Seattle email and be the first to get all the food/drink/fun in town.
Bradley Foster is a former Thrillist editor who didn't realize until just now how many Oysters spots are named after dudes.