Forget the myths you've heard. In Seattle, any month (week, day) is a good month for oysters: the frigid waters of Puget Sound make for sweet, plump, and briny bivalves year-round. You'd be hard-pressed to find a spot in town that isn't always serving pristine specimens, but there are a few places that stand shell and pearl above the rest for their shucking, their service, or their selection, and we've distinguished them from the rest just for you. So next time you're looking to slurp down a satisfying dozen (or two), here's where to head.
Recommended Video
Ghost Kitchen: How This NYC Restaurant is Responding to Coronavirus
Lower Queen Anne (& other locations)
It's hard to get any closer to the source than an oyster bar run by a local shellfish farm. This kind of connection means that the restaurants were entirely designed around offering the finest oyster experience -- from wine choices to color schemes. It also means you'll find the best-educated staff in town here: they spend time at the farm learning everything there is to know about oysters.
Capitol Hill
Easily the best-looking oyster bar in Seattle -- if not the world -- Bar Melusine is James Beard Award-winning chef Renee Erickson's oystery ode to the French Atlantic. It draws diners in with seafoam-green accents swimming in a sea of marble and white. Then it holds their attention with baskets full of fresh Hama Hama oysters, waiting on ice to be shucked.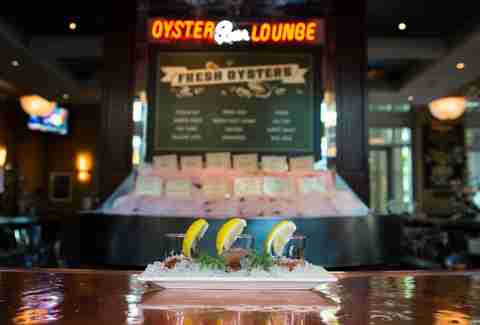 Downtown
For the old-school oyster lover in all of us, The Brooklyn is the kind of place where you can still get oysters with your three-martini lunch, or a side of bivalves with your 14oz rib-eye (this is a good thing, and we highly recommend trying it). The Baker's Dozen will set you back $32, but it's 13 of the chef's top picks from the day.
Madrona
The seafood market sibling to chef Brian Clevenger's Vendemmia, it's mostly a retail space (and the perfect place to pick up some poke for later), but there are a few seats that you'll want to grab, along with some fresh-shucked oysters and a glass of sparkling wine while you people watch out the window.
Columbia City
The South End's oyster darling brings on the bivalves at lunch, brunch, happy hour, and dinner, with creative takes on traditional accoutrement, including a nod to the Vietnamese inspiration behind much of the menu via the cilantro-lime mignonette.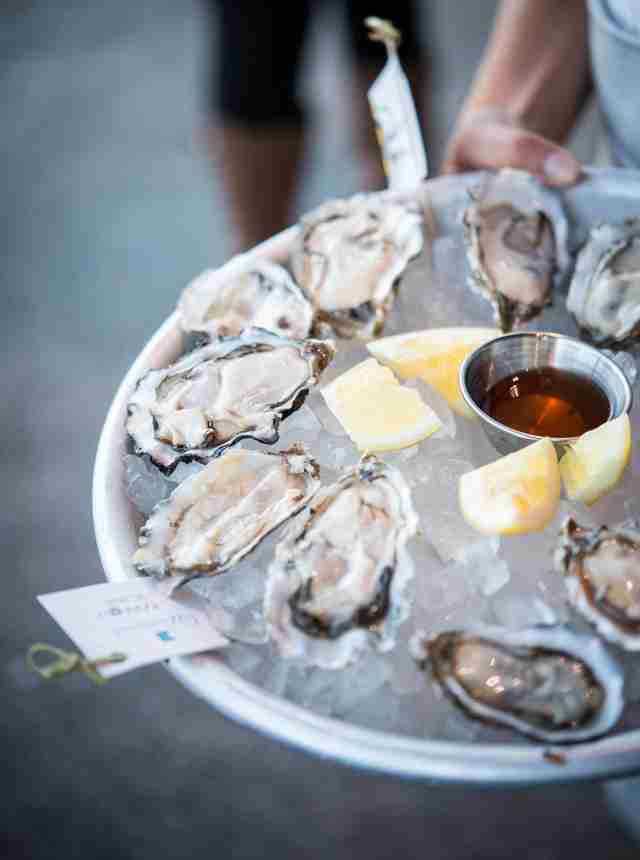 Fremont
The oyster bar within Westward might not receive as much praise as its big brother, but there's nothing second fiddle about the huge variety of oysters and expert shucking going on within it. The same adorable details (look for witty shucking puns on the signs) and chef-y style that made Westward famous are present here, but in a more seaworthy fashion.
Ravenna
Imagine a top-shelf Manhattan, but in the form of an oyster bar: that's Frank's. It's dark without heaviness, simple, clean, and somehow always exactly what you need. More like the classic East Coast oyster bar, with blacks, browns, and woods forming the décor, than the bright, white marble West Coast ones, Frank's is unquestionably going for the cozy vibe.
Pike Place Market
For sheer market ambience, the atmosphere (or lack thereof) at Jack's Fish Spot can't be beat. Hop on a stool, breathe in the fishy market air, and watch the fishmongers work their magic. When you're ready, put in your oyster order and relish your own chance to kibbitz with the guy cracking shells in front of you.
Sign up here for our daily Seattle email and be the first to get all the food/drink/fun in town.