Seattle's 7 best oysters... that aren't on the half-shell
Everyone loves oysters on the half-shell (and heroes in a half-shell like Michelangelo... he's a party dude!), but no one in this bi-valve-crazy town thinks much about oysters that aren't on the half-shell -- until now, thanks to our list of Seattle's seven best fried-or-otherwise-cooked oysters, which just so happens to include a couple of heroes. And shooters. And chowder. And...
Chona Kasinger
Oyster Po-Boy
Jemil's Big Easy, Mobile
Dressed with lettuce, tomatoes, pickles, and special sauce, Jemil's fried oyster po-boy proves you don't need oysters on the half-shell when they're fried, enclosed in a perfectly crunchy-on-the-outside, soft-on-the-inside baguette, and then served from the back of a bright yellow truck.
Market Chowder
Pike Place Chowder, Downtown
This stuff features the chef's choice of ingredients, which means you're getting some other kind of chowder if he can't score fresh bi-valves, but since this is Washington, and this place is in the country's oldest continuously operating farmers market, you should be ok.

Chona Kasinger
Oyster Shooters
Brooklyn Seafood, Steak and Oyster Bar, Downtown
The winding, copper bar is the perfect place to shoot... well, anything (Jägerbombs!), but it's an especially good place to toss back bi-valves that've been hand-shucked right in front of you and covered with liquor. 
Fried Oysters
Walrus and the Carpenter, Ballard
Served with a side of next-level cilantro aioli, these little fried seafood nuggets are one of the many things that make the WatC, if not the best oyster spot in the country, then at least the best Alice In Wonderland-inspired oyster spot in the country.
Chona Kasinger
Hangtown Fry
The Wandering Goose, Capitol Hill
Boasting a generous amount of glorious pork belly, fried oysters, a poached egg, and a heaping pile of potatoes, this epic Hangtown Fry on a hot skillet always inspires rubber-necking from nearby diners, which is silly, 'cause if people actually had rubber necks, it'd probably be called a "Some-other-kind-of-execution-all-together-town Fry".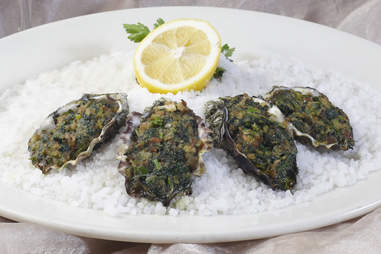 Oysters Rockefeller 
Ivar's Acres Of Clams, Waterfront
So, technically, these are on the half-shell, but only after they've been roasted w/ bacon, spinach, sambuca, and a... waitforit!... rich cream.