When you think of infinite numbers, you likely think of pi. But given the sheer number of seriously excellent pizzerias that have opened in Seattle over the last six or seven years, you should probably start thinking of pie... places... that we could've put on our list of The Town's best pizza spots.
Capitol Hill
The sweetest of Ethan Stowell's myriad pizza places (all of which probably could've made this list) is serving simple wood-fired pies topped with premium sliced meats, including its own version of a prosciutto & arugula pie, and our favorite sausage-based number with rapini, fior di latte, and tomato.
Capitol Hill
Opened by the minds behind Delancey (and blessed with a hilariously retro '90s-inspired website), this brand new bar/pizza place doles out traditional round pies, but you're going to want to go for the square-cut pieces of New Jersey-inspired Sicilian-style thick crust, as only so many pieces of which are available each day.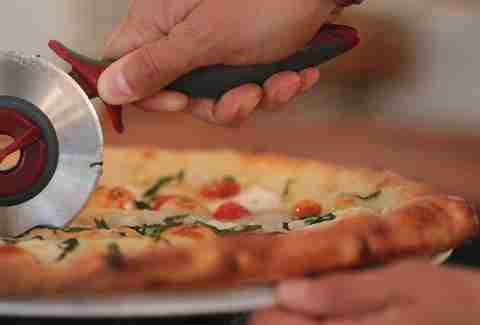 First Hill
This underrated joint in what used to be the lobby of a (still) gorgeous old-timey hotel is serving a grand selection of classic pies, like the Italian fennel sausage with peppers and mushrooms, or a prosciutto-topped pie, which gets a mess of arugula, cherry tomatoes, and oil piled on it when it comes out of the oven.


Downtown
Super-chef Tom Douglas perfected SP's slightly sweet, almost pastry-like crust at his bakery around the corner, and it's so good that almost anything would taste amazing on it. But you'll want to spend your clams on the pie topped with diced, fresh-shucked ones from Penn Cove, one of the Puget Sound's premier bivalve purveyors. Seriously, this pie can't be missed.
Ballard
Included mostly because the pies are amazing (and partly because we don't want this place's passionate fans coming after us), this Ballard pizzeria is home to some pretty fantastic-tasting (and -looking) pizzas. Pro tip: get the bacon & onion pie, and follow it up with some of the D's bourbon-roasted peaches.


International District
Fifteen years after closing, this grunge-era Belltown mainstay reimagined itself as a salvaged, wood-heavy Chinatown slice house with seats for 20, and tons of touches from the old space, including the vintage signage. It also has a selection of pies that do something almost impossible: make you forget they're vegetarian. We're not kidding. Just try the veggie pepperoni and see what we mean.
Capitol Hill
Getting some cheap beer (PBR, 40s of Olde English, etc.) with your slice is a no-brainer at this late-night destination, which sadly isn't named for what you'd better be when you finally find the Tanooki Suit on World 4, Level 5.


West Seattle
This little Italian joint is well worth a trip to Alki Beach, where personal-sized pizzas (no sharing) are cooked in a 900-degree oven that makes crunchy-but-airy pizza crusts that you can top with everything from house-made fennel sausage & Mama Lil's peppers, to fresh figs, pancetta, caramelized onions, Laura Chenel chevre, and whole milk mozzarella.
Downtown
The hand-tossed NY-style pie at this charmingly kitschy spot near Pike Place Market is made to order from a sparse list of classic toppings (pepperoni, sausage, anchovies, mushroom, etc.). It cooks in about the same time that Roger Bannister was first able to run a mile in 1954... but likely only because the dude never ate pizza.


Madison Park
Everything's good here, but given the Indie's beachside location, its prosciutto/Grana/fior di latte number, which gets a crisp, summery feel from the mound of rocket it puts on top, is probably the perfect choice.

Sign up here for our daily Seattle email and be the first to get all the food/drink/fun in town.

Bradley Foster is a former Thrillist editor whose favorite pizza place (Primo) is a little too far away, so he usually just gets Pagliacci.