The best antidote to the gloomy gray of a Pacific Northwest winter takes a silky soft noodle form, adrift in a sea of sticky-rich soup. The combination of nine months of ideal soup weather and a heavy Japanese culinary influence gives Seattle an enviable ramen scene. Whether looking for a fancy-pants version made with wagyu beef, a tongue-searingly spicy broth that can probably cure anything but COVID, or a take-home meal kit to ensure a steaming hot bowl, the city's ramen fans can find just the type of noodle soup that soothes their soul without compromising on quality—and this list rounds up where to do that.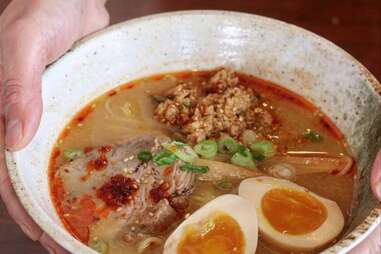 Fremont
Chef Mutsuko Soma's specialty soba shows off the subtleties of the nutty, house-made buckwheat noodles. But since the beginning of the pandemic, she turned ramen from a sometimes-special into a regular menu item, rotating through a selection of styles including tan tan, shio, and onibaba. The take-home kits feed two people with ready-to-cook noodles, broth, protein, and all the usual garnishes—and occasionally a little extra accent courtesy Soma's creative cooking. The included instructions make it easy to turn out a restaurant-quality bowl and take just a few minutes.
How to order: In-person, by phone, or via the Kamonegi website for takeout, through UberEats for delivery.
Various Locations
Elmer Komagata earned a reputation for his phenomenal cooking—drawing on his French training and Japanese heritage—around Los Angeles going back as far as the 1980s. His culinary skill led him to Mexico City, Cancun, and back to California before he landed in Seattle with a singular focus: to open a ramen shop. He hasn't found the right location yet, so for now from an mobile stand designed to look like an early 20th-century ramen cart, called a yatai, which served "yonakisoba" or "midnite ramen." But as notable as the cart is, the food is more so, bringing his fine-dining training to more than a half-dozen ramen styles, including simple and classic, Kobe-style beef brisket, and nibo-jiro with pork fat in anchovy broth.
How to order: Find the truck!
South Lake Union
An under-the-radar gem in the maze of big-names in Amazonia, this little izakaya from the former chef of Seattle's Japanese consulate puts out a gentler ramen than most. While most of Seattle's bowls go big on pork power, this one specializes in chicken broth based bowls. Many of the ramen options still come with the standard pork slices (though not all), so the biggest difference comes in the more subtle soup portion, which is soft and silky and tastes like coziness. Pandemic additions here include creative specials, like oxtail tomato ramen, and a cook-at-home version of their staple.
How to order: Via Teinei website.
Capitol Hill
The second US location of this International Japan-based chain opened in 2018 to little fanfare, but for lovers of the tsukemen, or dipping-style ramen, it was an important development for the Seattle ramen scene. For this specialty, Menya Musashi serves a thick, rich pork and seafood broth on the side, and the flat, fettuccine-width noodles separately, so that diners can dip the noodles as they eat. For noodle lovers, this is the place: They nail the texture, and the dipping style keeps them from overcooking as you eat. Currently, they offer all the ramen both cooked and as a kit.
How to order: Pick-up and delivery through ChowNow.
Capitol Hill
Dreamy, creamy and magical, the Southern Japanese style broth here, made exclusively from pork bones, is the only base available, but you don't need other options when something is this good. Getting the Hakata-style broth used to require waiting in a long line for a squeezed-in spot, but now claustrophobes and impatient people alike can order it takeout to enjoy at home, just make sure to request all the condiments including the crispy garlic chips and spicy bean sprouts
How to order: Text (preferred) or call 206-945-9545.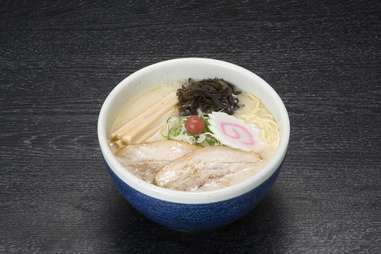 Bellevue/University Village
The velvety-rich soups that this Japanese chain puts out, in each of its tonkotsu broth options (shio, shouyu, and miso), expertly wield the double-edged sword of heavy flavor and light texture better than anyone else in town. While the main menu can be ordered online, in-store ordering offers a few special takeout items designed to weather the journey home: brothless mazemen and tsukemen, which uses a thickened version of the standard broth for dipping the noodles into rather than bathing them as in the standard soup.
How to order: Via the Santouka Website or in-store for the takeout special.

Wallingford
Quietly tucked into a busy restaurant row, this izakaya receives far less attention and accolades than it deserves. But the best of its food, like the restaurant itself, doesn't scream the loudest nor show-off in memorable ways. Rather, the kitchen sends out sensational but simple bowls, like its miso broth, which brings the complex, salty flavors of fermented soy bean into perfect balance with the slippery slices of braised pork belly. It also offers some more sensational bowls, including the seafood-packed fisherman ramen and high-end wagyu shoyu.
How to order: Via Yoroshiku website for pickup or delivery.
Capitol Hill
This Japanese chain's first US venture brings the most customizable ramen experience to the list. The standard base is Fukuoka-style pork broth, though the menu has shio, miso, and even vegan options. From there, diners choose not only their broth and toppings, but a litany of other options: noodle thickness and doneness, broth thickness and fattiness, and spice level. With that strong start, if you don't like the ramen here, you've got only yourself to blame.
How to order: Call for takeout 206-566-5479, delivery via UberEats, GrubHub, and ChowBus.
Sign up here for our daily Seattle email and be the first to get all the food/drink/fun in town.
Naomi Tomky is an award-winning freelance food and travel writer who believes in noodles for breakfast, lunch, and dinner. She is the author of
The Pacific Northwest Seafood Cookbook
.
Follow her edible adventures on Twitter @Gastrognome and on Instagram @the_gastrognome.