Ramen restaurants in Seattle seem to open at the rate of about one per week (especially in Capitol Hill). But how do you separate the duds with bland broth and soft noodles from the experts sliding out bowls with soup so rich it qualifies for tax breaks? You let us do the legwork. Here's where to find the fattiest meat and the most tender, gentle noodles, ready to tangle up in chopsticks like a '90s teen in a telephone cord.
Bellevue/University Village
A Japanese import shows off precision soups
The velvety-rich soups that this Japanese chain puts out, in each of its tonkotsu broth options (shio, shoyu, and miso), expertly wield the double-edged sword of heavy flavor and light texture better than anyone else in town. Meanwhile, as if the impeccable execution on the braised pork belly (or special pork cheeks) isn't buttery enough, diners can (and should) order it Hokkaido-style: with butter and corn.
Capitol Hill
So creamy you'll think there's milk in it
Dreamy, creamy, and delicious, the broth here -- made exclusively from pork bones -- is the only base available, but you don't need other options when something is this good. Condiments like garlic, soy sauce, and chili paste sit on the tables at this hallway of a spot, but the only accompaniment this soup needs is cold beer from the selection of imports. Open late and consistently packed, it expects diners to eat just as in Japan: sit down, slurp up, and scram.
International District
A bowl that's worth the wait
Every Friday at lunch (and only on Friday at lunch), the teeny Tsukushinbo dishes up its famously good and infamously hard-to-get ramen. The line outside is because this spot only slings a couple dozen bowls per day: their richly flavored broth takes forever to make, so you have to get it while it's hot, or you don't get it at all. Until next week. Maybe.
International District/University District
A Seattle classic, now delivered to your door
These guys were here before the ramen trend exploded. While the city's gone crazy for the noodle soups, Samurai has stayed one step ahead of the rest. You can now get their sweet bowls of steaming noodles, including the searing "Tetsu Hellfire" dipping ramen, where everyone but the Seattle Mariners are most comfortable: at home, thanks to their delivery service.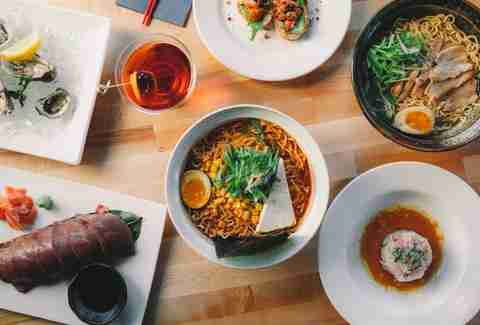 Wallingford
A subtle but stunning restaurant makes soup that's the same
Quietly tucked into a busy restaurant row, this izakaya receives far less attention and accolades than it deserves. But the food, like the restaurant itself, doesn't scream the loudest nor show-off in memorable ways. Rather, the kitchen sends out sensational but simple bowls, like its miso broth, which brings the complex, salty flavors of fermented soy bean into perfect balance with the slippery slices of braised pork belly.
Lake City
A Hawaiian-style spin on the Japanese classic
Greenwood's loss was Lake City's gain. When this Aloha said "aloha" to its new 'hood in 2014, it also expanded its menu to embrace even more of the Island-style that set it apart from the ramen crowd. While Aloha's broth alone doesn't bring diners in, the Hawaiian touches keep everyone coming back: dishes like kalua pork ramen, or the namesake special with roasted garlic-peanut-miso base and their enchanting garlic oil.
Capitol Hill
Customizable bowls offer a tailored slurping session
This Japanese chain's first US venture brings the most customizable ramen experience to the list. The standard base is Fukuoka-style pork broth, though the menu has shio, miso, and even vegan options. From there, diners choose not only their broth and toppings, but a litany of other options: noodle thickness and doneness, broth thickness and fattiness, and spice level. With that strong start, if you don't like the ramen here, you've got only yourself to blame.
Sign up here for our daily Seattle email and be the first to get all the food/drink/fun in town.