The top ramen in town is not, in fact, actually Top Ramen™, so put aside those memories from your freshman year (except the ones about Irene Entner) and start slurping any of these steaming bowls of everyone's favorite Japanese noodle import: from the International District to Lake City, here's the best ramen in Seattle...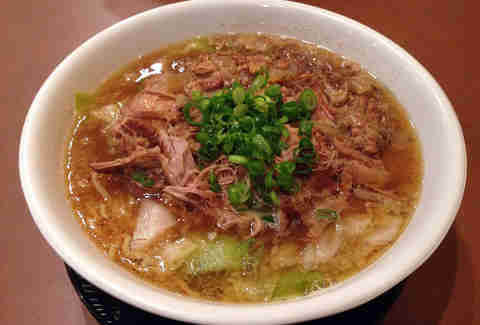 Lake City
In early February, Aloha said Aloha to its digs in PhinneyWood and said... well, aloha to new ones in Lake City, but are still serving traditional Japanese eats with Hawaiian flavors. The perfect example? Aloha's Kahlua Pork Ramen, which takes one of Hawaii's signature dishes to the next level, but check before you cruise up there to get some, 'cause they're only open five days a week -- and only for four hours on weekdays.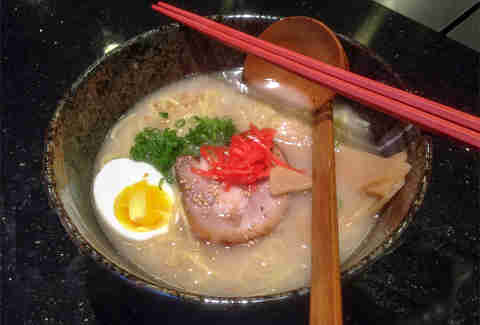 Bellevue
Traditionally, slurping your noodles is an indication of appreciation, so don't be afraid to go nuts on a bowl of shoyu ramen, complete with all the typical accoutrement, from Kukai and Izakaya's, which is easily the best ramen spot on the Eastside. And not only 'cause it might be the only Ramen spot on the Eastside.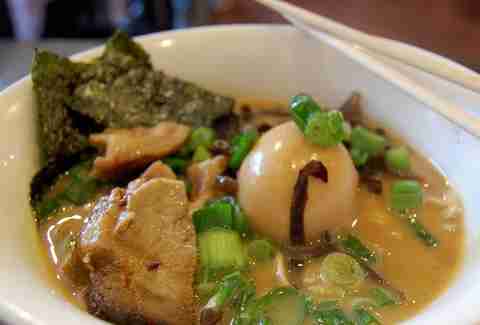 International District
SN's got three locations (the U-District, the International District, and Capitol Hill), but who cares? You can now get one their sweet bowls of steaming noodles where everyone but the Seattle Mariners are most comfortable: at home, thanks to a currently-in-beta delivery service.
Ballard
Tucked away in Ballard, Bloom's signature dish is its Kasu Ramen, which touts broth made of pork, chicken, and sake kasu sourced from Cedar River Brewery in Seattle, the only sake brewery in town.
International District
Every Friday (and only on Friday), the teeny-tiny Tsukushinbo dishes up its famously good and infamously hard-to-get ramen. The spot only slings a couple dozen bowls, 'cause their richly flavored broth takes four days to make, so you have to get it while it's hot, or you don't get it. Until next week. Maybe.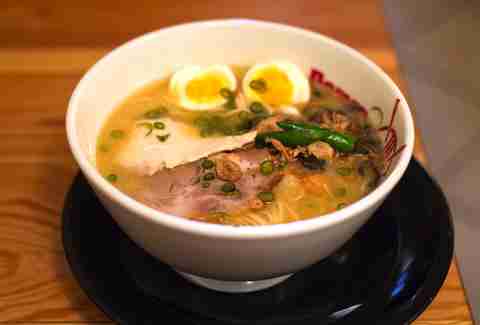 Wallingford
Just off 45th, Ramen Man is all about simplicity, man, so while their menu might seem quite basic, their broth packs a flavorful punch, and the best part? Ramen Man offers unlimited boiled eggs with your bowl of ramen.
Fremont
Made with housemade noodles, pork belly & kimchi, this next-level ramen was once a brunch-only offering from the married (Iron) Chef duo behind accolade-heavy Joule, but you can... um, revel, in the fact that 10 bowls are available during happy hour at their next-door boozer, Quoin.
Sign up here for our daily Seattle email and be the first to get all the food/drink/fun in town.