Chona Kasinger/Thrillist
Chona Kasinger/Thrillist
Of all the things you should do in Seattle, leaving it and going to the Eastside isn't really one of them (and going to the Eastside via 520 definitely isn't)... unless you've got a line on some places that're actually good to eat at, which thanks to our list of the 10 best restaurants in Bellevue, Kirkland, Redmond, etc., you totally do. You're welcome!
Woodinville
After hitting the Heavy Restaurant Group's casual spot in Woodinville it should be pretty clear that it's pretty good at this opening bars/restaurants thing (it's also behind Lot No. 3 on this list), and that it's pretty good at making YOU heavy, especially if you try conquer The Commons' behemoth menu with our handy guide here. Good luck.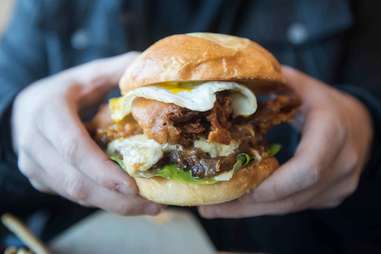 Redmond
Right in the heart of Downtown Redmond, the aptly named Tipsy Cow touts burgers well-worth the drive over from our neck of the woods. Spring for the Rockstar burger, which has custom-ground, grass-fed beef, brew battered and fried Daily's bacon, maple syrup drizzle, Beecher's Flagship White Cheddar, a fried egg, caramelized sweet onions, bibb lettuce, tomatoes, and Tipsy sauce -- so yes, pretty much everything.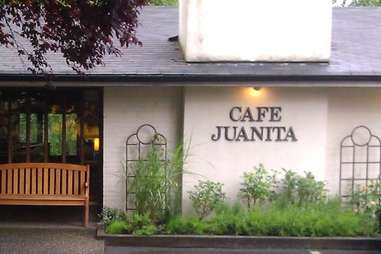 Kirkland
Though in a state of flux in light of a big remodel, the show goes on for this acclaimed Kirkland spot currently living in a pop-up in Capitol Hill. Cafe Juanita is planning to stay in its pop up spot in the old Lark location until the first half of June and will hopefully be reopening its Eastside digs in mid July, when James Beard award-winning chef/owner Holly Smith can start slinging her fine dining-style fare in her own space again.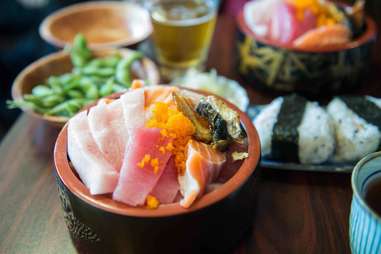 Bellevue
Every bit as good as the Wallingford location, this cash-only spot touts more parking (making it a good call if you're over cruising the block), and once you get inside, you can't go wrong with the Chirashi Bowl, which gets you a little bit of everything… and if you're not into shrimp or what have you, you can always customize your bowl and sub something else in. Win win!
Bellevue
South Lake Union's version closed last year, but John Howie's original location is still going strong. For oysters, ahi, and crab cakes galore, look no further than this upscale spot: it is a sure winner for all things seafood… even if it means trekking across a giant lake.
Redmond
For out of this world pizza (you knew that one was coming), you've got to hit this mainstay 'za-slinger, which has 20 different beers on tap, as well as 18 different varieties of pizzas to choose from, including its Asteroid Belt pizza (which boasts its trademark Flying Saucer red sauce, Italian sausage, and fresh mozzarella) and a Black Hole pizza that is packed with guess what color olives.
Bellevue
This metal-heavy, bi-level bar/eatery comes from the team behind Barrio, The Commons, Purple Cafe, etc., and from brunch to its late-night happy hour, this place is hooking you up almost around the clock with a wide variety of comfort foods (mac & cheese, chicken & waffles) and creative booze options including its own bottled cocktails. Pro tip: if you park in the Bellevue Towers parking garage, free four hour validation is available.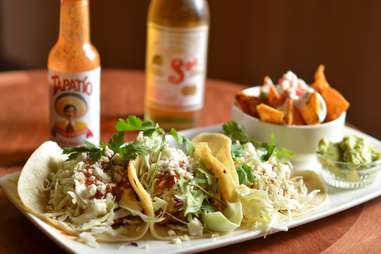 Redmond
Serving a hybrid of PNW-inspired dishes with a tinge of Southern influence, Pomegranate Bistro is the kind of place that grows thitsir own herbs on its patio -- something we can totally get down with. You'd be remiss not to order Lisa's Southern Fried Chicken, which is served with spring onion whipped potatoes and celery seed slaw.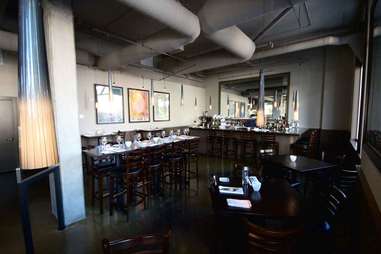 Kirkland
A "more modern" take on the original in Ballard, this 2,500sqft Italian stallion boasts a 55-seat dining room set off with Dale Chihuly drawings, a sparkly Murano glass/Swarovski crystal chandelier, etc, plus it's got a menu that ranges from entrees like wild boar tenderloin with Gorgonzola sauce, to pastas with truffle butter and smoked pork jowls, aka guanciale, aka "oh crap, that's what guanciale is?"
Bellevue
Another reprise of a Seattle mainstay, this old Main St outpost doesn't boast the sepia colored interior of the popular Wallingford original, but it's got everything else, from handmade Spinach Tortellini with braised pork, hazelnuts, and Parm brodo, to a Painted Hills Teres Major (beef shoulder) with nettles braised in butter and a pine nut crema, as well as a sprawling bar boasting a sweet selection of wine.
Sign up here for our daily Seattle email and be the first to get all the food/drink/fun in town.