Washington is pretty freakin' big: 71,362 square miles (or... um, some number of square kilometers, presumably) to be precise, and while Thrillist Seattle focuses mostly on the Northwest's biggest and best city (suck it, Portland!), we also know there's a whole slew of sweet eateries in this state that aren't in The Town/Bellevue. Here are our 10 favorite...
Whitehouse Crawford Restaurant
Walla Walla
When in Rome… or in this case, Wine Country, do as people who really like wine do and order the six-course tasting menu with wine pairings at this New York Times-approved eatery, where the ever-changing menu features only the freshest meats, local produce, etc.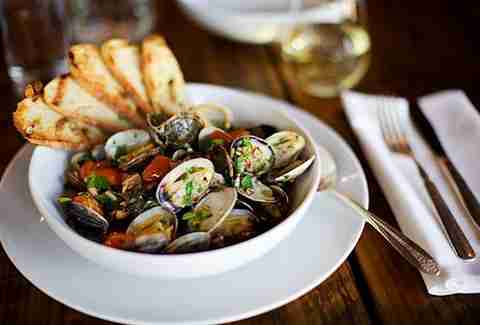 Casper Fry
Spokane
A diamond in the rough, Casper Fry is at the forefront of a food revolution in a town known mostly for its... um, something other than food? Boasting unique takes on Southern comfort food, CF's menu includes everything from gumbo to their gloriously rich Jama's Fried Chicken.
Adrift Restaurant
Anacortes
People come to Anacortes for the stunning views from Cap Sante or to catch a ferry to the San Juans… but should probably stay for some tacos, and burgers, and oysters (Taylor Shellfish, no less), and sushi, at this gem off Commercial. Though it would be fair to raise an eyebrow at any place with such an expansive and diverse menu, rest assured the fare here is worth every drop of unleaded fuel.
The Black Cypress
Pullman
"Classy" isn't usually a word you associate with Pullman, but post-up at this almost-in-Idaho eatery, order the lamb chops and a Blood & Sand (Blended Scotch, Antica Formula Sweet Vermouth, fresh OJ, cherry liqueur), and you'll have class -- and not just the general studies kind Cougs usually take -- for days.
Infinite Soups
Tacoma
This standing room-only, cash-only hole-in-the-wall soup kitchen -- conveniently (?) located nearby Tacoma's preeminent halfway house -- churns out upward of 20 totally sweet soups a day, including not very soup kitchen-y numbers like Chicken Gorgonzola Tortellini. Pro tip: walk a block down to Corina Bakery and enjoy your soup there with their excellent baked goods.
Willows Inn
Lummi Island
Just a swift ferry ride from Bellingham, Lummi Island remains one of the San Juans' most overlooked Islands, despite its remarkable accessibility, and its remarkable restaurant, which is turning out ultra-creative eats made with mostly foraged ingredients that'll cost you a pretty penny, but hey -- you came to play, not to stay, right? Unless you actually did come to stay, in which case there are some nice rooms for that, too.
The Harbour Public House
Bainbridge Island
This charming, cabin-style spot on the water lies just a half-hour ferry ride... or a 93-mile drive around the Sound... away from Seattle and serves four kinds of poutine (!), plus a mean pub burger, locally sourced seafood, and more. Also owned by the Harbour Public House is the nearby Pegasus Coffee House, which is perfect for recharging before the drive home.
MARROW Kitchen and Bar
Tacoma
From oxtail-stuffed peppers and marrow-Wagyu burgers to octopus carpaccio, Marrow serves precisely the kind of food you'd expect at a place called Marrow and gets extra points for having an awesome happy hour that features papas bravas, fried oysters, and more.

Oyster Creek Inn
Chuckanut Drive
Perched atop a cliff off Chuckanut Drive and overlooking treetops, ferns, and Oyster Creek itself; dining at Oyster Creek Inn is a quintessential Northwest experience. If you're patient enough to wait until the Summer, you can even enjoy your next-level Dungeness Crab ravioli on Oyster Creek Inn's incredible outdoor patio.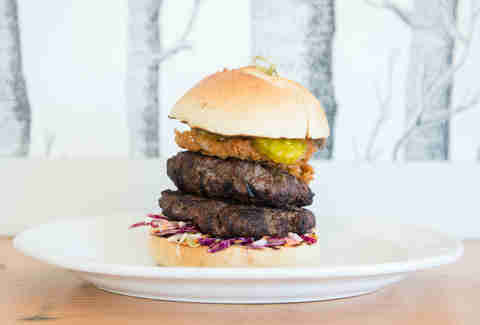 The Commons
Woodinville
Woodinville isn't that far from Seattle... it just feels like it, unless you're hitting this uncommonly good pub with Jurassic-themed cocktails and a gargantuan menu that touts stellar breakfast, lunch, and dinner offerings. Overwhelmed by all the options? Don't worry, we've got you covered.