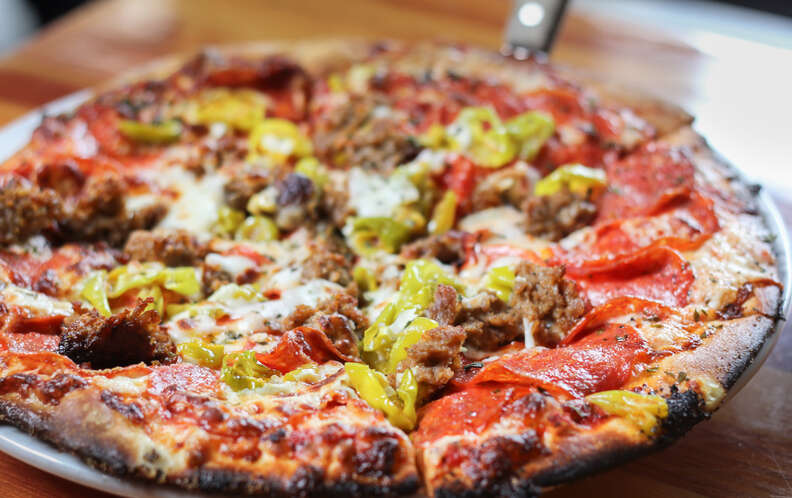 Harmon Tap Room

| Laura R Jones Photography
Harmon Tap Room

| Laura R Jones Photography
If you live in Seattle, Tacoma probably only comes to mind when you're wondering why the airport is called Sea-Tac. Or never. But from iconic, old-school drive-ins to even older taverns, our neighbor to the south boasts some impressive and delicious places to eat and drink. So next time you accidentally get on the wrong train, or need something to eat before seeing monster trucks at the Tacoma Dome, be sure to hit one (or more) of the city's most essential bars and restaurants.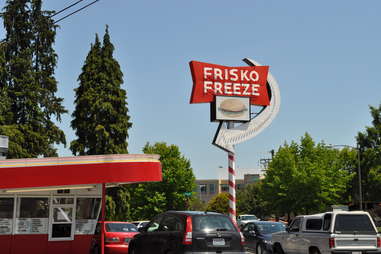 <em>1201 Division Avenue</em><br />
This cheap and messy drive-in burger shack has been around forever and never bothered to add any frills, but no one cares 'cause it's serving the kind of hot, tasty burgers and fries -- along with a killer chocolate malted milkshake -- that have been keeping people happy for half-a-century (it's even on the local register of historic places). Whether stopping in for a high-school date night or passing through for a drive-through snack, the fact that $6 can still buy you a burger and fries will instill pangs of nostalgia in even those who didn't grow up eating under the iconic red and white sign.
<em>9601 S Tacoma Way, Lakewood</em><br />
From Chinese-American standards like General Tso's to regional specialties like sautéed rabbit, this spot serves up a menu of more than 100 different dishes without shying away from the necessary spices. As a Tacoma classic (previously known as Three Sisters, before the titular siblings sold to an employee) waits can be long, but discerning diners will have forgotten that by the time they sit down among the usual Chinese-American restaurant decor trappings and the steamed dumplings (a must-order) hit the table.
<em>204 St Helens Avenue</em><br />
Tacoma's best-known brewer has a number of spots, but this is the one to hit for serious beer drinking and bar snacking -- plus it's where the beer is actually brewed. In addition to their own beers, Harmon fills its 20 taps with other awesome ales, and does a menu where one half is made up entirely of nachos. Harmon is pretty much the Platonic ideal of the Northwest brewery: wild salmon on the menu, big wooden beams in the ceiling, and plenty of hoppy IPAs.
<em>2121 N 30th Street</em><br />
"You know that one place with the great fish &amp; chips?" That's Spar.&nbsp;Just a few steps from the waterfront, the Spar has everything a saltwater-adjacent pub should have: a warm welcome, plenty of beer on tap, a great view, and, again, a killer fish &amp; chips.
<em>1716 6th Avenue</em><br />
Start your day with grits and eggs, finish it with a fried pork chop, and maybe stop in between for a catfish sandwich. Anything you're craving from south of the Mason-Dixon line is better here than anywhere else in the area. The down-home feel extends from the bacon-fat-happy kitchen out to the warm, welcoming attitude of the servers moving between the checked-tablecloth-covered tables laden with cornbread dressing, gravy, and sweet potato pie.
<em>728 Pacific Avenue</em><br />
Classic tiki drinks are the star, but the whole place is warmed to beach-vacation temperatures by the love of all things faux-Polynesian. The surfboard décor, pu-pu platters, and island-themed soundtrack are beautifully absurd without being overly kitschy. The owner -- renowned bartender Jason Alexander -- has managed to marry his serious bartending and rum collection with the endless fun of tiki, resulting in an assortment of delicious mai tais to choose from.
<em>1904 Jefferson Avenue</em><br />
You could pay good money to hit up the Museum of Glass <em>and</em> the Washington State History Museum (both also in Tacoma). Or you could come here, get some food, hang out in a nearly century-old building decorated with Chihuly glass on the bar, and kill three birds with one stone. Like any good PNW bar, the tap list is longer than the bill you'll get if you break any of that fancy glass, so drink carefully whilst enjoying the live music or playing some Skee-Ball.
<em>2914 6th Avenue</em><br />
How do you improve on a bar with such a huge list of great craft beers? You add a hot dog menu, obviously. Because whether you're sipping a local oatmeal stout at 9 in the morning for the weekly "beer breakfast" or exploring the intricacies of various IPAS -- from Stonehenge Tangerine on cask to those from tiny local brewers like Northish Beer Co.-- the intriguing tap list always has something new and interesting (Horchata milk stout, anyone?) and a comforting classic (Scuttlebutt's Amber Ale).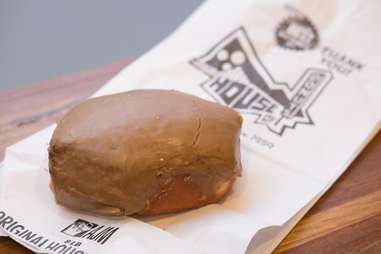 <em>766 St Helens Avenue</em><br />
In the race for best fried dough in the South Sound -- a stiff competition -- the old-school, classic, and comically large maple bars and friends at Original House of Donuts take the cake (pun intended). Whether you're in the market for a dozen emoji-decorated, chocolate-filled, or just want an apple fritter to get you through the morning, this shop keeps the case filled with fresh, delicious donuts all day.
<em>2101 Jefferson Avenue</em><br />
IPAs and oysters are two of the Northwest's signature items, and here at the oyster bar embedded into the Seven Seas Taproom, you can have them both -- inside the historic Heidelberg Brewery. The micro-restaurant-within-a-brewery serves up shucked-to-order oysters from local favorite Taylor Shellfish, along with premium sandwiches, and -- of course -- fresh beer on-top (which you can watch getting made while you dine).
Sign up here for our daily Seattle email and be the first to get all the food/drink/fun in town.