All 16 of Salt & Straw's Flavors, Ranked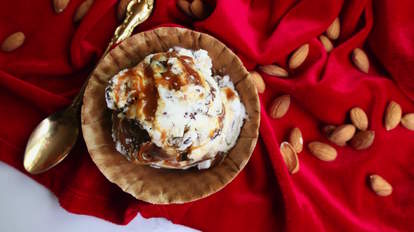 When Salt & Straw opens the doors of not one, but two new shops in Seattle this month, excited Seattleites will likely stand in long lines to sample the famous flavors and get a cone full of Portland's most popular ice cream. First opened in Portland in 2011, Salt & Straw earned its fame for creative flavors (like sea urchin meringue and caramel potato chip cupcake).
Though co-founder and ice-cream-maker Tyler Malek hails from Snohomish, the community-oriented scoop shop shunned Seattle in favor of expanding to California first, hitting LA, San Diego, and San Francisco and leaving locals a little spurned. But all was forgiven when Salt & Straw set up free ice cream giveaways last year and announced the coming Seattle shops.
Now, they're finally here, and serving up 16 flavors. Five come from their chocolatier series, which rotates with other special focus menus -- May will bring the flower series (an ode to spring with flavors like honey lavender), and June a collaboration with local and national chefs including Renee Erickson. August bears the vegetable series, which, in previous incarnations, included an eggplant glace in honey ice cream.
Want to try it yourself? Head to 5420 Ballard Avenue NW on February 9 or 714 East Pike Street, on February 16 and ask for a spoon. Malek invites any customer to taste as many flavors as they want before making their choice: "Once it's your turn, it's your time." He's thankful people wait in the (often long) lines for his product and says it doesn't bother him one bit if you spend an hour tasting through every flavor -- and that's all the better to fuel your debate about which flavor is the best... though we're about to answer that for you.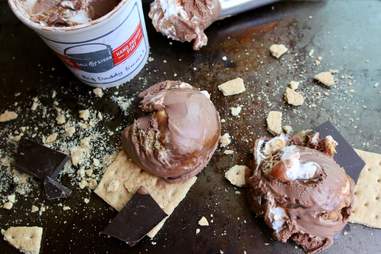 Theo's Big Daddy S'mores

| Suzi Pratt for Salt & Straw
The "Not As Delicious As The Rest"
16. Ellenos yogurt & matcha
It hurts the soul that Seattle's favorite yogurt vendor ends up at the bottom of this list. To be fair, however, the worst Salt & Straw flavor remains a hefty freezer length in front of anything you'll find at the grocery store. While the strong, tart yogurt flavor came through well, buoyed by the nearly imperceptible matcha, the texture on this one sank it to the end of the list: the yogurt ribbons through like a cheesecake, but with none of the smoothness.
15. Double fold vanilla
It's a perfectly fine -- good, even! -- bold vanilla ice cream, but you're not coming to Salt & Straw for vanilla (nor should you be).
14. Theo's Big Daddy S'mores
Seattleites wait all year for Theo Chocolates' s'mores, and they should continue to do so, rather than take this shortcut. The smoked-salt chocolate ice cream and swirl of caramel shine, but the marshmallow fluff comes out too runny and the graham cracker crunch too crumbly. Like the Ellenos flavor, a Seattle classic with good flavor falls prey to unremarkable texture.
13. Beecher's Cheese with peppercorn toffee
Nobody's crying "stunt flavor" here, but it seems if you're going to do something like cheese and spice, it might need to be done a little better. The cheese flavor is just too subtle on this one -- you'll have to dig for the oddly semi-frozen chunks -- and while the toffee texture crunches satisfyingly, the peppercorns sit on your palate for ages afterward. It's fun, and certainly tastes good, but not as good as it needs to be to wave the cheese ice cream flag.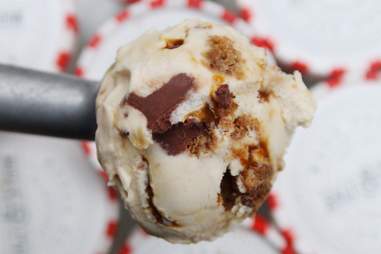 Almond Brittle with Salted Ganache

| Allison Jones
The Pretty Damn Good
12. Almond brittle with salted ganache
The almond brittle, which they undercook just a touch to keep perfectly crunchy after freezing, somehow magically doesn't stick in your teeth. Instead, it plays nicely with the chewy chocolate ganache, its partner in this textural delight.
11. Coconut mint chip cupcake
Spurning vegan ice cream's reputation for weird mouthfeels, this rich coconut base stays round and creamy, and the chocolate cupcake (gluten-free, natch) balances out the flavors. The big mint flavors hit at the end of the bite, and are somewhat tempered, rather than sharp, which makes for easy eating.
10. Fresco's Pure Chocolate Bar
Creamy and speckled a lovely brown, this gentle, mild chocolate comes from the complexity of pure cacao used for the flavor. That means it lacks the boldness of a traditional chocolate ice cream, but is a special treat for the chocolate nerd.
9. Honey lavender
Perhaps the first lavender ice cream to not taste like the way your grandma's room smells. Because they steep the lavender into the honey, it pulls out more of the earthiness and less of the soapy florals. Spent lavender berries come in for the stunning purple color, and the whole thing is surprisingly balanced.
Sea Salt with Caramel Ribbons

| Allison Jones
The Incredible
8. Sea salt with caramel ribbons
The first flavor, and the favorite of Malek, the co-founder. Not to be mistaken for a run-of-the-mill salted caramel, this brings intense, almost (but not quite) burnt notes with a midnight-dark caramel, whose hint of bitterness turns out to be the key in a sweet-salty-bitter trifecta.
7. Elm Coffee & Westland whiskey
An espresso punch square to the face. That's the kind of bold coffee flavor that comes from the three different styles of extraction used for this flavor. But since all three are slow-and-low heat brews, the bitter edges and acidic aftertaste disappear, leaving just a strong, round coffee cream.
6. Strawberry honey balsamic with black pepper
One of the best things about Salt & Straw ice creams is that they don't hide from or mellow out big flavor. Here, they boost the strawberry by marrying it to the sweetness of the balsamic vinegar, which hits at the end of the bite, sharp and strong. The pepper plays in the background, helping to enhance the other ingredients, rather than standing alone.
Intrigue's Green Basil & Chocolate Cocoa Nibs

| Suzi Pratt for Salt & Straw
The Unquestionable Best of The Best
5. Rachel's Raspberry Ginger Beer
This is how light ice cream should be done. The flavor comes entirely from the Rachel's Ginger Beer used to make it, but a tiny amount of coconut used to add creaminess mellows the ginger, giving it a sherbet-like texture, a strong raspberry flavor, and just a tiny linger of ginger off the end.
4. Intrigue's green basil & chocolate cocoa nibs
The way the basil flavors this nib-studded sweet recalls a fever-dream mint-chocolate-chip more than the savory herbiness implied by the ingredients. The spiciness of the basil replaces the sharp mint, but the chocolate-coated nibs balance it out with a warm sweetness.
3. Fran's Almond Gold Bar
This deserves a podium spot just for the respect and admiration in Malek's voice when he discusses legendary Seattle chocolatier Fran Bigelow. But also, the shards of her chocolate, chopped up in the salted vanilla ice cream like a stracciatella, and wrapped in a ribbon of caramel, come together for a nutty homage to Seattle's original chocolate star.
2. Chocolate Gooey Brownie
Smooth, simple, easy: this is Chocolate Mountain with a chocolate super-highway running through it. The chewy brownies get their texture from mixing with marshmallow fluff before hitting the ice cream, which renders them nearly fudge-like, a perfect match for this classic, comforting kind of chocolate. And, unlike the other chocolates (from the chocolatier series), this one's a permanent fixture on the menu.
1. Forte's lemon & pepper white chocolate
The pinnacle of creative flavors and ice cream perfection: bright, lemon zest and black pepper ice cream zigs brightly and zags with spice. Unlike the Beecher's version, these peppercorns come roundly balanced by the white chocolate, chopped up and strewn through. The only thing wrong with this flavor is that it's on the rotating menu and will someday disappear.
Want a preview of the cones to come? Salt & Straw will be serving $1 cones from a cart in front of the Ballard shop on February 8 from 6-8pm, with all proceeds donated to FareStart, a non-profit that provides food service job training to those in need.
Sign up here for our daily Seattle email and be the first to get all the food/drink/fun in town.
Naomi Tomky ate 16 flavors of ice cream for this article and would eat 16 more just to bring you accurate rankings. If you'd like to argue with her choices here, find her on Twitter @gastrognome.