The Absolute Best Seattle Sandwiches for Under $7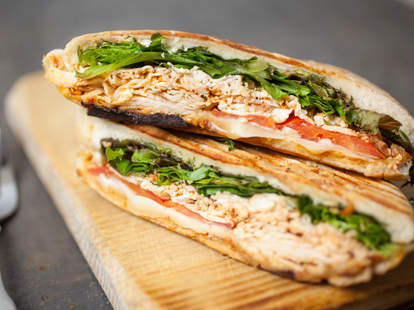 MATTOPHOTO PHOTOGRAPHY/THRILLIST
Living in Seattle isn't cheap. Therefore the last thing you need come lunchtime is to wait in line for a big ol' juicy sandwich only to discover the bill's hitting $80. For that kind of dough, you can buy around 10 sandwiches on this list and finally cement your position as the coolest guy at Amazon or Microsoft or whatever place you happen to work at! From deli classics and panini to banh mi and pulled pork sliders, here are some of the best sandwiches you can grab... all for under $7.
MATTOPHOTO PHOTOGRAPHY/THRILLIST
Szechuan Flatbread
Downtown
Price: $6.75
This Pike Place Market spot from one of the best Chinese chefs in the city (he's the guy behind Seven Stars Pepper, Szechuan Chef, and more) specializes in seriously good, and seriously affordable street food, including "meat wraps" and Chinese Crepes -- none of which cost more than $7.50 -- and best of all, this "sweet & spicy" flatbread number w/ chili sauce, garlic & sugar that's made with beef, chicken, or pork will keep you (and your bank account) full.
MATTOPHOTO PHOTOGRAPHY/THRILLIST
Half Chicken Pesto
Capitol Hill
Price: $7
Started by a former Whole Foods butcher -- originally as a food truck... or trailer, actually -- this deli operation makes some of the city's best sandwiches, like our favorite, which is a chicken salad sandwich but w/ pesto, Beecher's cheese, Mama Lil's peppers, spinach & aioli, or The Godfather w/ salami, Chevre, Mama Lil's, etc. We know, it sounds too good to only be seven dollars, right? Right. But you can get half of the two we mentioned, and several others, for that price or less, and we figure since they're twice as good as most sandwiches, the math checks out.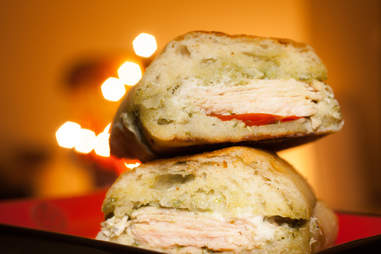 MATTOPHOTO PHOTOGRAPHY/THRILLIST
Turkey Panini
University District
Price: $6.95
This suspiciously pro-Oregon-sounding sandwich shop/bakery is located at the edge of the Ravenna in an unassuming little house where the woman who owns it turns out generously proportioned desserts, and delicious homemade sandwiches, most of which are about $9, but not the Daisy Duck (tuna or chicken salad), or the Turkey Panini -- which makes the cut due to it being smothered in gooey cheese, topped with an herb-heavy pesto spread, and served to you at just the right crunchiness.
Meatloaf Sandwich
Pioneer Square
Price: $4.50
Screw $7. At this utterly no frills spot below sidewalk level just north of Pioneer Square, all the sandwiches cost less than $4.50, including their signature meatloaf w/ cheddar, lettuce & tomato on fresh baked bread, which is made in-house everyday.
MATTOPHOTO PHOTOGRAPHY/THRILLIST
The Roasted Chicken Sandwich
Downtown
Price: $6.16
Also in Pike Place Market, this confidently named deli (it even has it's own song!) creates 20 different sandwiches for just $6.16. There are two succulent options here: the pulled pork w/ greens & smoked gouda, and the Roasted Chicken w/ tomatoes, provolone, sun-dried tomato pesto, a whole mess-o-greens & lemon aioli. But in the end, the roasted chicken takes home the gold.
Build-Your-Own Deli Sandwich
Downtown
Price: $6.49
This Italian grocery in the heart of downtown is popular (like, line out the door popular) in large part because they'll make you a seriously good deli-style sandwich for just $6.99. The best option is to make your own (our go-to is salami & havarti w/ pesto mayo on sourdough), but there's a plethora of options you can go with. Or there's always a bacon cheeseburger for just $6.49... and that technically counts as a sandwich, right?
Liverwurst
First Hill
Price: $6.35
Called the best deli "that you've never heard of" by the Seattle Times earlier this year, this Eastern European grocery just up the hill from Vito's, is the best place to go when you need to stock your pantry with Armenian wine or cans of beef goulash, as well as a solid pick for lunch: The sizable build-your-own sandwiches are just $6.35 and come with a drink and a side. Pro tip: you can get ham or turkey anywhere, so go with something more old world, like the Liverwurst... or the corned beef, the salami, or -- since it's in the place's name -- sausage.
Vietnamese Sandwich
University District
Price: $3.95
If it weren't for teriyaki… or pho, or salmon, or Dungeness crab, or oysters, then the classic banh mi on a fresh baguette w/ shredded carrot, cucumber & cilantro, might just be Seattle's signature food item, and this UW-adjacent spot is selling them, with your choice of BBQ pork, chicken, or tofu, all for just under $4.
Sign up here for our daily Seattle email and be the first to get all the food/drink/fun in town.
Bradley Foster is a former Thrillist editor who has been searching... and searching... for a new favorite sandwich place ever since Pinky's BBQ closed.