According to the internet -- which would never lie to you -- Americans consume approximately 45 billion sandwiches each year. And according to Yelp, there are 5,000+ places serving sandwiches in the greater Seattle area. So to narrow it down, we decided to assemble a list of the 11 best sandwich shops in The Town… two of which only serve grilled cheese, and two more of which aren't really sandwich shops at all. But hey, should you be worrying about that when again, according to the Internet, you've got at least 136.69 sandwiches to eat this year? Didn't think so.
Recommended Video
Tuna Eyeball with Timothy DeLaGhetto and Ben Sinclair
Pioneer Square
A party in the back, where their intimate bar is serving a selection of Northwest brews and craft cocktails as well as offering a range of bar eats (sliders, charcuterie, etc.), Delicatus is all business upfront at the lunch counter, crafting a series of Seattle-inspired signature sandwiches like the "underrated, but arguably the best" Mudd Honey with roast beef, smoked turkey, bacon, white cheddar, horseradish. There's also a bunch of deli classics headlined by The B.L.FingT, which comes with bacon (and lots of it), leaf lettuce, tomatoes, and mayo on sourdough. Oh, and a warning to consult your doctor.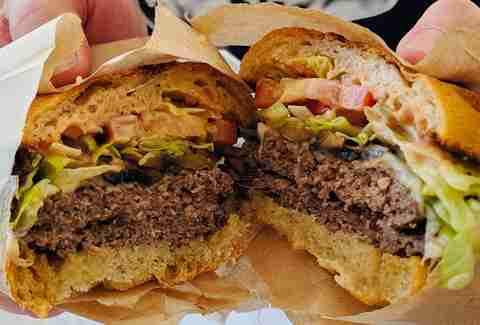 Eastlake
Opened almost five years ago now by the people behind badass BBQ destination Bitterroot, this counter service-style spot specializes in two things: beer (they've got no less than 48 taps) and sandwiches. The star? Well, it's a... mammoth... fried chicken leg & pork belly number served with Swiss & arugula called the Predator that you should definitely destroy ASAP.
Capitol Hill
Inspired by the classic New York-style deli, this new-ish Pike/Pine establishment is serving classic sandwiches at decidedly New York prices. There are only a handful of sandwiches on the memu -- the Hot Pastrami, corned beef, brisket, etc. -- and most of them will cost you at least $18 (unless you get 'em "Seattle Style", which comes with half the meat, and may or may not hurt our feelings just a little bit). But when you consider the quality of the ingredients, the hours spent slowly cooking the beef, and the sheer size of their simple but scrumptious sandwiches, it's hard to argue they're not worth it. Especially if you split one with a friend.
Greenwood
What started as an ironically named food truck called Now Make Me A Sandwich is now a permanent sandwich destination on Greenwood, where you can get find the same gravy topped items they served from the aforementioned truck, including the Bad Lieutenant, which comes with pulled pork, chipotle BBQ sauce, and apple jalapeño slaw... plus bacon, ham & provolone, and thankfully, unlike the sequel, no Nicolas Cage.
Phinney Ridge
Obviously the Nickerson Street Saloon is… well, a saloon. But lucky for us this canal-adjacent saloon is owned in part by the guy who used to own Martino's Smoked Meats (RIP), which means he was able to put a few seriously good sandwiches on the menu, starting with the grass-fed Santa Maria Tri-Tip sirloin that's been smoked in red oak and topped with roasted poblano, tomato salsa & chimichurri on a Macrina roll, all of which combine to make a sandwich so amazing you'll think it was an early present from the other Santa.
Served out of three food trucks
As much as we love the Mexico City-style sandwiches at Tortas Condesa -- the walk-up window is a must after a late night on Capitol Hill -- or the fried flank steak torta at Fonda La Catrina in Georgetown, this particular classic gets our pick for Seattle's best torta, in part for the simple satisfaction that comes with pulling into the parking lot at one of their food trucks and finding your hands filled with a pile of carnitas (or one of 10 other meats) lettuce, mayonnaise, avocado, tomato, jalapeño, and pico de gallo, all on soft fresh bread.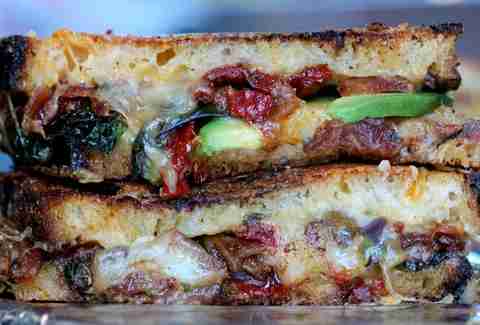 Cascade and CBD
Their signature sandwich is the wildly ambitious Super Deluxe topped with aged chipotle cheddar, house-smoked bacon, caramelized onion, sun dried tomatoes, and avocados. It's so good you should have tried it years ago... or at least as soon as their food truck started operating in 2012. Lucky for you, it's even easier to get this incredible sandwich -- or any of their other cheese-based creations -- as they've got two small brick & mortar locations, and still send their food truck to festivals/events around the city.
Ballard
This small sandwich slinger next to Peddler Brewing is helmed by a Momofuku alum turning out a handful of creative meat & bread-based food options ranging from a steak tartare club, and a sardine/fried lemon/pickled jalapeno number simply called the Fish, to their signature corned beef that comes with pickled red cabbage, yellow mustard, mint, and maple syrup.
International District
Posted up among the mostly Asian offerings in the Uwajimaya food court this grilled cheese operation from the guys behind 8oz. Burger & Co. in Cap Hill and Ballard is turning out 10 different versions of this American mainstay, ranging from The Classic with fontina, mozzarella, Beechers white cheddar, mild cheddar and parmesan, to upgraded versions like The French with braised beef cheeks, onion marmalade & gruyere, and The Seoul with house kimchi, braised pork belly, fried egg, cilantro & gochujang aioli.
Ballard & Shilshole
They make a ton of great sandwiches (we really like the Palomilla Steak FYI), but you're going for the Caribbean Roast, which is arguably Seattle's favorite thanks to caramelized onions and slow-roasted pork, aioli, cilantro, and romaine lettuce on Macrina bread. It's also the same sandwich that they used to make (and still kind of do) at Paseo. And yes, one of UB's locations is the same seaside shack where Paseo got its' start... BUT this isn't some copycat operation. It's run by two of Paseo's former owner's sons using family recipes. No word yet on Lorezno Lorenzo's involvement.
Junction & Other Locations
OK, so we know Ma'ono isn't really a sandwich shop. It's a fried chicken shop that serves one sandwich. But oh my God that sandwich is something special: A spicy, crunchy, fried chicken number with pickle, lettuce & kewpie mayo on a Hawaiian bun that was conceived by fine-dining chef-turned-fried chicken expert Mark Fuller, and is the result of a labor intensive process that involves both dry and buttermilk brines, Japanese spices, and a fiery finish reminiscent of Nashville hot chicken that gives it a considerable kick even in its most mild form.
Sign up here for our daily Seattle email and be the first to get all the food/drink/fun in town.