Seattle has many fine neighborhoods when it comes to eating and drinking, plus a constant string of new restaurants popping up all over the place, but what if you had to pick just one? What if some weird rule, or some really generous house arrest regulation confined you to just oneneighborhood forever? What Seattle 'hood would you pick to maximize your eating and drinking pleasure? Our crack research team decided to help you choose by ranking the 10 best…
10. Georgetown/SoDo
Let's get down to brass tacks: the South end's got sweet bars like… um, Brass Tacks, and one of the city's finest dining spots in the Corson Building, but best of all, both of Rainier's old breweries are home to new breweries. Plus SoDo is home to both Katsu Burger and one of the country's best cheesesteaks. Oh, and your favorite food truck eats are probably made in a commissary there.

9. Belltown
Belltown isn't all about hitting the clubs with girls in 7in heels and guys from, like, Renton. Especially if you avoid 1st Ave (with a few exceptions: Local 360, Umi, etc.) in favor of 2nd, where you'll find sweet places to eat (Pintxo, Tavolata), drink (Bath Tub Gin, The Upstairs, Rob Roy, etc.), and, thanks to the Clever Bottle, meet girls in heels that aren't 7in.
8. Wallingford
Waiting in line for a scoop of salted caramel ice cream outside Molly Moon's should give you plenty of time to decide where to eat dinner. Do you want the city's best soba at Myabi 45? Local/organic eats prepped by the city's best lady-Chef Maria Hines? Maybe some of the city's sweetest boot-food care of Cantinetta? A lakeside meal at Westard, perhaps? Of course, if all that fails you can always hit the 'hood's most notable spots Joule and The Whale Wins...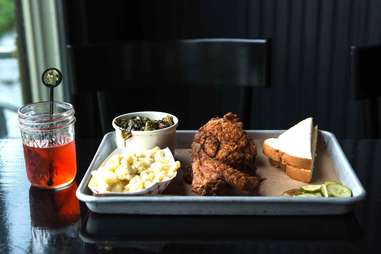 7. Fremont
... except Joule and The Whale Wins might actually be in Fremont, which is why -- in addition to mainstays like El Camino, newer spots like Revel or Bourbon & Bones, and beer/booze destinations like Brouwer's -- the "Center of the Known Universe" isn't a bad spot to make the center of your eating and drinking universe.

6. U District
As if the sheer variety of fast casual eats on the Ave (Teriyaki? Indian? Pho? Ramen? Gyros? German sausages? Yup, all there.) wasn't enough, the U District is also home to Seattle's sole supply of Din Tai Fung dumplings.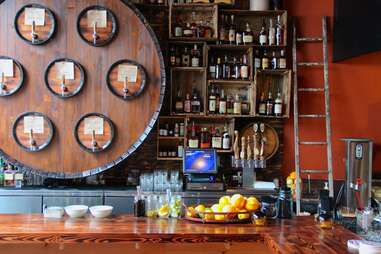 4. Ballard
In the last decade, Ballard's gone from a neighborhood full of people who catch fish to a place teeming with spots to eat said fish, and every other type of food, thanks mostly to a slew of sweet spots from some of Seattle's most prolific restaurateurs like Ethan Stowell, Maria Hines, Laura Olson, Renee Erickson, plus the crews behind Bastille and The Matador (both of which have multiple spots all within a few blocks of each other). Of course even if none of that were true, Ballard would still have Carta De Oaxaca, some of the city's best BBQ, and more breweries than some cities.

3. International District
Every Friday (and only Friday), after four days of cooking, Tsukushinbo in the ID ladles out a few dozen bowls of the best and hardest-to-get ramen, Everyday World Pizza slings vegans pies you'd actually want to eat, and late-night cool kids decampe to Fort St. George for Japanese takes on Western dishes like spaghetti topped w/ roe... and that's just some of what you'll find here...

2. Capitol Hill
There are so many great places to eat and drink on Capitol Hill (from secret bars like Needle & Thread or Knee High Stocking Co., to sprawling spots like Poquitos and Von Trapp's, to cocktail destinations like Liberty and The Old Sage, to mainstay eateries like Spinasse and Kingfish Cafe, to legendary dives like Linda's) that it's surprising all the guys there can still fit in their (probably too) skinny jeans.
1. Pioneer Square
Not long ago, Thrillist was kind enough to write you a guide to the best places to eat in Pioneer Square "right now", and while all of those spots are still great, it was only accurate for about as long as it took you to read it. You see, in the last year or two, the once forlorn wasteland of forgotten nightclubs that was Seattle's oldest neighborhood has seen a constant stream of sweet new spots open (check out Damn the Weather ASAP), all of which have helped turn it from the kind of 'hood where you do things that'll get you confined to a cell, to the perfect one to be confined to. Plus, there's not better place to find the cream cheese laden perfection that is a Seattle dog.