The biggest problem with Seattle (aside from these 99 problems, obviously!) is that approximately eleventy million new bars & restaurants open every month. How can you possibly keep track?! You can't, but we can... so we rounded up the eight best new places in Seattle for fish & chips, octopus gnocchi, and more. You're welcome!
Recommended Video
Proof That Iceland's Ring Road Is the World's Most Beautiful Road Trip
Damn the Weather (address and info)
Pioneer Square
Not to be confused with what you say every time you decide to wear shorts before, like, July, this brick-walled boozer helmed by a former Fleet Foxes member is serving up an adventurous selection of cocktails (the Agricultural Punch w/Agricole Rhum & fresh sugarcane juice that's pressed right in front of you!), and small-ish plates like beef heart tartare.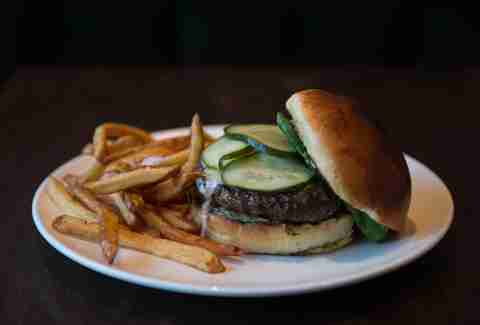 Brunswick and Hunt (address and info)
Ballard
Named after a sizable work of art that hangs in the restaurant's dining room, Ballard's Brunswick and Hunt is the newest addition to the 70th St echelon (Delancey, Honore, Fat Hen), and promises eats that are basically how you describe everyone from Seattle: "nice without being fancy". Examples include their Brunswick Stew (slow-braised elk, pork, rabbit, roasted potatoes), and the Hunter Burger w/buffalo, chuck, pickled shallot & English cucumber.
Canterbury (address and info)
Capitol Hill
This divey Cap Hill institution has been seriously upgraded -- you'll probably have to take a (Wife of) Bath to go there now -- and now boasts eats from the dude behind the Madison Park Conservatory, including the Canterburger (Oregon natural beef, Canterbury sauce, and smoked onions), and cold draft from their expansive selection.
Intermezzo Carmine (address and info)
Pioneer Square
Open just last week, this booze-based expansion to the iconic Intermezzo Carmine on 1st is serving up Italian craft cocktails to go with a variety of small plates like seared ahi tuna and squid ink pasta.
Restaurant Marron (address and info)
Capitol Hill
Located in the former (and possibly cursed!) location of Olivar in the coveted Loveless building, Restaurant Marron is planning to succeed where other spots have failed by serving things like grilled tails and pork brisket, and a "carte blanche" menu for a price that'll make you... um, blanch ($98!), until you see all the constantly rotating seasonal eats it comes with.
FOOD at Cortona (address and info)
Central District
Open exclusively on the weekend, the number one goal at this place is to serve food that makes you happy, something which is apparently achieved via an exotic blend of modern European and pan-Asian deliciousness like mackerel BBQ and steelhead lox with cherries & farmstand labneh.
Chippy's Fish and Drink (address and info)
Ballard
A throwback to the old-school fish 'n chips model, Ethan Stowell's newest spot in the increasingly bustling outer corner of Ballard Avenue finally opened its doors on May 14th. The new spot seats 25 and features a roll-up front door to maximize your Summer enjoyment of things like a Dungeness crab roll sandwich and true cod & chips.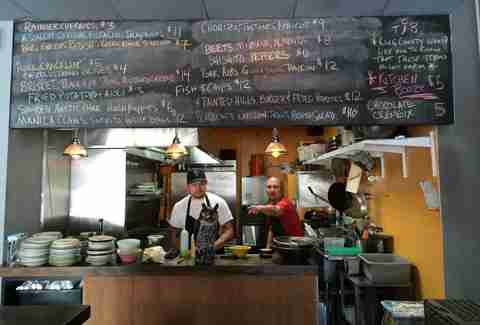 Babirusa (address and info)
Eastlake
After an extended wait/remodel, this more alcoholic counterpart to the next-door Blind Pig Bistro is serving all kinds of beer, wine, and cocktails to go with tasty plates like their octopus and gnocchi w/porcini, in what is hands-down Seattle's foodiest strip mall.
This list -- and all the rest -- look even sexier in our iPhone app. Get it now!