The 10 Best Steaks in Seattle
Rina Jordan I Miller's Guild
Seattle has never been a steak mecca the way, say, New York is. But sometimes -- well, all the time -- you get a craving for beef that just can't be met with one of Philly Boys' delicious sandwiches. Lucky for you we rounded up the 10 sweetest steak spots in the city. You're welcome...
Kate Baldwin Photography
Bellevue
What you're getting: Mushroom steak
This upscale restaurant offers six tiers of prime steak aged 28, 35, or 42 days for the SERIOUS steak-lover. You can dress up any of these fine steaks with classics like mushrooms, sautéed onions, black truffle butter or get adventurous with a delightful Cognac and green peppercorn sauce.
 
Pioneer Square
What you're getting: Ssamjang marinated skirt steak with soy, sprouts, & chrysanthemum leaf    
Although only recently opened, this Korean-inspired restaurant (a quick stroll from CenturyLink Field) masterfully merges contemporary cooking with traditional flavors of ssam-style meats and seafood. Diners will use beautiful leafy greens and chilies to wrap up perfectly seared steak, and don't forget the banchan -- yummy accompanying dishes of noodles, dumplings, and house-made kimchi.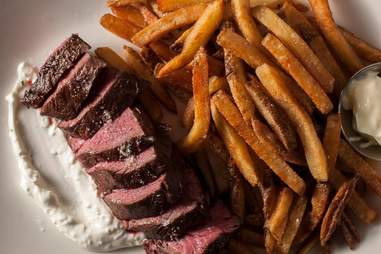 Geoffrey Smith
Madrona
What you're getting: Steak frites
At the epicenter of this bustling contemporary French brasserie sits this popular signature dish made from cows on the 70,000-acre Double R Ranch in the Okanagan, and potatoes from... um, some other farm presumably. It'll leave you thinking the French definitely got at least one thing right.
Manhattan
Capitol Hill
What you're getting: Steak House Poutine with foie gras
This laid-back steakhouse has walls adorned with golden taxidermy and reclaimed fixtures, making for an eclectic dining experience that only enhances the feeling you get biting into one of the 28-day-minimum aged steaks. The Steak House Poutine offers an upscale rendition of the classic junk food with petite tenderloin steak, foie gras, white cheddar, and hand-cut fries all covered in a demi-glace, aka "gravy".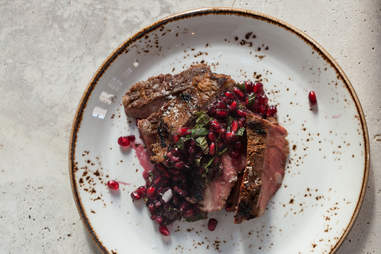 Rina Jordan   
Downtown
What you're getting: Whatever's on the grill
Located in the historic and funky Hotel Max, this rustic eatery is centered around a 9ft-long custom wood-fired grill where prime cuts of meat are butchered and prepared daily. The menu's star is 75-day dry-aged beef and is crafted by James Beard Award-winning Chef Jason Wilson.
Novilhos
Multiple locations
What you're getting: Bottom Sirloin
You certainly won't go hungry at this Brazilian restaurant where a fixed price gets you a choice of more than 16 selections of skewered, slow-roasted meats. The meal is topped off with limitless traditional side dishes, like pão de queijo (cheese bread) and cinnamon fried bananas.
Fremont
What you're getting: "That" Short Rib Steak with spicy kimchi
You know a dish has to be good when it is simply referred to as "that" short rib steak. And with deliciously spicy kimchi and grilled pepper garnish, this Korean-fusion restaurant will have you saying I want "that" to the signature dish and "that as well" to the rest of the menu.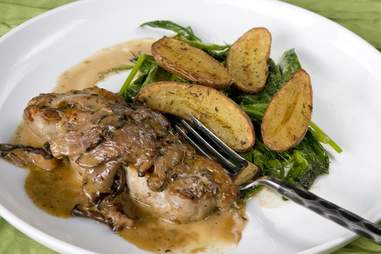 Fresh Bistro
West Seattle
What you're getting: NY Strip Loin
This casual restaurant on the West Side serves traditional comfort food with a commitment to local, healthy ingredients, and answers the question, "Who said steak couldn't be healthy?" Pro tip: Monday night is steak night featuring half-price bottles of wine. *clink*
 
Capitol Hill
What you're getting: Grilled steak frites
When casual food and drinks meet classic ambience in the 100-year-old Oddfellows Building, a relaxing dining experience is created for a quick bite or a family dinner. The steak frites, a guest favorite, is made with sustainable Saint Helen's hanger steak and paired with delightfully crunchy shoestring potatoes.
Sign up here for our daily Seattle email and be the first to get all the food/drink/fun in town.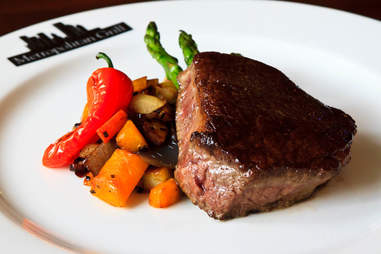 Downtown
What you're getting: Prime Porterhouse
When arriving at this classic Seattle restaurant, housed inside the 1903 Marion Building, you'll walk through towering mahogany doors and be greeted by a tuxedo-clad maître d'. Matching the elegant tone of the entrance is the selection of premium, hand-selected steaks, all paired with your choice of potato or root side.