<strong>Girin |</strong> Courtesy of Girin Steakhouse &amp; Ssam Bar (edited)
When you think of Seattle food, the first thing you think of is, obviously, seafood. Or teriyaki. Or maybe even Dick's. But you should probably be thinking of beef, because thanks to a handful of recent arrivals -- in addition to usual suspects -- The Town is becoming a serious steak city. And here are the steakhouses that prove it.
<em>Downtown</em><br />
The seriously old-school Met has got a great location in the historic Marion building Downtown, a gloriously retro dining room with 20ft columns that reach the ceiling (trimmed with crown moldings that date to 1903), and some serious beef cred, thanks to cuts from local Double R Ranch and super-rare 100% Mayura Station Australian wagyu.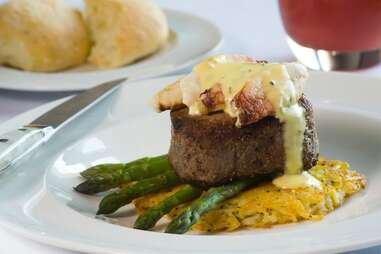 <em>Bellevue</em><br />
This mammoth chophouse is made eccentrically classy with a translucent stone-topped bar, a low hallway lined with booths lit by red lanterns, and a vaulted dining room with a wall of woven bamboo. Said chophouse is made stupendous with a menu centered around "four levels of beef," all of which you presumably must conquer in order to attain the Golden Alka-Seltzer.
<em>Wallingford</em><br />
This Korean steakhouse, from the couple behind Revel and Quoin, does amazing meat-based items like "<em>that</em>" short rib steak with kalbi &amp; grilled kimchi, plus a "Beef of the Day," which invariably will be squashed once your powerful appetite gets involved.
<em>Queen Anne</em><br />
It's not a steakhouse, but if you want... well, anything, done right, then this iconic eatery -- the first restaurant to serve American-grown, wagyu-style beef -- is the place for you. Just make sure you have a sports jacket, and something that's very <em>rare</em> in Seattle: a reservation.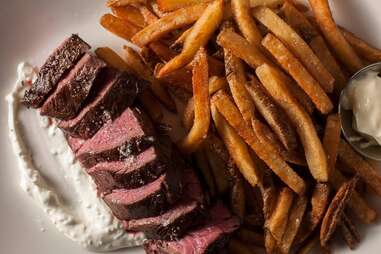 <em>Madronna</em><br />
The signature dish at local super-chef Ethan Stowell's contemporary French brasserie is steak frites, and features one of several cuts from cows on the 70,000-acre Double R Ranch in the Okanagan. It also features potatoes from... um, some other farm, presumably. It'll leave you thinking the French definitely got at least one thing right.<br />
&nbsp;
<em>Belltown</em><br />
This swanky spot has been serving beef since Belltown's first boom in the late '90s, and is still popular with both Seattle "celebrities" (Sir Mix-a-Lot is a regular) and families out on special occasions. Check it out for signature apps like spicy Wicked Shrimp and Tenderloin Diablo tips with cajun cream sauce, and its impressive protein program featuring 28-day dry-aged Niman Ranch and all-natural Certified Angus beef.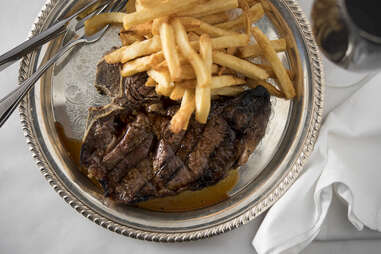 <em>Central District</em><br />
This ambitious 90-seater in an old architect's office is from the crew behind Monsoon and Ba Bar, and takes its name from Bò 7 món, the traditional seven-course Vietnamese beef dinner that it serves alongside more traditional chophouse fare (ribs, sirloin, brisket, etc.). It also has a vegetable-heavy selection of starters/sides with an Asian influence that ranges from negligible (burnt carrot with apricot &amp; hazelnut) to, duh, spring rolls.<br />
<br />
<!-- single line template -->
<em>Downtown</em><br />
Located in the historic and funky Hotel Max, this rustic restaurant is centered around a nine-foot-long custom wood-fired grill where prime cuts of meat are butchered and prepared daily. The menu's shining star is 75-day dry-aged beef... which just so happens to be served by James Beard Award-winning chef Jason Wilson.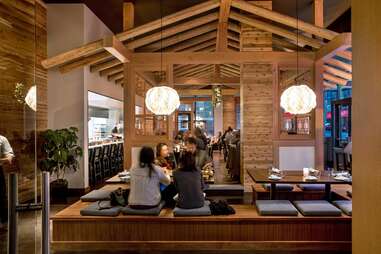 <em>Pioneer Square</em><br />
This Korean-inspired restaurant (a quick stroll from CenturyLink Field) masterfully merges contemporary cooking with traditional flavors of ssam-style meats and seafood, which basically means you'll get to use beautiful leafy greens and chilies to wrap up perfectly seared steak (instead of forks). Oh, and don't forget the banchan -- amazing accompanying dishes of noodles, dumplings, and house-made kimchi.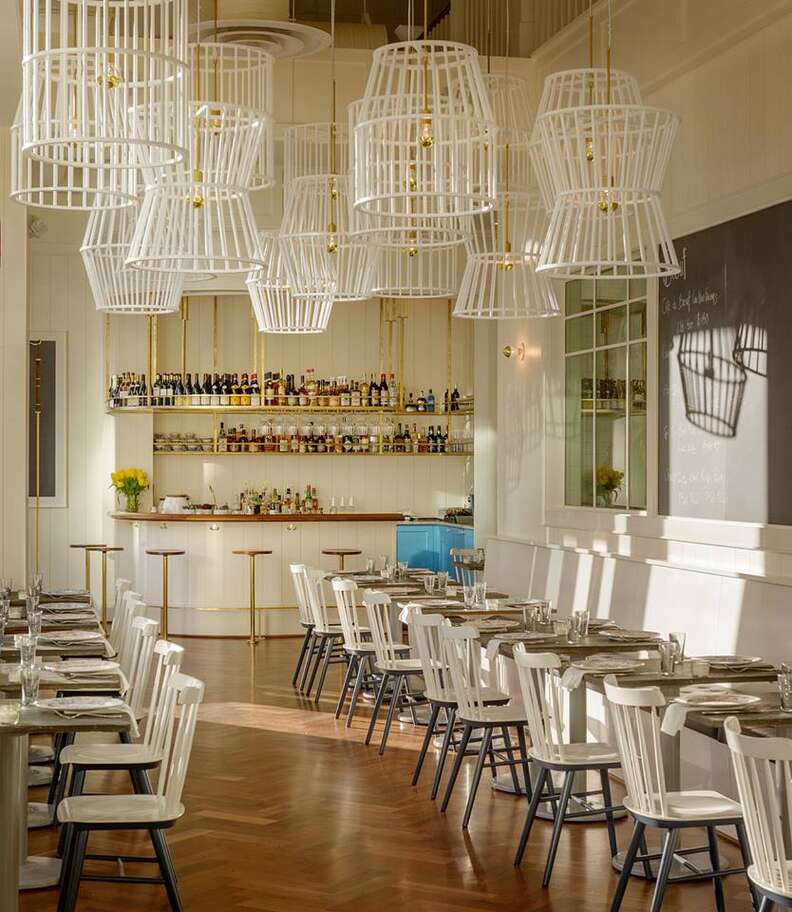 <em>Capitol Hill</em><br />
One of three new-ish Cap Hill projects from the lady behind what might be Seattle's favorite restaurant (The Walrus &amp; The Carpenter), this contemporary steak spot is the result of her desire to own her own farm. It's on Whidbey Island and, in addition to veggies and stuff, it's where they raise the heritage cattle breeds served at the restaurant. As befits a place with its own farm, the menu changes daily, but expect things like veal sweetbreads with elderberry capers, pickled elderflowers, and buerre blanc to start, a house burger with onion jam &amp; aioli, and steaks butchered in-house -- sold by weight -- and served á la carte with your choice of butter. That's right, amigo. Your choice of butter.<br />
<br />
<em><a class="vortex-open" data-campaign="2847" href="https://signup.thrillist.com/&quot; target="_blank">Sign up here</a> for our daily Seattle email and be the first to get all the food/drink/fun in town.</em><br />
<br />
<em><a href="https://www.thrillist.com/authors/bradley-foster&quot; target="_blank">Bradley Foster</a> is a former Thrillist editor who met Sonics benchwarmer Aaron Williams at El Gaucho in 1998... and dude totally hit on his girlfriend. </em>