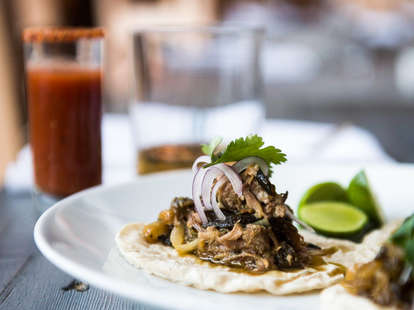 There's no shortage of places to find tacos in Seattle. Ask any Seattleite worth their weight in carnitas and they'll be quick to tell you about their favorite truck or restaurant, and/or why pork tacos are always better than fish or chicken. And honestly we're no different. Below you'll find our recommendations of where to get the absolute best tacos in The Town right now.
Ballard
With a locations in SoDo, Ballard, and Haller Lake, good tacos are never too far away, and at $1.45 a pop, you can go ahead and try every single offering. From fish and chorizo to cabeza (beef cheeks) and adobada (marinated spicy pork), it's definitely time to get adventurous.
Ballard
The taco offerings at Señor Moose include the tacos de camote (sweet potato, panela cheese, spinach, black beans, pepitas) and tacos de machaca (shredded beef with salsa, onion, cilantro, avocado), but SM's infamous for its killer breakfast tacos, and it's definitely the spot to hit for a Sunday wake-up call.
Capitol Hill
Hands down one of the most beloved taco spots on this hill, Tacos Chukis never fails to please with its mouthwatering, authentic menu. And you'd definitley be remiss if you didn't order the house tacos (with adobado, melted cheese, guacamole, and grilled pineapple) at this hole-in-the-wall.
Ballard
This Mexican steakhouse lives in Ballard but has an outpost in Kent. The prime steakhouse taco selection here includes intensely flavorful rib-eye tacos, New York tacos, and juicy wagyu zabuton tacos that are prepared medium rare and come four per order. If none of these mouthwatering selections strike your fancy, Asadero has over 10 varieties of tacos from nopal asado (cactus) to doraditos, which is a hard-shell fresh corn taco with cheese, beans, and your choice of meat.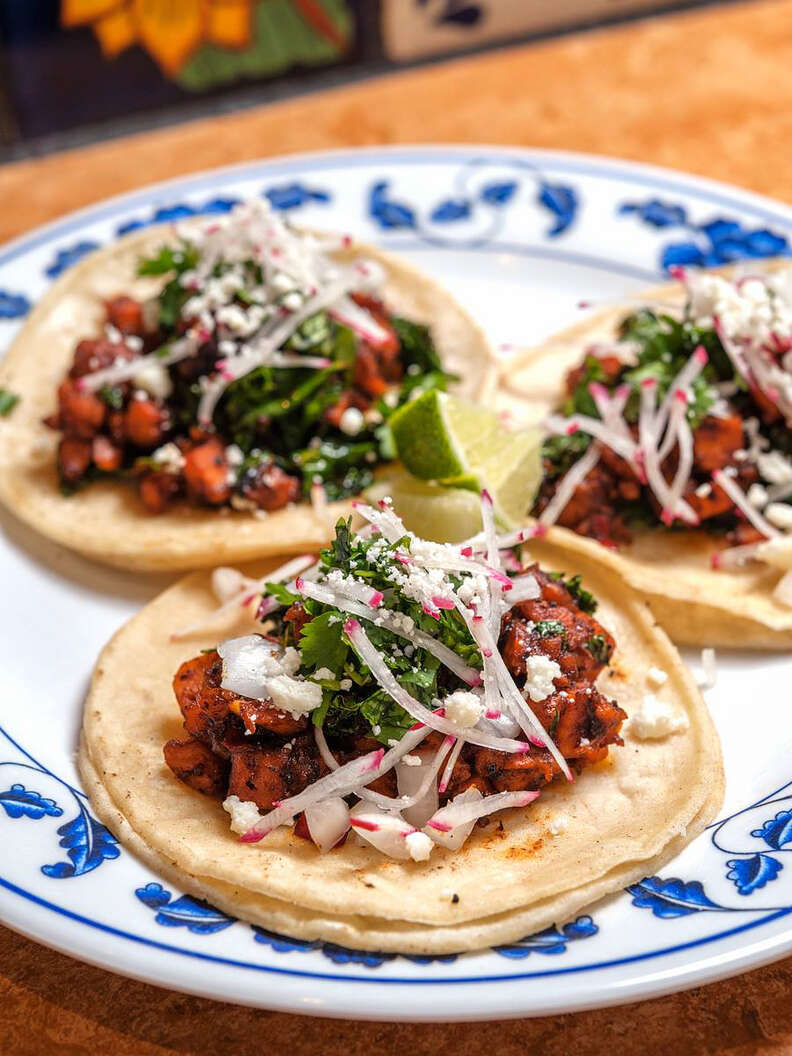 Wallingford
Just off 45th in Wallingford, TNT Taqueria's tacos are... you guessed it... dynamite. The space might be tiny, but this certainly doesn't compromise the size of the menu. Order by the taco or plate here, with options like al pastor, papas dulce & kale, carne asada, and more. All tacos come with cotija, diced onion, cilantro, radish, and salsa, plus, all plates come with arroz roja and frijoles pintos. Our pick? The green chili braised chicken tacos.
White Center
Tucked away in White Center, this stationary truck serves up some of the finest carnitas you'll find in town. A family-owned business, Taqueria La Fondita has been hooking Seattleites up with superb tacos for over a decade now. After receiving your tacos, be sure to compliment them with some of their signature carne asada. You'll find this spot at the corner of 15th and SW 98th Street.
Capitol Hill
Located in the back of Nacho Borracho right off Broadway, what better blessing could exist than an impressive selection of tacos inside a bar that already boasts excellent and innovative margaritas? Highlights at this hole-in-the-wall include the crispy pork belly and suadero (pulled beef) taco, as well as a taco that not every run-of-the-mill only taco spot carries: cueritos -- which is made with bits of soft pork rind. The tortillas are made fresh and always topped generously with onions and cilantro. As for ambiance? Neon Taco is the perfect spot to hit pause on your late-night gallivanting, especially with its dim red lighting and kitschy decor. If you're in need of a late night wake-up call, the habanero sauce here should do just the trick.
Beacon Hill
It should come as no mystery that most of the best tacos in Seattle come from the south end. Taco Street is a new Beacon Hill taco shop that's located right off the Othello light rail stop, so if you're in transit, getting here is impossibly convenient. There are three kinds of breakfast tacos here (bacon, chorizo, and sausage) and each are $3 a pop, loaded with egg, potato, and cheese. You'd have a very difficult time finding a better breakfast taco in town, and the best part is that they're served all day. The shop opens at 6am Monday through Friday and at 8am on Saturday, and don't forget to ask for a bit of spiced horchata with your coffee. To top it all off, fresh chips come for free with every order.
Sign up here for our daily Seattle email and be the first to get all the food/drink/fun in town.
Chona Kasinger is a Seattle- and New York-based photographer and writer. She is a firm believer in the restorative properties of a good breakfast taco. Follow her on Instagram here.