When the Seattle Times told us that Thai food came in a close second (only to Mexican) in which cuisine locals ate most, we shrugged. Of course that's the case, we need tom yum soup to make it through the gray days of winter and papaya salads to celebrate with in summer. While people in other cities might know their local pizza-delivery joint's number by heart, in Seattle, it's Thai food on speed dial. But if there's a Thai restaurant on every block, how do you know which one to go to? By reading this, duh.
Capitol Hill
Rabid fans have followed Poncharee Kounpungchart and Wiley Frank from their humble beginnings as a pop-up restaurant inside Lark (where Frank worked at the time) to a take-out window, then a giant underground spot in Pioneer Square. Now, finally, they seem to have found the perfect home for their curry pastes from scratch (also available to purchase and take home), top-notch noodles (try the khao soi, where both boiled and fried noodles swim in coconut milk), and house-made sodas (hibiscus-lime, anyone?).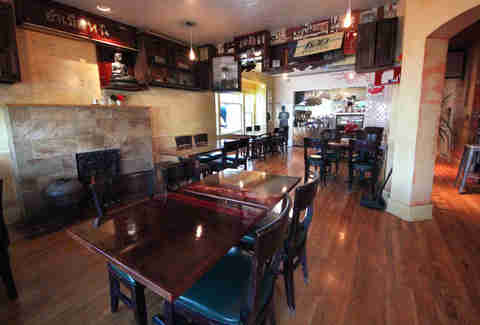 Phinney Ridge
With six different kinds of papaya salad and only two straightforward curries on the menu, Thaiku is far from your average Thai joint. When everyone else tried to please the crowds -- offering a rainbow of curries and a choose-your-own-adventure menu of meats -- Thaiku took advantage of the dearth of places serving great, cold Thai appetizers, salads, and satays to make a name for itself. Sides of sticky rice are perfect for eating with the pickled freshwater crab and papaya salad, and the goong che nam pla, billed as a Gulf prawn ceviche, will help you re-think just what Thai food is.
Rainier Valley
Only a restaurant this good can get away with closing by 8pm every night and only taking cash. And only a restaurant this good could seem to hide on purpose, in a little parking lot a half-block off a major thoroughfare. But you assuredly cannot hide from the internet, and the internet loves this hole-in-the-wall. They love the waitress with the ponytail that goes beyond her bum, and they love the Lao-Thai specialties here -- especially the barbecue chicken, which marinates in coconut milk, garlic, and black pepper before getting charred into crisp-skinned paradise.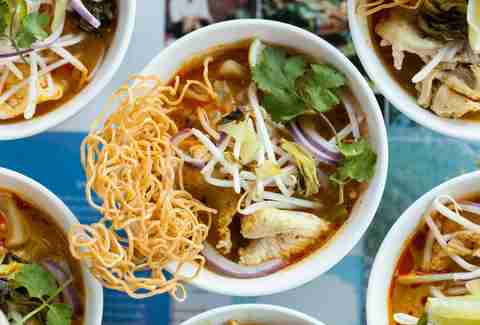 Capitol Hill
Thai food goes swanky and stylish at this spot, hip enough to share a street with Renee Erickson's Capitol Hill trio of culinary darlings. The dark wood and concrete give it a modern, moody tinge, but the menu delivers spice, funk, and flavor straight from a Thai side street (which, incidentally, is what the name means). Come for the "drinking food," such as pork jerky, house-fermented sour pork ribs, and crispy fried chicken skin, but stay for the fiery barbecue pork collar, which charms with caramelized palm sugar, then slays with bold heat.
University District
Waiting in line for a spot at Thai Tom is as much a part of Seattle culture as shunning umbrellas and donning flannel. Once inside, the coveted counter seats give a front row view of what can only be described as an intricate dance by the chef: ingredients shuffle, woks and flames fly, and at the end, dishes come out cooked and served at the speed of light. The food is simple and classic Thai-American fare -- pad Thai, swimming rama, basil chicken, and assorted curries. But with the blazing heat of the stove, and superior skills of Tom and his chefs, it comes out better than anywhere else (faster and cheaper, too).
Ballard
Few Thai restaurants in town are name-checking their meat vendors on the menu, even fewer are funneling that meat into fiery house-made sausages. But Pestle Rock manages to marry Northwest values -- like knowing how our meat was raised and that our meal will come accompanied by a good IPA on draft -- with traditional Thai expertise in the kitchen. So you can rest assured that your crab fried rice will feature local Dungeness, and your guay tiow tom yum soup with Carlton Farms ground pork is both gluten-free and damn delicious.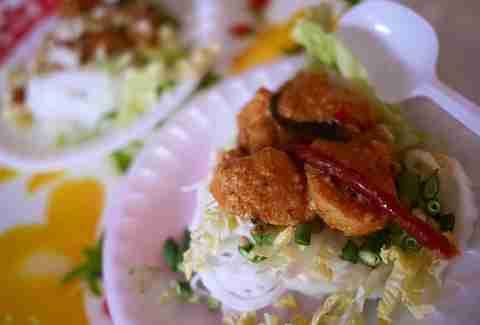 University District
You'll find a few savory dishes each day at this tiny Thai treasure, but really, you come here for the kind of desserts that don't usually make it to this side of the Mekong. Flaky, thin pancakes called roti, filled with condensed milk and sugar, traditional Thai shaved ice, and snow ice. Toppings vary from Ovaltine and soft bread to crunchy water chestnuts and jackfruit. The owners -- who also excel at Thai curries at their International District outlet, Thai Curry Simple -- make art with jellied desserts and paint beautiful pictures on their canvasses of shaved ice, so let them guide you through their various combinations of sweet, crunchy, and crazy toppings.
Vashon Island
We do not take recommending a trip to Vashon for food lightly. Yet, we're dead serious that this list would be incomplete without May's inclusion. The chef, May Chaleoy, first opened a restaurant of the same name in Wallingford -- and if you've been, you'll have a glimpse of the stylings of the Vashon spot -- but the restaurant's touted expertise went with her when she jumped ship (ferry, actually) out to the island. Now, you'll find her simplistically named phad metmauanghimmaphan, crispy prawns, and incredible fried watercress (yum phak boong) cooking up on Vashon Island. So next time you want to board a boat to go to dinner, here's where to head.
Issaquah
Whether you choose the King of Garlic, the Queen of Banana, or any other wacky-named dish on this menu, you will definitely make a royally great decision when you eat here. The epic 11-page menu covers most of Thailand, but the specialties here come from the center of the country -- a nice addition to Seattle's wealth of strong Issan (northern) Thai restaurants. Start with a do-it-yourself wrap of assorted bits and bites (peanuts, coconut, chili, dried shrimp, and more) in cha-pu leaves with the mieng kum, then move on to the namesake noodle boat -- rice noodles in an herb broth -- or the aforementioned queen of banana: a mess of steamed banana blossom with shrimp, dressed in chili paste, lime leaves, coconut milk, and herbs.
Sign up here for our daily Seattle email and be the first to get all the food/drink/fun in town.