Slow-roasted meat sandwiches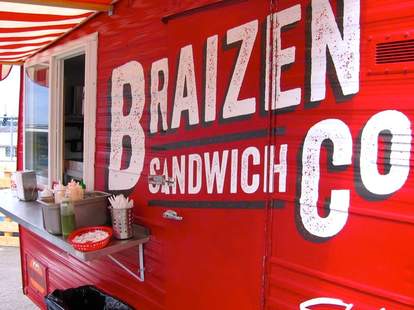 After he spent the Final Four bawling instead of balling, Adam Morrison probably figured you should never do two things that sound the same at the same time, but that's 'cause he'd never been to Braizen Sandwich Co. The tiny, red food trailer, helmed by a former executive chef at Ponti, is brazenly combining braised meats in such an extraordinary way, they'll bring you to tears quicker than losing to UCLA.
Usually posted up in Interbay, BSC boasts an awning anchored by buckets filled with something you'll be heavier than if you eat too many sandwiches: cement.
Don't be distracted by the snow pea & cilantro slaw or green onion & toasted cumin lemon aioli piled on top -- this sandwich actually contains slow-braised beef brisket and bacon!
If you want to add even more flavor, there are fresh sauces like Sriracha lime, horseradish creme fraiche, and one that looks, in the photo, like the best party idea ever (stripper BBQ!) but is actually a pepper BBQ.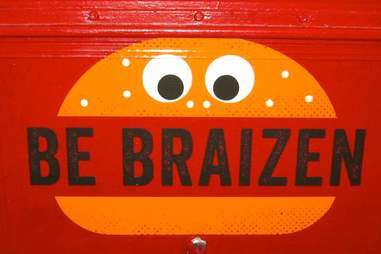 If you need more, BSC thoughtfully leaves you with a simple piece of advice, which is apparently even more useful than "learn to spell properly" or "dude, don't cry on national TV".