Every few years, a rumor circulates that In-N-Out is coming to Seattle, whipping fervent fans into a hysteria before it proves untrue and fizzles out. But in October 2015, local burger obsessives caught a break. The California burger chain wasn't coming to town -- you'll find it still creeping slowly north along I-5 (it made it into Oregon last year) -- but a suspiciously similar restaurant did open in the University District: CaliBurger.
Now, three months later, In-N-Out has been forgotten faster than a left-behind lover. CaliBurger -- the brainchild of founder John Miller -- has already operated stores throughout Asia, but the Seattle store marked its first foray into the US. Originally inspired by the lack of premium burgers in Asia, the chain's return to America means coming into competition with exactly those burgers. It also means -- as it expands into Southern California in the coming weeks -- going head-to-head with In-N-Out itself.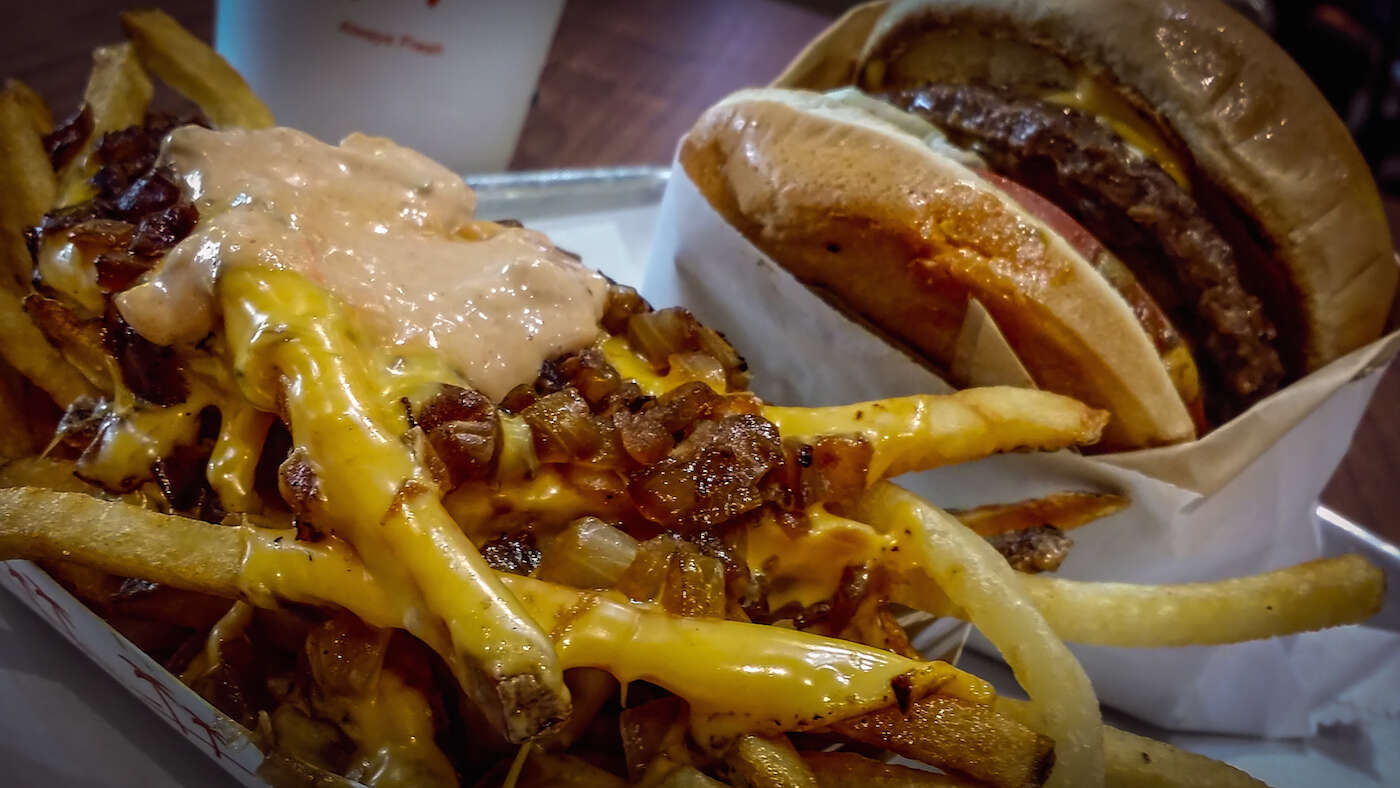 If you build it, they will come
Despite CaliBurger's blatant imitating, there's not much In-N-Out can do to stop it. After the first CaliBurger opened in Shanghai in 2011, In-N-Out filed suit. Neither side will comment on the results, but CaliBurger made a few changes (converting the "Animal Style" menu items to "Cali Style") and now can do as they please. Miller makes noises about distancing the chain from its copycat reputation, claiming that the company excels at technology, that the story is innovation, not imitation: "How many other restaurants are filing for patents?" But mobile ordering, in-store interactive video gaming, and wireless cell phone charging aren't the things creating out-the-door lines on the Ave. That's all the burger.
Miller and his CaliBurger team hail from Santa Monica and have backgrounds in the tech industry. Because of the former, they see In-N-Out as an example of the ideal burger. Because of the latter, they spent significant time in Asia. It was there they realized that the premium burger -- the one occupying the space between McDonald's and high-end restaurants -- didn't exist on that side of the Pacific. So, with inspiration from their hometown favorite, they built it.
Rather than just open a carbon copy of In-N-Out, they turned it up a notch. "When Starbucks came to China, people scoffed because the Chinese drink tea, not coffee," Miller explained. "But they do go there, to show they're American." And so the concept was born: come to Caliburger not just to eat a premium California-style burger, but also to experience the aspirational California lifestyle. The Shanghai store opened with palm trees on the logo, Napa Valley wines, and "Cali-babes" as mascots.
CaliBurger comes to America
In 2014, Reyaz Kassamali, a Vancouver native, acquired the franchise rights to CaliBurger in the Pacific Northwest and set out to reverse-migrate the chain to the U.S. "It's a foodie town, so they would get it," he said of why he chose Seattle. Also, it kept him near his hometown and (perhaps most importantly) the premium burger landscape was less competitive than other places. Seattle sadly lacks not only In-N-Out, but also Shake Shack, while Five Guys is still relatively new and not yet entrenched.
But as Miller and Kassamali adapted the concept to Seattle, they knew beach babes and California cool would hold less sway with American audiences. After all, Kassamali points out, if Seattleites wanted to live in California, they'd just move there (and hey, half of them probably recently moved here from California). The food and the recipes stayed the same, but the décor changed. In the Middle East, stores sport L.A.-inspired pastels; in China a fast food-esque plastic look dominates. In the U-District, diners sit among natural woods accented with mustard yellow.
Despite the down-playing of California in the American stores, some of the branding remains. "Experience the taste of California," reads one wall. Images on a screen flash by -- the kind of things a foreigner might find appealing about California: grapes, the Golden Gate Bridge, and bears. Lots of bears. There are six bears on one wall as well as a skateboarding video flickering from a television screen.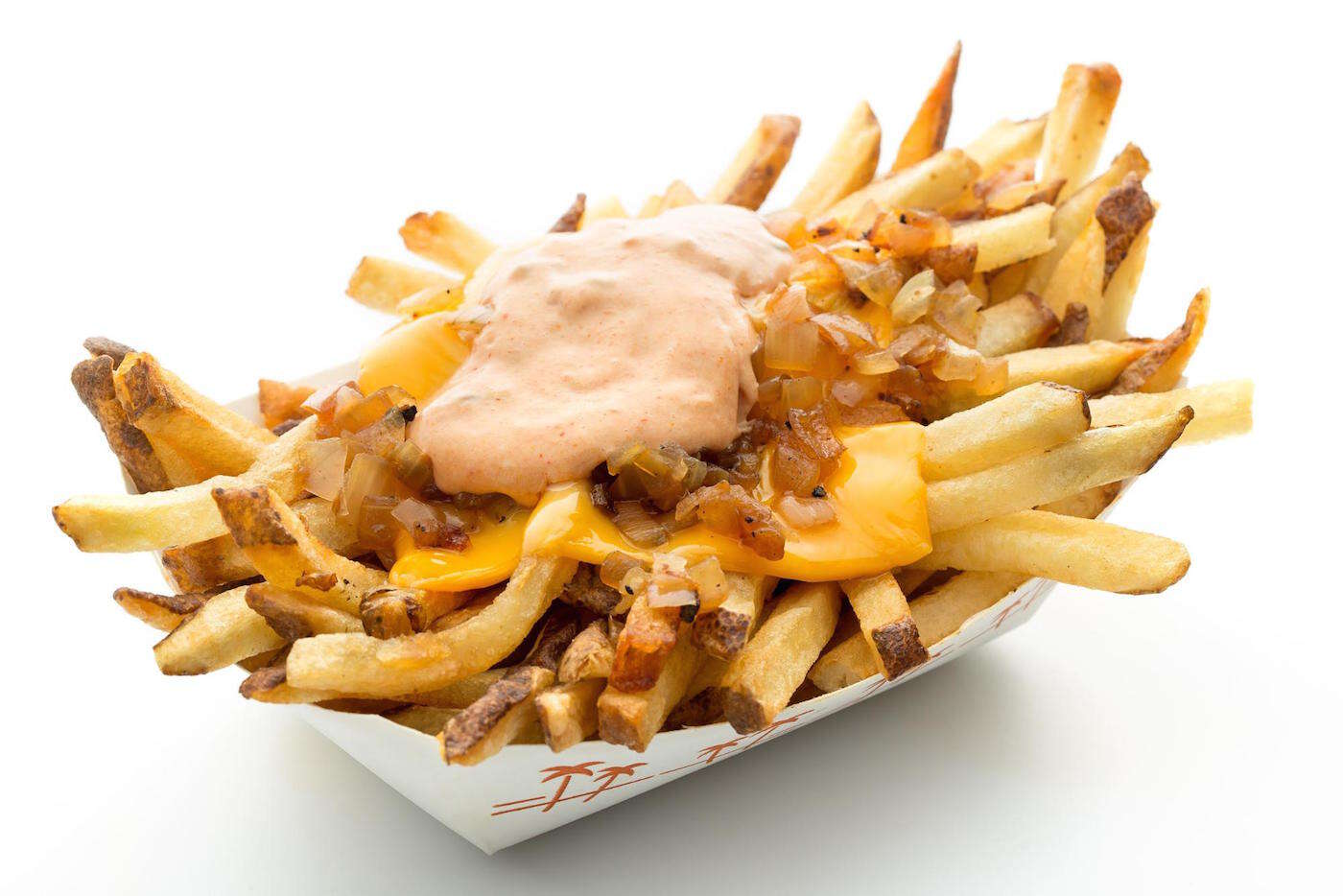 Crispier, juicier, boozier
More bears aren't going to put butts in seats, though. The chain adjusted the décor, but also sought to improve upon its inspiration-cum-competitor. As in Asia, alcohol became a draw on the menu, available both on its own and mixed into boozy milkshakes. Local products -- Full Tilt ice cream and Rachel's Ginger Beer -- fleshed out the otherwise simple menu: an In-N-Out adjusted for the Seattle millennial.
Seattleites won't eat in a restaurant just for a glimpse of California lifestyle, but they will for a taste of In-N-Out. As former Californians and frequent visitors came through the increasingly long lines to pass their own judgment on the food, word got out. Could it be? Was the food itself -- the one piece of the business CaliBurger would need to go head-to-head with In-N-Out on -- even better? The answer, as the Seattle Times spelled out in "5 Reasons CaliBurger is Better Than In-N-Out," was a resounding yes. CaliBurger's twice-fried French fries out-crisped In-N-Out's notoriously soggy potatoes, and the burger outsized the original, weighing in at 34% heavier.
If the early crowds are any indication, Kassamali has succeeded in converting Seattle to a CaliBurger town. The biggest mistake made in the launch, says founder Miller, was in not preparing for the lines. The company brought in employees from locations abroad to help keep things moving quickly and now plans a kitchen expansion to keep up with demand.
Waits -- of more than one kind -- were an issue at the Seattle launch. Part of CaliBurger's value premise in the US is that everything is fresh and cooked to order. "People come in and expect their burger quickly," said Kassamali, but when the kitchen cooks it fresh, it takes five to seven minutes. "If someone waited less than five minutes, then it's probably undercooked."
The chain's plan for world domination
Educating the customer on how CaliBurger differs from, say, McDonald's, in speed is a piece of the puzzle that Kassamali admits he neglected. He hopes that with his next store, he'll improve that: he plans to open 20 to 25 stores in the greater Seattle area in the next five to six years.
Globally, Miller says the chain plans to be 50 locations strong by the end of 2016, which includes a daring February opening in Pasadena, on In-N-Out's home turf. Discussing how CaliBurger plans to compete, he shies away from challenging the burger that inspired it all, discouraging comparison. "We're a tech company with great food." The Los Angeles area stores (a Beverly Hills location will follow) feature interactive video walls, a mobile app (without a reservation made through it, diners will be unable to enter the Pasadena location at launch), and a trivia game with loyalty elements showing off the brand's global reach.
In the next five years, Miller hopes the brand expands to hundreds of locations, but he'll always be grateful to the Seattle one. The strong showing here gives the chain hope for the five more US stores already under construction. "Before Seattle opened, everyone was bullish on international opportunities," Kassamali beams with pride in his success. "Seattle proved the concept and showed opportunity, so the company shifted to the U.S. market."
Sign up here for our daily Seattle email and be the first to get all the food/drink/fun in town.
Naomi Tomky actually thinks that Smashburger does a better burger than either In-N-Out or CaliBurger. Argue with her about this on Twitter @Gastrognome and Instagram @the_gastrognome.