Frog legs, escargot, and other unpronounceable eats on Cap Hill
When it comes to food, the hardest thing for Americans to say (besides "No, I do not want fourths", obviously) is pretty much anything French, but that's exactly what the dudes behind Maximilien are serving, with the help of some decidedly not-French local ingredients, at Le Zinc.
The 2400sqft gastropub's named after both its metal-topped bar and a saying that loosely translates to "local neighborhood bar".
Cuisses de Grenouilles are like the French version of hot wings -- and on the off chance you sat by a cute foreign exchange student from Marseille in high school biology, you already know they're frog legs.
When Donell Jones' waiter approaches the table with roasted marrow, he's all like, "I think I feel a bone comin' on." Then he quickly spreads said marrow on a warm baguette, tops it with some green carrot salad, and looks at his date like, "Ooh girl, you know what's up."
Frites et Foie, pronounced "freets" and fwah", is a dish seemingly designed to prove the French are better at everything than Americans, even getting really, really fat.
Mains mean Carlton Farms pork belly w/ a roasted squash medley & white bean salad...
... and at least four mussel dishes, including the Moules Feu de Camp w/ harissa, sweet corn, malbec, and crème fraiche, the last of which translates into what Wu Tang is after every time they reunite to go out on tour: fresh C.R.E.A.M..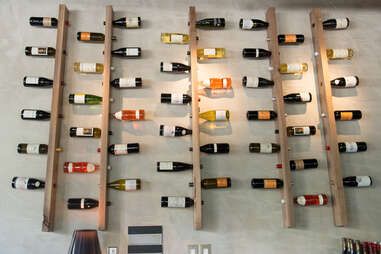 The laid-back bar's got something the French always do well: whine... oops, wine! They've got a shton of French wine.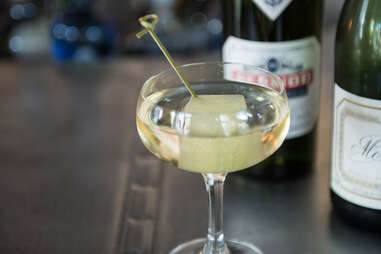 And cocktails, like the Hemingway-invented Death in the Afternoon, w/ absinthe ice cube & highlights of Cremant/ lemon oil...
Or a whisky sour-esque Armagnac/ rye/ Byrrh/chocolate bitters-based French Quarter, which, when translated, is something you obviously only had one of in high school: French trimestre.