The crew behind the 5 Point Cafe called it that 'cause it's located right where five streets come together, so, as you'd imagine, their new Lost Lake Cafe & Lounge is located right next to... um, one of the busiest street corners in all of Seattle?! Actually, it kinda makes sense, 'cause while Pike/Pine is swimming in bars, restaurants, and other night spots, what it really needed was a place where you could dive into deep-fried cheese curds and pancakes 24hrs a day. Inside, Lost Lake is stylishly lost in time, its space dominated by an old-school diner-style bar and clad in '60s-era decor ranging from faux wood paneling to chandeliers the Jetsons would love. Inside YOU is where you put classic American eats from their massive menu, starting with two-egg breakfasts w/ bacon, ham, etc., a handful of eggs Benedict choices, or a shton of other options ranging from fried chicken and waffles, to a giant skillet called THE MESS, which is what you'll be if you try to finish it. Besides AM eats, there are diner-style sandwiches (Philly cheesesteaks) and burgers (Juicy Lucy), seriously fatty apps like the "Beecher's Deep Fried Cheese Curds" shown above, or fried mac & cheese wedges that -- if you're not careful -- will ensure any chance of you going shirtless at the lake this summer is lost.
Recommended Video
Where to Get the Best Waffle Fries You'll Ever Eat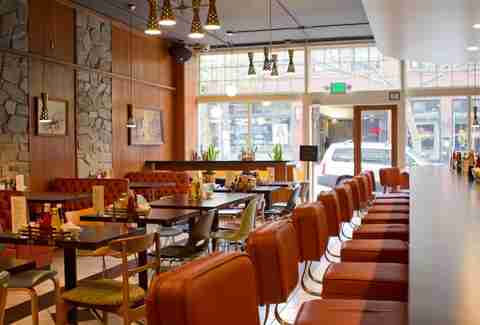 Previous Venue
Next Venue
Venue Description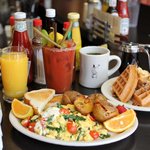 1. Lost Lake Cafe & Lounge
1505 10th Ave, Seattle, WA 98122
This varnished wood paneling, accented stone walls, and deep red furnishing ooze laid-back '70s style at this modern take on old-school diners in Hilltop. A late-night haunt to most, Lost Lake really shines in the breakfast and burger departments with their dreamy hollandaise-heavy benedicts and the secret sauce that tops the ground beef on the handful of specialty burgers. There are, however, comforting house mains like pot roast that stands toe-to-toe with mom's and Brit-approved fish & chips.