Chicken and waffles, pulled pork sliders, and more on Cap Hill
The best place for a witness is obviously hiding out in Amish country with Harrison Ford, but the best place for a bar called Witness, is apparently the former Five Fish Bistro space on Cap Hill, 'cause that's where a Knee High Stocking Co. bartender is serving enough corn to suffocate a man! some seriously delicious Southern eats and a slew of creative craft cocktails.
Inside, there are frosted glass windows meant to evoke a church, booths built with 102yr-old church pews, and whitewashed walls that, despite being adorned with old hats... um, aren't old. They're new, actually.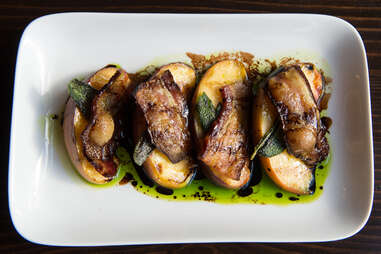 Inside the kitchen, they're turning out simple eats from South of the Mason-Dixon, like these bacon-wrapped Yakima peaches w/ sage & smoked balsamic.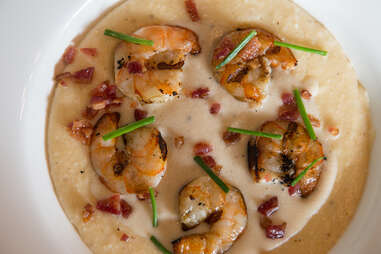 Kicked-up takes on traditional dishes include grilled shrimp w/ bacon gravy & white corn grits, as well as cider-braised pork belly & Corona beans.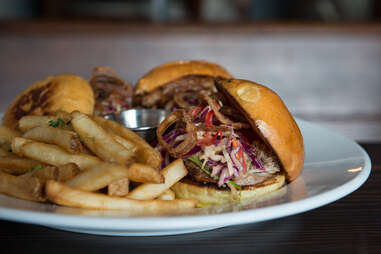 Mains range from the buttermilk waffles & fried chicken w/ Bourbon maple gravy (shown above), and these pulled pork sliders w/ slaw & fries that're served Carolina-style... so, overalls?
Walk up to the bartender all like, "Can I get a witness?", and he'll give you one of these Blanton's Bourbon-/ Bénédictine-/ Carpano Antica-based 'tails named after the bar, and garnish it with a hickory-smoked cherry.
Other cocktail highlights include the El Diablo, which is a tequila, Crème de Cassis, lime, and ginger beer mixture, and this Mint Julep w/ bourbon, mint, sugar, and ice that, just like Fergie in that corn silo, has been crushed.