Presumably because opening one restaurant at a time is a pain in the ass, Tom Douglas opened three a few weeks ago: TanakaSan (one of Seattle's sweetest new spots), a deli called Home Remedy, and a titular coffee shop, all inside a sprawling new space he's calling Assembly Hall. Unfortunately, finding the best stuff this new eats emporium has to offer can be a bit of a... well, you know, unless you've got some kind of sweet men's lifestyle site that rhymes with "illest" to help you out. Scroll down for the best of all three spots: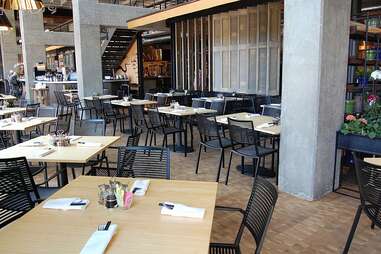 Assembly Hall's dominated by TanakaSan, a seriously sweet Asian-American resto helm'd by Eric Tanaka, a longtime Douglas compatriot who's cooking stuff inspired by his childhood in LA.
The go-to move at TS is starting with smoked duck sausages nestled between poppy pinch buns, which, just to make sure you didn't imagine this ethereally light take on the hot dog, is also what you should have someone do to you after you try 'em.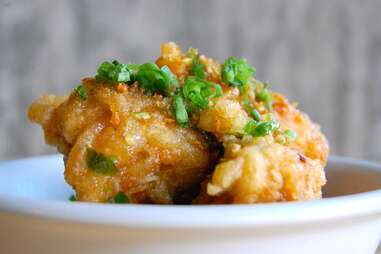 Almost as good are the massive chicken wings that're fried not once, but twice.
There for brunch? Scarf this egg-topped curried potato hash, which is named either in honor of how much Eddy Curry likes carbs, or because it's got, you know, curry in it.
Your first drink of the day should definitely be an Akanone carrot shochu/ vodka/ carrot/ chile/ tomato/ cilantro number that's called what Elmer Fudd hopes to see every time he goes hunting: Bugs Bloody.
Next stop is Home Remedy...
Inside, you can remedy the fact that you have, like, no groceries at home with help from luxury Douglas staples ranging from T.D.'s Rub With Love, to cured meats and cheeses, to prepped dishes like Cuoco's lasagna and Seatown's chicken pot pie.
Or, you can just grab a seriously good slice from a different kind of pie; the kind from... um, Serious Pie.
You best option, though, is probably a fresh roasted cauliflower- & spinach-stuffed, Indian-style crepe called a Frankie that, frankly, might be your new favorite sandwich.
If none of that sounds good to you... you should have stopped reading already(!)... or you should just hit Assembly Hall Juice & Coffee, which offers said beverages in abundance (try the Grasshopper, w/ pineapple, lemon, ginger & wheatgrass) and also slings some of the "adjective that rhymes with Thrillist" baked goods you've ever had, like this peanut butter & jelly coffee cake.