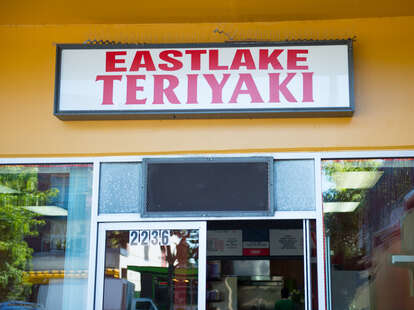 The crew at Eastlake's badass Blind Pig Bistro clearly aren't... um, blind to sweet business opportunities, so when the former Eastlake Teriyaki space opened up, they turned the neighboring storefront into a daytime sandwich establishment called Blind Pig at Eastlake Teriyaki, which, if you don't read a certain digital lifestyle magazine that rhymes with "illest", you might not ever find... 'cause they've just kept the same old freakin' Teriyaki sign!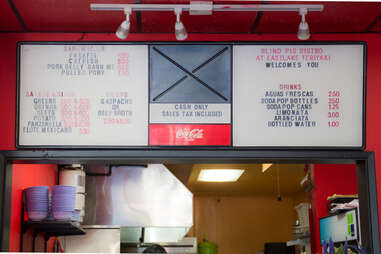 Once you find the place, you'll see that they also do veggie and catfish sandwiches, but the star of the show is...
... waitforit... pig! As evidenced by this pulled pork number w/ purple cabbage.
There's also a banh mi, also made with pork belly, topped w/ radish, carrot, cilantro, jicama, and Fresno chili, which was also T-Boz's surprising response when her bandmate asked about her favorite city.
The menu rotates constantly, including their list of sides, like a panzanella that's actually almost all watermelon, and the Elote Mexicano, which, because you're not blind either, you already know is corn -- but these ears are slathered in Mexican sour cream and lime.