Every city has its quintessential place for cheap and fast burgers & fries. Seattle just happens to have the BEST place in the country for cheap and fast burgers & fries. If you live outside of the Emerald City, you'll likely debate that fact. But for anyone who has wandered down a sidewalk in Seattle at 2am after the bars have closed and felt the rumble in their stomach, Dick's is the embodiment of everything good in the world, swaddled in a foil wrapper.
The burgers, fries, and shakes on the Dick's menu aren't creative or fancy. They aren't even the highest quality (although fun fact: they're made with steer meat, which gives them their distinct, delicious flavor.) What Dick's is is consistent. It'll always satisfy, and it'll always be there for you. So we decided to show our appreciation for this magical place by eating all of the items on the menu and dutifully ranking them. What'd you do today?
9. Regular hamburger
It's just a sad hamburger with ketchup and mustard. Don't tell anyone you ordered this.
8. Ice cream sundae
We got ours with hot fudge, although there are a number of other toppings you can order. The fudge was thick, and quickly got stuck to the roof of our mouth, which isn't necessarily a bad thing if you don't mind everything else you eat tasting like chocolate. (Note: we don't mind everything we eat tasting like chocolate.)
7. Cheeseburger
This is exactly like the regular hamburger, only with cheese and not as sad. The cheese was melted nicely, though, and on a scale of Velveeta to Camembert, it was at least Sargento.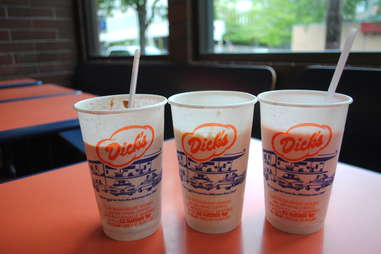 6. Chocolate shake
Now we get to the 100% real ice cream, hand-dipped milk shakes. The shakes at Dick's stand out because they don't use any artificial junk to thicken them. It's simply ice cream, milk, and flavoring blended together. Chocolate earns itself the lowest marks of the shakes because it wasn't nearly chocolate-y enough, but it was still udder-ly delicious.

5. Vanilla shake
It's delicious, accessible, and you can get this shake if you're feeling super basic... like Macklemore, Seattle's own human vanilla shake!

4. Strawberry shake
We just really love strawberry things. And since this list is our arbitrary, subjective opinion, the strawberry shake ranks higher than the others.

3. Special
Now here's where the burgers start getting, well, special. Loaded with mayonnaise and pickle relish -- which is basically Dick's version of a "secret sauce" --this is a serious burger we're talking about. However, there's no cheese on this one... which is fine, if you're lactose intolerant (or woefully un-American).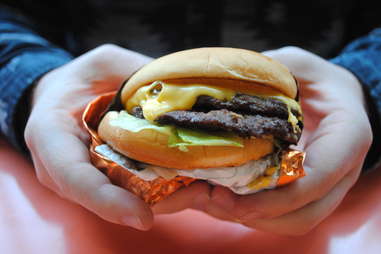 2. Deluxe
Why is the Deluxe the highest-ranked burger on this list? Do we even need to say? OK, here goes: two beef patties; gooey, melting cheese; lettuce; mayonnaise; and pickle relish, all for $3.10. There's not much in this world you can buy for so little that will bring so much happiness. This is a burger-lover's burger.
1. Fries
Let's begin with the bad news: ketchup costs $0.05. Not that we've got that out of the way, let's stare straight into the soul of the single best item on the Dick's menu. Hand-cut daily, fried in sunflower oil, and dusted lightly with salt, these addictive fries will have you reaching for another and another and another. And then ordering more. We're not saying these golden-delicious, not-too-crunchy-or-floppy, sliced & fried potatoes are made from opiates. But we're not not saying that, either.
Sign up here for our daily Seattle email and be the first to get all the food/drink/fun in town.
Cody Permenter is a freelance writer for Thrillist who eats a lot of Dick's. Follow him on Twitter.