20 Things You Have to Eat and Drink to Become a True Seattleite
Whether you've been in Seattle since kindergarten, or you moved here last year for a job with Amazon, the fast track to being considered a local doesn't have to do with how many beaches on Lake Washington you can name (or if you know where to find the best toilets in the city): it's about what you've eaten. Our little corner in the upper-left of the country puts out not only a vast array of natural specialties -- shellfish, vegetables, and fruit -- but a few strangely good restaurant concoctions of our own creation. Here, we tell you the 20 foods you have to eat before you can recite "the mountain is out" three times, pronounce "Sequim" properly, and receive your "True Seattleite" license.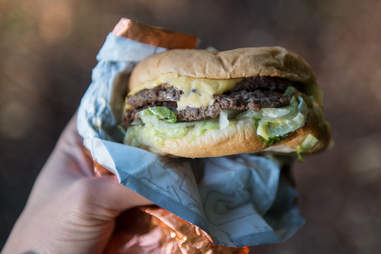 Chona Kasinger/Thrillist
Dick's Deluxe
Saying "it's not even that good" proves that you've totally missed the point. Dick's Drive-In is not about having a great burger, it's about a moment in time: it needs to be eaten standing up, leaning against a car, between the hours of midnight and 2am... perhaps after indulging in a few drinks or a strain of local legal pot.
 
Pot treats
Speaking of that legal pot, Seattle's edible game is on point. Caramels, cookies, gummies, or soda: your local pot shop has something to feed you that will both taste and feel great.
 
Cream cheese hot dog
The origins of Seattle's unique late-night wiener topping are a bit murky, but that's half the appeal. The other half? Oh, it's just the way cream cheese melts into the bun, smearing around with grilled onions and a hit of hot sauce that turns out to be the most perfect complement to encased meats. Any late-night cart on a corner in Capitol Hill or Pioneer Square will do justice to this local specialty.
Naomi Tomky/Thrillist
Chicken teriyaki
An immigrant cuisine transformed by the availability of ingredients in a new home is the beginning of many classic and affordable dishes (New York pizza, General Tso's chicken), but Seattle's own brand is teriyaki chicken -- and now there are Seattle-style teriyaki restaurants opening around the country. Not sure where to try? We've got a guide for that.
 
Northwest IPA
Washington grows the hops used in almost every beer made in the country. So while craft beer dominates local taps, the star of the show is always the hop-heavy Northwest version of the IPA. If you need a suggestion on where to try one... we've absolutely got a few.
Ellenos yogurt
Displayed with the beauty of jewels in a glass case, and scooped to order like ice cream, Ellenos' Greek yogurt is so good that lumping it in with the supermarket brands that claim to be the same is like equating grandma's seven-hour Sunday gravy and a jar of Prego. Thick and rich, like crème fraîche, this yogurt's signature flavor comes from the local milk that goes into it, combined with the slow and inefficient method used to produce it. You can find it in supermarkets around the city, but it's best served at the flagship location in Pike Place Market.
 
Beecher's cheese curds
Wisconsin thinks it has laid claim to the curds. But these nubbins of tasty squeak are all Northwest, all the time. Made right in Seattle's most iconic location (Pike Place Market), the curds get locals and tourists fighting for a spot in front of the window, where you can watch them get made. Luckily, you don't have to fight for a spot in line, since you can also pick them up at grocery stores around town, and even at the Beecher's location in Sea-Tac airport.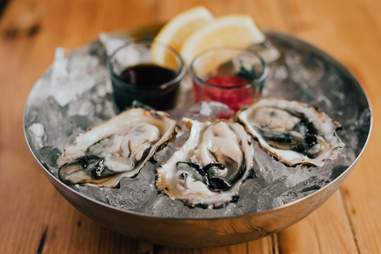 Courtesy of Miyabi 45th
Oysters
The upside to the fact that Puget Sound is way too cold to swim in year-round is that it is cold enough to keep our oysters amazing for the same 12 months a year. The cool, briny, clean flavor of a Northwest oyster can kick a muddy Gulf oyster or flabby East Coast specimen in the nards from across the country. Find 'em all over the city -- you really can't go wrong.
 
Dungeness crab
Another food that people in other parts of the country mistakenly think they get good versions of is crab. Until you've ripped into 3lbs of sweet, tender crustacean flesh completely unadorned, then woken up with fever dreams in a pile of crab shells, you don't know Dungeness. Proof: you don't even need so much as drawn butter with these crabs, so leave your frying and your Old Bay at home. Taylor Oyster Bar on Capitol Hill will sell you one to eat at the bar with none of the frills -- and all of the cracking done for you.
 
Geoduck
There's no better symbol for the Northwest than this giant clam that lives deep under the wet sand at the water's edge. It would be nice if it weren't extremely phallic, but you can't win 'em all. At least it tastes great with its snappy, crisp sea flavor. Most sushi restaurants do wonders with it, but a favorite is the version at Mashiko in West Seattle. Oh, and here's a video of a bunch of people trying it for the first time having no idea what it is.
Chona Kasinger/Thrillist
Pour over coffee
It is slightly strange just how closely coffee is tied to Seattle, considering that it's not grown here. But a combination of coping mechanisms through the dreary winter and obsessive personalities at work roasting the perfect bean have lead Seattle to be the coffee capital of the US. These days, hand-poured mugs of freshly roasted beans show off the subtle flavors best. Slate's three locations are champions of the genre.
 
Rainier cherries
In Japan, these super-sweet, thin-skinned cherries have been known to go for more than a dollar per. But around here, the mountain-monikered fruits are pretty affordable -- and can be found at every farmers market in town.
Washington apples
No, not the beautiful but bland Red Delicious varieties that came in every school kid's lunch in the '90s. We're talking the heirloom orchard specimens and groundbreaking, flavor-forward crosses that grow in orchards all over the state. These won't be on your cafeteria tray, but you can find them at the farmers market... or just head out of the city to pick them yourself.
 
The passion project of retired Boeing engineer Armandino Batali (yes, father of celebrity chef Mario) has since been passed on to the next generation, but the secrets to great meat were clearly passed on as well: mostly just time and salt, judiciously applied.
Penn Cove mussels
Puget Sound's salty secret recipe for phenomenal seafood strikes again, this time on Whidbey Island, where the world's best mussels grow. Plump and perfect, they need only a bit of heat and a bath in white wine to finish their journey to your belly. In Seattle, Maximilien does a killer happy hour version of them -- with a great view of the water.
 
Walla Walla sweet onions
The low-sulphur variety of onions make for easy eating when they're in season -- and they're the official state vegetable!
Pho
Seattle's huge Vietnamese population, combined with dreary winters, have made this cheap, ubiquitous noodle soup/cure-all the go-to comfort food for the city. Than Brothers are ubiquitous, Pho Bac claims to have been the first, but the best pho comes from Ba Bar.
 
Ethiopian combo platter
Immigrant chefs from East Africa have found a welcoming audience for their rich lentil stews, soft injera bread, and sizzling lamb tibs dishes in Seattle. The large and well-established Ethiopian and Eritrean communities support dozens of restaurants that serve up colorful combination plates, lapped up by hipsters, families, and their own community alike. Jebena Cafe, by Northgate, makes one of the best in town.
 
The Last Word
This is an old drink revitalized by erstwhile (and possibly still, if anyone knows where he's working at any given time) World's Best Bartender Murray Stenson during his stint at Zig Zag. Stenson, Zig Zag, and the Last Word all rose to fame together, gaining renown for the man, the bar, and the chartreuse-and-gin cocktail.
Salmon
It's cliché, but sometimes clichés are there for a reason. And that reason is delicious. Seattleites are obsessed with their local culinary mascot, whether its smoked, salted, seared, or served as sashimi. And as with oysters, you almost can't miss when looking for a fresh filet.
Sign up here for our daily Seattle email and be the first to get all the food/drink/fun in town.
Naomi Tomky has eaten all of these things and would do it again in a heartbeat. Follow her edible adventures on Twitter @Gastrognome and Instagram @the_gastrognome.