Seattle doesn't really have a unique food truck culture, like -- and it really pains me to say this -- Portland, where mobile food operations really aren't mobile at all, or Los Angeles where our enduring fascination with food trucks began. BUT what Seattle does have is some unique food trucks, from one serving pop-culture inspired grilled cheese, to another turning out Native American frybread.
From a fleet of celebrity chef driven trucks (not literally), to the best food truck in America (seriously!), Seattle has a little bit of everything that makes all food trucks great -- just not a great as the 10 on this list.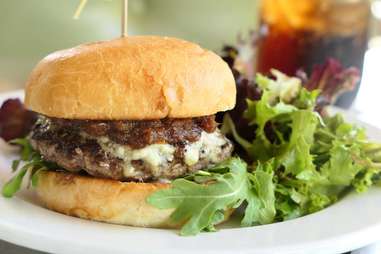 Multiple Locations
This seminal Airstream-based street-foodery is now a mainstay on the Seattle food scene with four brick & mortar locations, and regular spots at some of the area's most popular food truck destinations, where the two things that made Skillet famous are always on the menu: The poutine made with hand-cut fries, gravy, cheddar & grana padano and a grass-fed burger on brioche topped with brie & their signature bacon jam. Which they also sell by the jar, FYI.
Where is it? Find 'em every Monday at Westlake Park, and every Thursday at the Barnes & Noble in Bellevue.
Multiple Locations
Started by a man who grew up eating the NW American Indian foods he's serving now, OTR's menu is highlighted by Indian Tacos served on their incredible handmade frybread, and topped with things like a 10-hour-smoked pulled pork & honey bourbon BBQ, or a choice of chili with cheddar cheese, iceberg lettuce, cumin crema, pickled red onions & cilantro. They also have burgers and fries, a dessert frybread covered in your choice of sweet toppings, and just plain ol' frybread that they call something you probably won't want to be in front of other people if you eat too much of it: Naked.
Where is it?Literally a different place everyday.
SODO
Once named the best food truck in the country by Good Morning America, Marination has spawned no less than four brick and mortar locations in the last decade (one of which was featured in TheNew York Times guide to "36 Hours in Seattle"), but still hits the streets regularly serving the same Hawaiian/Korean staples that've made 'em the town's most successful truck -- the can't miss Kimchi Fried Rice topped with a fried egg, plus tacos & sliders stuffed with your choice of spicy pork kalbi beef, or "sexy tofu" (is that a thing?), and topped with their famous Nunya Sauce.
Where is it? Mostly SODO. You can find it at Starbucks HQ and the Seattle Design Center on Tuesdays and Thursdays respectively, as well as T-Mobile park every other Wednesday.
El Camion
Multiple Locations
Boasting three different more-or-less permanent locations -- and a spot on our list of Seattle's best sandwich shops thanks to their excellent tortas -- this incredibly popular fleet of food trucks… err, trailers, serves a surprisingly wide range of accessible, authentic Mexican dishes highlighted by the aforementioned tortas (we prefer the chicken with avocado), some sizeable burritos, tacos, and more, all of which are available with a variety of protein options that range from standard (beef, pork, etc.), to more adventurous options like beef cheeks or beef tongue, both of which you should seriously consider stuffing your cheeks with.
Where is it? North Seattle on Aurora; On Elliot Ave. in Interbay; and Laurelhurst just past University Village on Sand Point Way.
Phorale
TBD
This brand new mobile food operation is doing things a little differently. They had a restaurant in South Park until it closed last year, so now they've launched a food truck that won Best Truck at the Bite of Seattle in what was basically its first week in operation. How'd they do it? By serving the same Asian/Tex-Mex menu that made its sneaky hit with Seattle foodies, including a rich pho with sous vide egg; curly fries topped with a choice of meat, avocado crema salsa verde & habanero; and a handful of seriously good sandwiches on French rolls. Our pick? The Gringo with Sliced steak, sautéed onions, and a sweet/spicy sauce.
Where is it? Um… on Facebook. They don't really have any regular spots yet.
Multiple Locations
Apparently, Hawaii's most famous Chef wasn't busy enough doing things like appearing on Iron Chef, so Sam Choy decided to open a whole slew of restaurants/food trucks along the West Coast. Most of these food purveyors are right here in Puget Sound, including three trucks that serve a variety of "Island Favorites" like Loco Moco, a street-food staple that includes a hand-made beef patty topped with sautéed onion, fried egg & smothered in fresh gravy, as well as their titular ahi tuna or salmon poke. Oh, and because these are Hawaiian trucks, yes you can get a side of SPAM.
Where is it? A TON of places. Three trucks cover a lot of ground.
Multiple Locations
Started by New Orleans-born Canlis vet Matt Lewis, and boasting a name that comes from the only-used-in-'Nawlins greeting, "Where Ya At?" (um... New Orleans, probably?), this truck serves badass Creole cookery, starting with classics like Gumbo, shrimp & grits, and freshly fried beignets, and ending with a range of can't miss po' boys, like the bacon/cheddar/Mama Lil's pickles/lemon aioli/fried oyster Peacemaker, that, according to the Bible, is blessed, for it will be the children of God's lunch... or something.
Where is it? You'll find it a different place everyday. Hit the website for the full schedule.
Multiple Locations
Started by two brothers/self-proclaimed nerds whose mom thought it'd be cool if they worked together, the CW pays homage to all sorts of geekery (video games, Harry Potter, etc.) through its menu/truck decorations, and even has an anthropomorphic sandwich mascot who quotes Highlander. Said truck is a '60s-era "Stepvan" equipped with a siren, a yellow paint job, and a custom roof extension that gives them just room for decorations like chandeliers & pulp-style wizard paintings and, most importantly, space to make sandwiches. Try the the Voldemort-adella with smoked gouda & thick-cut, pan-seared mortadella, or the Critical Hit on pumpernickel with brie & a housemade pear ginger chutney.
Where is it? Lots of places, including regular spots in South Lake Union, Downtown, Ballard. Check their website to see where they are today.
Multiple Locations
Yet another Seattle food truck success story -- its brick & mortar version is one of Seattle's best sandwich shops -- this ironically named truck is perfect if you're the kind of person who wants three different kinds of pork on their sandwich. Sound about right? Then order the Bad Lieutenant, which comes with pulled pork, bacon and ham, PLUS chipotle BBQ sauce, apple jalapeño slaw & provolone.
Where is it? Eastlake… Marginal Way… Kirkland?! They're all over the place, which means the best place to find 'em is probably on Facebook.
Multiple Locations
After almost a decade of making Southeast Asian eats in other peoples' kitchens, a chef and her brother decided to stuff their own kitchen into a trailer, where serving simple, and totally satisfying, takes on Thai standards, including apps like deep-fried pot stickers (which sadly don't look nearly as cool on your skateboard now that pot's legal), noodle dishes like Pad Thai, or our favorite, the Deep Fried Volcano Chicken, which comes with a sweet chili sauce that, as you'd expect from a truck whose very name implies bondage, they make just as hot as you can stand.
Where is it? Boren & Thomas in South Lake Union every weekday during lunch, and the 76 Gas Station in Whitle Center in the evenings.
Sign up here for our daily Seattle email and be the first to get all the food/drink/fun in town.
Bradley Foster is a former Thrillist editor who would probably never go to South Lake Union if there weren't so many food trucks there.