The most popular thing to do in Seattle is... uh, tell everyone who doesn't live in Seattle that it doesn't actually rain here THAT much? Yes. But a close second is hitting up the wildly varied lineup of delicious food trucks that have... *cough*... poured into the city lately, the very best of which we've got for you, below:
Recommended Video
This Ube Pancake Is so Big It's Served in a Sheet Pan
The Grilled Cheese Experience
Where To Find It: South Lake Union -- Keep track here
Dish To Get: These guys use local ingredients to create adult takes on kids' favorite sandwiches, which would ordinarily include Rosario Dawson, Casper, and that other sad chick, but in this case include a Samish Bay Creamery aged chipotle cheddar, house-smoked bacon, caramelized onion, sun-dried tomato & avocado number called the Super Deluxe, probably 'cause they should've started selling it 'Years Ago'.
Sam Choy's Poke Truck
Where To Find It: Sodo/Bothell/Bellevue -- Keep track here
Dish To Get: Hawaii's most famous Chef, Sam Choy, is taking a break from doing things like appearing on Iron Chef to launch a food truck, and serve you things like Loco Moco, an island street-food staple that includes a hand-made beef patty that's topped w/ sautéed onion, fried egg & smothered in fresh gravy.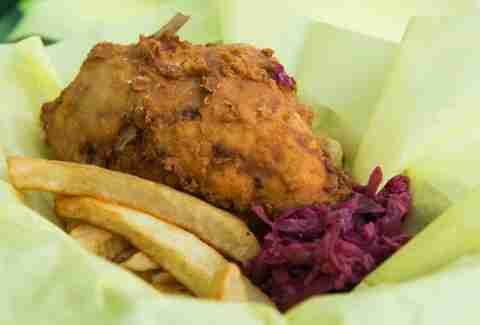 Nosh Truck
Where To Find It: Fremont/U-District/Queen Anne -- Keep track here
Dish To Get: What do you get when you plop a British guy in Seattle and give him a food truck? A shton of accidents 'cause HE'S DRIVING ON THE WRONG SIDE OF THE ROAD!!! classic eats from across the pond like confit rabbit w/ braised red cabbage, Granny Smiths, and fries… that's what you get.
Waffle Wagon
Where To Find It: Kirkland -- Keep track here
Dish To Get: Unfortunately, paddy wagons don't serve delicious cheeseburgers, and, even more turrible, chuck wagons don't come loaded with Charles Barkley. But, thankfully, this mobile food operation does exactly what it sounds like: sling Belgian-style waffles like this Roxy's Bacon Benedict Buttermilk number, which is topped with a poached egg, smoky bacon & hollandaise sauce.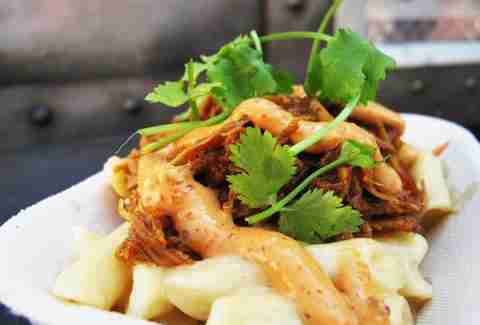 Maximus Minimus
Where To Find It: Downtown/Fremont -- Keep track here
Dish To Get: What do you get from a truck that looks like a pig? Duh... you get their version of mac & cheese, which is made w/ some help from Beecher's, and comes with chipotle mayo, cilantro, and... waitforit!... pulled pork.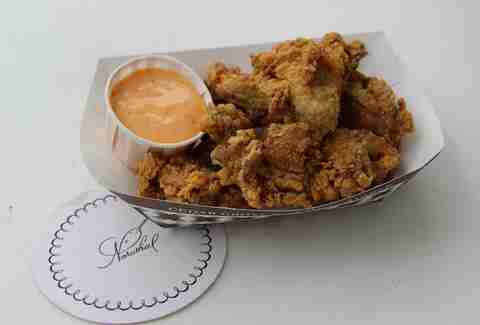 Narwhal
Where To Find It: Ballard -- Keep track here
Dish To Get: You say, "I want fresh oysters from a food truck". We say, "Well... waitforit!... shucks, dear reader, I guess you better get these fried numbers ASAP".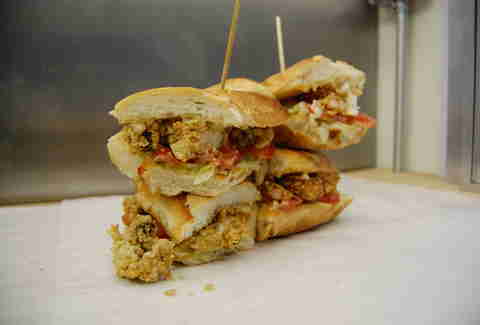 Where Ya at Matt
Where To Find It: South Lake Union/Georgetown/Sodo -- Keep track here
Dish To Get: The truck's name is based on a traditional 'Nawlins greeting (and is actually a pretty easy question if you click the link above), and it's serving badass Creole cookery like the bacon/cheddar/Mama Lil's pickles/lemon aioli/fried oyster Peacemaker, that, according to the Bible, is blessed, for it will be the children of God's lunch... or something.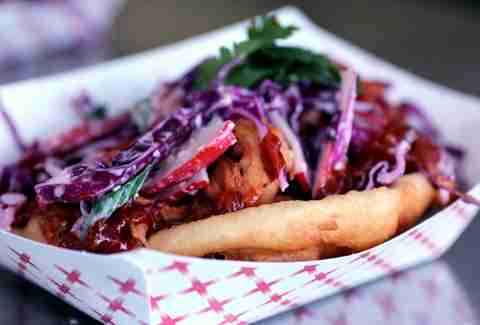 Off the Rez
Where To Find It: Downtown -- Keep track here
Dish To Get: Helm'd by a dude who grew up eating the NW American Indian faves (tacos, frybreads, etc.) he's serving now, OTR's menu is highlighted by these Indian Tacos topped w/ a 10hr-smoked pulled pork & honey bourbon BBQ.