Opened by a former Toulouse chef in a cavernous, Uneeda Burger-adjacent space, Fremont fish-slinger Rock Creek's serving a selection of seriously next-level ocean-going eats that rotates depending on what's fresh (guess that means Doug E.'s always on the menu!), and that you've got to... ugh, sea to believe. Bam! Nailed it.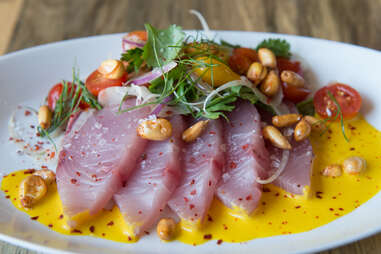 Ono they didn't make this plate of grilled Fijan Wahoo on a terrifically yellow pool of lemon escarole with Marcona almond-/ Medjool date-vinaigrette look this gorgeous. Yes, they did!
There's also a South-of-the-border-inspired Dungeness crab chile relleno w/ bright tomatillo salsa & a cool radish/ herb salad, though presumably the other veggies only think the former ingredient is cool because he lets them in on his supply of the latter.
The Baja yellowtail jack Tiradito-aji Amarillo w/ baby tomatoes, fennel, onion, and herb salad comes with something called a Spicy Cumin Salt Cancha, which are really just corn nuts that come from the Andes, instead of the gas station.
RC's cavernous space used to house a construction company, and is now almost as beautiful as the dishes you'll be eating. Well, not that first plate of Ono, but still... it looks pretty sweet!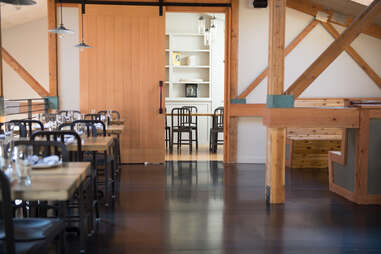 There's even a 2nd floor loft with a private dining room, where you may want to go if you get...
... crabs, like this monstrous half Dungeness w/ garlic, chili, basil, tomalley aoli, and hot sauce, 'cause you really don't want to share 'em with anyone else.
Now it's time for a drink, so post up at RC's outdoorsy-wallpapered indoor bar and grab a cocktail.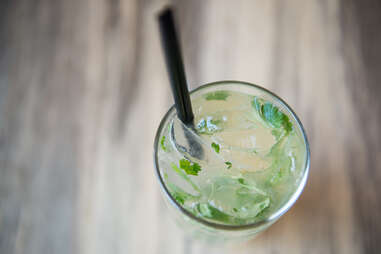 Options include the unappetizingly named (but seriously appetizing) Blister Pop w/ Cazadores Reposado tequila, St. Germain, habanero syrup, grapefruit, and cilantro soda.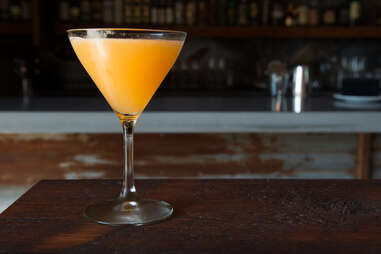 Or the Aperol, lemon, and orange-flavored Road to the Moon, which is made with vodka from Batch 206, so you can probably down like 425 of 'em. Just kidding! That's wayyyy to many, and besides it's code for Bellevue, aka another way of saying gross.
You can also try raw bar options like oyster shooters paired with Mezcal, Sake, or, in the case of this roe, cucumber, lemon, and dill-topped number, Aquavit.
Of course all of RC's sweet-looking eats can also be had on the patio, which is accessed through a massive garage door, and is the perfect place for -- as Doug E. can appreciate -- Just Having Fun.