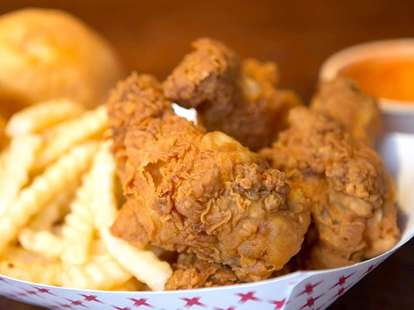 If there's one thing you have to explain to people about Seattle it's... well, these 18 things... but also that this Northwest town's serving some sweet takes on the South's signature comfort food: fried chicken. So many, in fact, that it's tough to pick the perfect poultry. Unless, of course, someone assembles you a list of Seattle's 12 best fried chicken spots. OH, WAIT...
Best fried chicken sides:Ma'ono Fried Chicken & Whisky
West Seattle
This previously only-available-on-Monday fried chicken's so badass that James Beard-winner Mark Fuller turned his old place into a full-time fried chicken shack, albeit one with unusual flavors/sides, like a Spicy-Hot Kimchi w/ live shucked oysters that sees your coleslaw, and then beats it up and takes its lunch money.
Best fried chicken for breakfast:Meander's Kitchen
White Center
This daytime-eats destination isn't very good at accurate slogans (they say, "Arteries are for sissies", when everyone knows they're for carrying blood away from your heart. Duh!), but is good at breakfast foods like crispy fried chicken on a fluffy biscuit w/ enough gravy that your arteries might not actually be doing that whole "carrying blood" thing for long.
Best fried chicken on a waffle:Restaurant Roux
Fremont
The dude behind Where Ya At Matt didn't just bring the menu from one of America's best food trucks to his new brick-and-mortar, he added stuff like these fried chicken & waffles topped w/ ham hock maple jus. Oh, and that's bacon syrup to you.
Best spicy fried chicken: Chiang's Gourmet
Roosevelt
The peppers at this Lake City Way spot are even spicier than they look, and there're almost as many of 'em as there are pieces of gloriously crunchy chicken. Our advice? Just wash your hands before you touch... anything else.
Best "broasted" chicken:Marco Polo Bar & Grill
SoDo
Broasting isn't just what you do to the guy buying drinks at your fraternity reunion, it's also what they do to their chicken that makes it worthing taking a trip all the way to China! Just kidding, it's only SoDo.
Best fried chicken takeout for a group:Bourbon and Bones
Ballard/Fremont
This stuff's marinated in lemon, thyme, cayenne & garlic, comes with hot sauce made w/ Tonnemaker Farms' organic Ring of Fire cayenne peppers, and is available by the piece, but, given that their slogan's "F*ckit, get a bucket", you should probably get more than that.
Best grandma-style fried chicken:Waterwheel Lounge
Ballard
This unassuming shackstaurant assumes you're not just there for the free Bingo on Tuesday nights, and once you taste the surprisingly scratch-made bird, you won't be.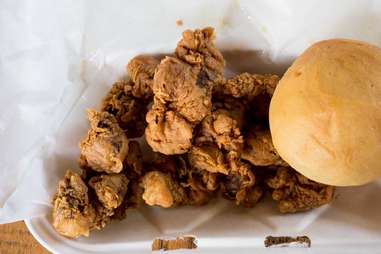 Best fried gizzards:Ezell's Famous Chicken
Central District
It takes 10 extra minutes to get Ezell's fried gizzards & livers, which means you've got plenty of time to laugh at the suckers who are settling for the, admittedly awesome, original recipe instead of waiting to get what chicken nuggets would be if they weren't made out of... um, whatever they're made out of.
Best fried chicken using Ezell's recipe:Heaven Sent Fried Chicken by Ezell Stephens
Lake City
Ezell might have lost the rights to his name and his restaurant in court, but he did not lose his talent for frying a mean chicken.
Best fried chicken from a convenience store:Quick Pack Food Mart
Central District
All those cars in the parking lot? They're not there for cigarettes and diet cokes, they're lining up for some special, spice-rubbed fowl, that's well-known enough that they always keep some in the fryer, but can still be our little secret. Oops.
Best fried chicken sandwich:Pinky's BBQ
Wallingford
Ways to take chicken from boring to awesome: A) smoke it, B) fry it, or C) put it in a sandwich. Ways to take it from boring to worth-abandoning-your-car-in-45th-St-traffic? D), all of the above.
Best buttermilk-fried chicken:Kingfish
Capitol Hill
They won't tell you what's in their "My Way or the Highway Buttermilk Fried Chicken", but put it on top of a salad, or some waffles, or just pile it on a plate with some mashed potatoes, gravy, and slow-cooked collard greens. We won't tell you which one to choose.