13 New Seattle Restaurants You've Got to Try Right Now
Ari Gold once famously said, "My girl won her debate on Friday, my boy scored a goal on soccer on Saturday, and my wife agreed to visit her mother without me. I don't know how things could get much better unless Thrillist put together a list of the best restaurants that opened this spring." You're welcome, Ari...
Colin Bishop
Capitol Hill
After years of seducing our neighbors to the north (think original Paseo levels of excitement), this Vancouver sandwich shop brought its swine-flavored siren sandwich, the Porchetta, to Seattle. Come find the pig-skin crackle that awaits you, smothered in salsa verde.
Naomi Tomky/Thrillist
Pioneer Square
Kraken Congee is a pop-up turned brick-and-mortar, and its owners used the money they earned from an appearance on the TV show Restaurant Startup to set up shop and convince Seattle that their flavorful rice porridge is worth stopping in for. Spoiler alert: it, along with the spring roll-like Sausage Lumpia and Ube (purple yam) Cheesecake, most definitely is.
Naomi Tomky/Thrillist
Greenwood
You used to have to get up early on a specific Saturday morning to get your hands on one of Rachel Coyle's magical croissant-pretzel hybrids (called Cretzels, naturally) at her monthly pop-up. The flaky treat is now happily ensconced at this storefront with the talented baker's other treats -- strawberry tarts, savory pastries, and brownies -- and is available nearly all day, five days a week.
 
Ravenna
Hot off a stint at Bar Sajor, Chef Edouardo Jordan weaves the farm-to-table principles he learned there (and before that at Sitka & Spruce and The Herbfarm) into his own background of Southern cooking and training as an Italian salumist to create a unique neighborhood restaurant. Herbs come fresh from the garden, drink specials hot off the chalkboard, and plates straight from the chef at the up-close-and-personal chef's bar.
Rina Jordan
Pioneer Square
A swanky new building in a hotspot 'hood, a top-notch Italian chef, and... a menu of Korean food? It seems a little strange, but only until you've stopped in for Gochujang Chicken Wings and makgeolli (it's the house Korean liquor) before the next Sounders game, or for a nice dinner afterwards of Kalbi Short Ribs and crispy rice cakes with roasted morel mushrooms.
Salted Sea
Columbia City
The transition from old-school bar (Angie's was shut down for endangering public safety) to seafood and raw bar is emblematic of the current shift in Seattle's South End, but for those who love oysters (Salted Sea has at least four on the menu to start) and simple seafood dishes like whole-roasted trout, it's a good thing. In this case, a very good thing.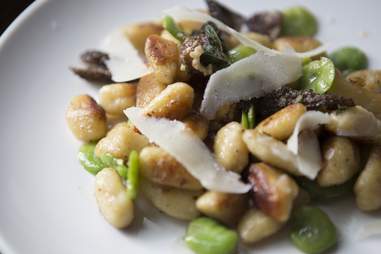 Vendemmia
Madrona
Taking after the simplified Italian style infused with Northwest ingredients of his most recent employer (Ethan Stowell), Brian Clevenger manages to keep both the menu and the space small and simple... but still totally classy. Look for hand-made pastas, fresh and seasonal vegetables, and a spot at the chef's counter for a completely up-close-and-personal experience.
 
Queen Anne
The name, which means "between friends," makes sense, because that's the best way to eat a platter full of charcuterie -- one of the specialties of this new French bistro. The menu, like the restaurant, is small and casual but with luxurious touches, like foie gras torchon or king salmon with fried spiced almonds.
Kukai
Capitol Hill
After conquering the Eastside and Northgate, this Tokyo chain brought its signature extra-rich broths to Capitol Hill. Along with customizable ramen bowls, the izakaya portion of the menu is perfect for a mid-bar-crawl snack on the Hill: seriously, octopus dumplings (takoyaki) and Japanese pork buns make for excellent drinking snacks.
Geoffrey Smith
Frelard
Is the sliver of restaurants between Ballard and Fremont the next big thing? Ethan Stowell sure thinks so, opening the second outlet of his lauded whole-pie and giant-slice pizza chain in the growing mini-'hood. The big deck out front should be great for sipping the local brews on tap, and avoiding the "kid pit" inside, but if you have your own space to sun yourself at home, it also offers delivery.
Capitol Hill
What do smiling cows on Vashon Island, an old-school Seattle restaurateur, and Capitol Hill's best ice cream have in common? They are the ingredients in Kurt Farm Shop, where Kurt Timmermeister (last seen in these parts before he sold Café Septieme) has expanded his cheese business, Kurtwood Farms, into a chillier form. Look for farm-fresh seasonal ice creams, his excellent cheeses (you may have heard of Dinah's at, say, every good restaurant in town), and plants, all directly from Timmermeister's own Vashon digs.
 
Belltown
With big portions, affordable drinks, and plenty of room for a group, this new American/Italian restaurant knows the way to Belltown's heart. Burgers sharing a menu with squid ink risotto might seem a bit strange, but with Macrina bread, $6 gnocchi at happy hour, and late-night hours on weekends, Cuadra makes the quirks easy to love.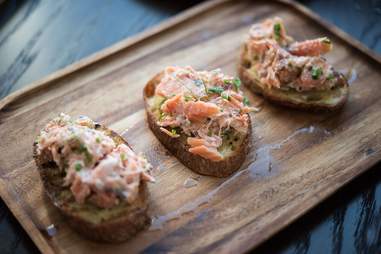 Geoffrey Smith
Downtown
Seattle's neighborhood restaurant darling, Ethan Stowell, returns to Downtown, just across the street from where the original and long-closed Union launched his empire. Keeping the marquee views of Elliott Bay, Goldfinch trades in the high-minded dining of Art (its predecessor in the Four Seasons Hotel) for a more casual, Northwest-focused menu full of local ingredients (Dungeness crab, king salmon, porcini mushrooms), ready to be paired with cocktails made from local spirits and fresh-pressed juices.
Sign up here for our daily Seattle email and be the first to get all the food/drink/fun in town.