The crew behind the Nickerson Street Saloon obviously took one look at what used to be a vegan shoe/chocolate shop and decided it'd be the perfect place for… neither of those(!), and, instead, opened Martino's Smoked Meats, home to Seattle's most meat-heavy sandwich lineup.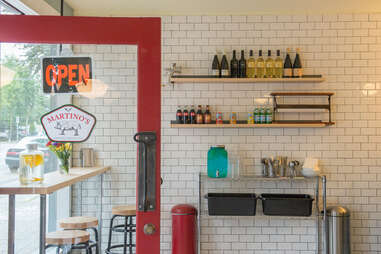 It's only 700sqft, so while this gleaming meat-slinger is big enough for a few people to sit and watch the game/drink a beer, most'll probably carry-out sweet sandwiches like...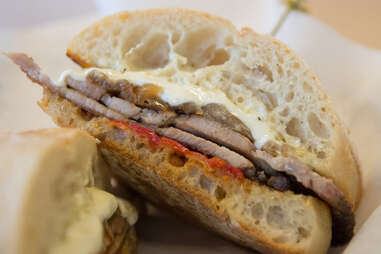 ... the Big Italian, which has so many ingredients that are the latter (hickory & cherry smoked pork butt, grilled onion, Mama Lil's peppers, smoked fresh mozzarella, chive aioli, etc.), that eating too many will definitely make you the former.
Additional sandwiches include the grass-fed, red oak-smoked tri tip sirloin number above, and this pork loin-based Bar-B Cuban w/ balsamic onion jam, Gruyere, and mustard BBQ sauce.
The sides, like this chili w/ red & black beans, tri-tip pork loin, chicken, smoked tomato & roasted poblano, are so meat-oriented...
... that even their potato salad looks like it's mostly made of everyone's favorite meat-candy: bacon.