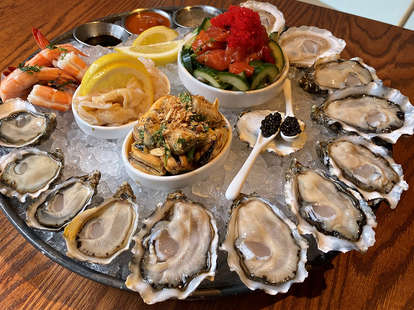 Courtesy of Taylor Shellfish Farms
Courtesy of Taylor Shellfish Farms
Keeping up with the latest and greatest of a city's food scene can take a toll on your body. Restaurant food in general runs a bit heavy and those Instagram darlings tend to be the kinds of menu items that particularly pack on the paunch. But Seattle's idyllic setting -- nestled between the pristine waters of Puget Sound, the lush farmland of the Skagit Valley, and the acclaimed orchards on the east side of the Cascades -- provides the city with fresh ingredients that creative chefs can turn into healthful dishes without even having to try. Yes, Seattle is full of places where you can eat well while eating your way to wellness, and we've rounded up a few of our favorite dishes to set you on that path.
In some cities, the hot happy hour bar serves chicken wings or deep-fried cheese sticks. In Seattle, there's no better post-work snack than shellfish. Oyster happy hours abound around the city, and there's always at least one oyster on discount at Taylor, where there are also drink deals (from 2-5pm or 3-6pm, depending on location). But the real value is in the Salish Sampler (available at the Queen Anne and Bellevue locations), a giant platter that will lure your co-workers from their usual haunts with a variety of local oysters, chilled prawns, sliced sashimi, and whatever else is looking good at the raw bar. Because Taylor -- a fifth-generation shellfish farm -- also grows most of the shellfish themselves, it's as fresh as possible, straight from low tide to the high bar tables.
Vif: Green Lentils Breakfast Bowl
Every meal at Vif, a wine merchant/cafe, feels like self care. It's the kind of place where people stop to chat with their barista or camp out for hours with their work -- everyday. In part, that's possible because it's the kind of place where the food leaves you feeling great, both physically and about what you just ordered. That includes the most satisfying way to start the day: a bowl of green lentils enriched by a seven-minute egg plopped in the center and the tangy tangle of pickled fennel on top.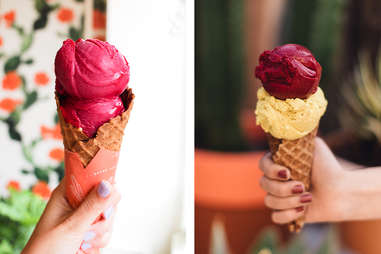 When people hear that the best ice cream in Seattle comes from a vegan shop, reactions tend to range from somewhat dubious to really, really sure that everyone is wrong. However, the textures and flavors pop in the nut- and coconut-based concoctions from this partnership between a pastry chef and a ballerina-turned-vegan cafe owner. But perhaps their most impressive feat of frozen dessert wizardry is the smooth sorbet with the richness of beet juice, sweetness of berries, and just that tiny hint of rosewater romance.
Ethiopian cuisine, of which Seattle has a fair amount, tends to go well with health-focused eating: the staple starch is injera, a bread made from the high-iron, gluten-free ancient grain called teff. Beyond that, a calendar full of fasts abstaining from meat and animal products in Ethiopian culture means that there are always tons of vegetarian -- and often vegan -- options on every menu. The vegetarian combo at Jebena, like at many places, includes a scoop of shiro wot (a garbanzo-flour stew), turmeric-tinted cabbage, red and yellow lentils, a clump of spinach, and a salad. But Jebena's versions of these foods, made from scratch by owner Martha Seyoum and her family, are easily some of the best in the city, with clear flavors and varied textures, along with her incredible service. Call ahead to request all-teff injera (gluten-free) or to see if she'll be pouring coffee from the jebena, the traditional pot for which the restaurant is named.
Southeast Asia's vegetable-heavy cuisine creates an easy go-to for folks in search of a salad in Seattle. But among the wide variety of Thai and Vietnamese restaurants, this Rainier Valley gem has long stood out for its careful preparations of Isaan food -- the cuisine of Northern Thailand and neighboring Laos. But unlike the low-key versions of the hand-shredded underripe fruit salad you'll find in Thai and Vietnamese restaurants, this Lao version packs a wallop of flavor with the addition of padaek, or fragrant fish paste.
Since well before the arrival of the ubiquitous poke bowl restaurants, this humble downtown lunch shop has served the best raw fish bowl around. While the menu includes a few dozen ways to order protein over rice, the hwe dup bap -- sashimi-style fish with spicy Korean sauce -- keeps things fresh and healthy. Every bowl includes lightly steamed vegetables and the option for brown rice instead of white (or double vegetables). While plenty of people in the always-long line (don't worry, it moves quickly) might be seduced by the meatier options, the raw fish tastes -- and feels -- the best.
Each of chef Mutsuko Soma's bowls of soba noodles contain endless depths of comfort. Inspired by Washington's big buckwheat crop, Soma returned to Japan to master the art of making noodles from its nutritious seeds. Now, at her Fremont noodle bar, she serves up bowl after bowl with subtle, savory broth. The menu changes with the seasons, but few of the noodle options rival the matsutake bowl, made from the earthy, elusive pine mushroom. Brightened with yuzu zest and filled out with mitsuba (a leafy green), and leeks, the bowl screams warmth without the unhealthfulness that usually accompanies so-called comfort foods.
The size of a large hallway, Anar is a juice bar and health-focused lunch spot from the same folks whose Mamnoon, Mbar, and Mamnoon Street have received much critical acclaim. But you don't hear much about Anar, and that has nothing to do with the quality. The little spot churns out fresh, cold-pressed juices and bowls of vegetarian Middle Eastern food, like a chickpea stew called balila. Spiced with cumin, turmeric, and Aleppo pepper, and brightened with lemon and fresh parsley, it's thick and filling -- especially so with the optional dollop of yogurt.