Seattle's International District is home to one of America's best ramen spots. But it's also home to a delicious, and often confusing, hodgepodge of Chinese, Japanese, and pizza places that can be downright intimidating if you don't eat there all the time, speak a couple of foreign languages, or have a handy guide to the 15 best eat spots in the ID. Oh, wait!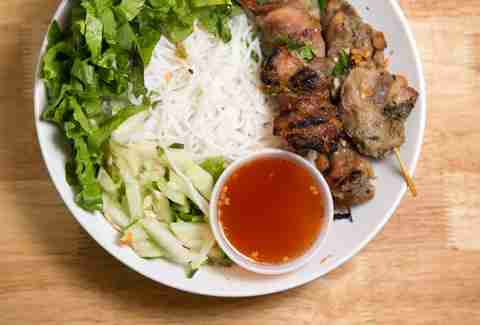 This upscale(-ish) Vietnamese spot on the far side of the ID plates slightly more Western-style eats than the area's usual family-run joints, but it's still a can't-miss destination thanks to authentic and deliciously simple dishes like the lemongrass chicken vermicelli (above).
Opened in one half of a Chinese grocery store, Ping's serves a small selection of Northern Chinese eats, but make no mistake, you're there for a plate of their signature pork dumplings, made using traditional ingredients from a recipe that's been handed down for three generations.
This French-inspired baked goods slinger does classic preparations with unique flavors, including this sugar-covered pocket of fried dough filled with azuki (red beans).
Seattle's favorite food may be great teriyaki, but pho is a solid number two and GL is a more-than-solid place to score some the traditional Vietnamese noodle soup.
The hand-shaven, barley green noodles with chicken are the real deal. Aside from being the coolest noodles you've ever seen, this dish comes with scrambled eggs, your choice of meat, and carrots.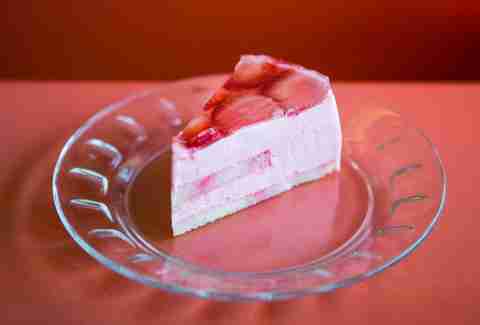 This bakery has all kinds of tasty Asian pastries, from red bean treats to taro rolls and colorful cakes, but if you can do away with all the sugary stuff, they've also got some sweet (but, you know, not sweet) options like tossed noodles and congee.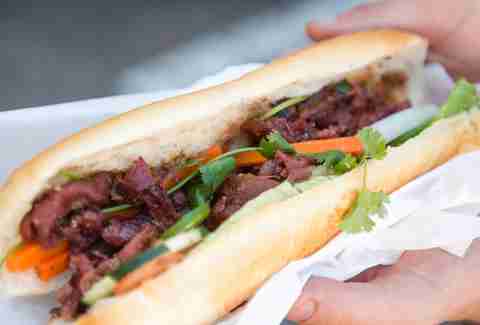 Best sandwich: Subsand
Subsand marries the idea of the bánh mì and sub sandwiches into one tasty baguette and meat union. Pictured above is the BBQ pork, which you should definitely get since... BBQ PORK!!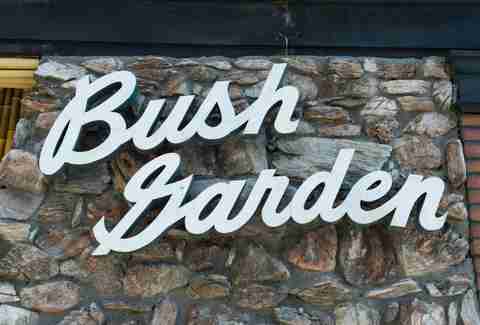 It may not be quite as entertaining as Busch Gardens, but this place is still pretty fun thanks to sing-a-longs that basically never stop, cheap Asian takes on bar eats, and stunningly stiff and inexpensive drinks.
This hole in the wall is a one-stop shop for everything ranging from bánh mìs and curry chicken to bubble tea and all kinds of prepackaged snacks.
Seattle Deli slings pretty hefty bánh mìs at a super-low price, so come hungry and bring friends, but don't forget some cash 'cause this place is cash only.
Fifteen years after closing the Belltown original, the brothers behind this golden-era-of-grunge destination for performers and fans reinvented it as a salvaged wood-heavy Chinatown slice-house with seats for 20 and delicious 'za that is actually delicious, despite being completely vegan.
This teeny-tiny almost unpronounceable spot in the ID is a can't-miss, mostly because every Friday around lunchtime, they serve their infamously hard-to-get ramen. The spot only slings a couple dozen bowls 'cause their richly flavored broth takes four days to make, so you have to get it while it's hot, or you don't get it. Until next week. Maybe.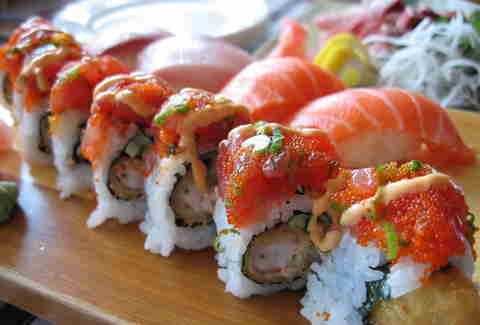 It's been in business for more than 100 years and it's still almost impossible to get a table at this ID mainstay that's all but frozen in the '60s. This particularly sweet version of said decade makes next-level salmon skin maki, gargantuan slices of nigiri sushi, and turn-out-way-better-than-they-sound Asian oddities like octopus-stuffed donut holes at the tiny sushi bar in back.
One of the city's best late-night hangs -- and a favorite of local hip-hop luminaries Blue Scholars -- FSG specializes in yoshoku-style eats (Japanese takes on Western dishes like spaghetti topped with roe) and serves cheap/stiff 'tails like the gin/fruit Momotaro -- aka the mythical Japanese hero Peach Boy, which means it just takes one to make you see fuzzy.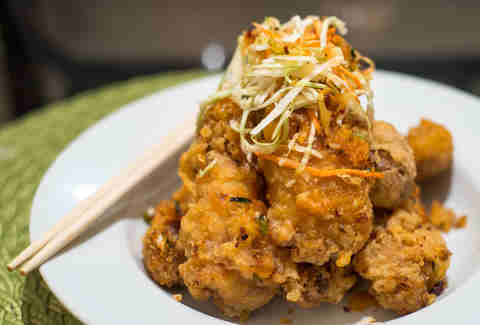 Housed in a strip mall on Jackson St, this noodle house is actually the place to go for crunchy, meaty, buttery wings w/ a flaky crust and a dusting of garlicky green onion and chile. Oh, and they only cost $7.
Sign up here for our daily Seattle email and be the first to get all the food/drink/fun in town.