The diner has become a staple of American culture: it's where you go for classic, mid-century fare; it's the obvious destination for some roadside eats (maybe during one of those sweet road trips you should be on); and it's where you'll get Steve Guttenberg's blood boiling if you try to take his roast beef sandwich. Especially if the place making said roast beef sandwich is on our list of the 12 best diners in Washington state...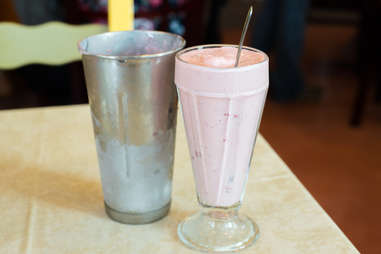 Silvana
The hashbrowns are crispy, the pie is delicious, and there's hardly an empty seat at lunchtime. But before you get distracted, let's talk about the milkshakes: whole chunks of fruit mixed up into what might just be the biggest milkshake ever -- less than a third of it fits into the original glass, the rest comes on the side in a giant metal cup for refills.
Acme
Perfectly situated for a post-hike stop, the cheap, filling eats at Acme's eponymous diner make it tough to save room for dessert: each "plate" is three times what you expect. But the highlight of this roadside diner is the house-made ice cream, so do your best.

Walla Walla
As Walla Walla transforms into its new role as the fancy capital of wine country, this little box of a restaurant keeps it real for locals and travelers in the know. The coffee refills come fast and furious, the hashbrowns are crisp, and it definitely won't cut into your wine budget.
North Bend
Yes, this is the place from Twin Peaks. Yes, it looks a bit different (due to a fire in 2000). Yes, you should order "A damn fine cup of coffee" and cherry pie. But also, all-you-can-eat French fries.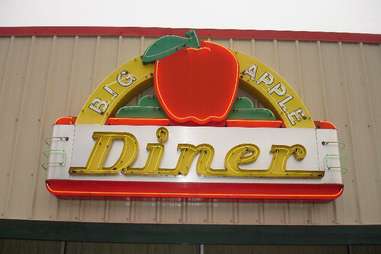 Bremerton
There's a huge overlap between diner food and comfort food, and that doubled-up area looks like the Big Apple. Still known as the Red Apple Diner to the old-timers, this is the kind of food that comforts you so much you might eat until you're not so comfortable. It's worth the pain of finishing those plates, though… and ordering a shake to wash them down.

Chimacum
The classic American greasy spoon, in looks and tastes, and in friendly staff. When you've finished up with your grilled cheese, take a peek into the rotating pie case to find their specialty: wild blackberry pie.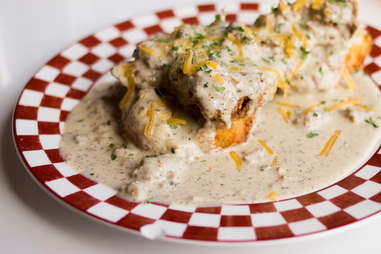 White Center
Call it gluttony with principles, but this South Seattle breakfast nook doesn't compromise on quality when it sets its biscuits afloat in a sea of gravy. Seriously, the meat is probably the best steak that's ever gone through the chicken-fried process, but that's part of what makes this quirky restaurant a can't-miss.
Pasco
The classic diner, right down to the hard-working, hustling staff that will bring you all the coffee refills you need without you needing to raise your hungover head from the table. Fill out your morning with an order of one of their haystacks (what they call skillet breakfasts), and you'll be back to normal in no time at all.

Vancouver
It's been around forever, and it's barely changed. The giant menu is matched only by the giant portions: you don't see the four-egg omelet coming standard many other places. Made-from-scratch soups, fresh-daily potatoes, and the all-day breakfast round out the classic diner taste.
Spokane
Diners are so-called because they're modeled after old-school train dining cars. But at Frank's, they take it a step further and you actually get to eat in an old dining car -- and you don't even have to buy a ticket.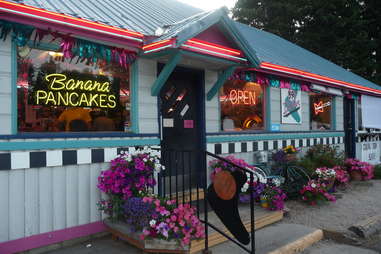 Cashmere
The overwhelming kitschiness of the décor here could be a turn-off to some, but if you're willing to totally embrace the absurd look of the place, you're in for a mean meatloaf dinner; the menu says "like your mom used to make," but trust us, this place does a hell of a lot better than she ever did. Sorry, mom!

Trout Lake
It's actually a gas station, but it's the best gas station you'll ever sit down and drink a huckleberry milkshake at. There's not a whole lot to Trout Lake, but if you're camping or picking huckleberries near by, it's a required stop.
Sign up here for our daily Seattle email and be the first to get all the food/drink/fun in town.