Among the many, many reasons why Portland totally sucks when compared to Seattle is that they've got a higher obesity rate, despite which, they routinely rank higher on annual lists of America's most healthy cities. How is this possible?! Maybe because the people assembling such lists got a look at the gloriously fattening foods Seattle served up over the last year. Check 'em all out below...
Red Velvet Waffles on a Stick
My Sweet Lil Cakes, Capitol Hill
Approximate Calorie Count: 400
My Sweet Little Cakes, a bright orange trailer serving up made-from-scratch hotcakes-on-a-stick, turned a classic southern dessert into an astounding red velvet buttermilk-based breakfast w/ dark cherry & sweet cream cheese that'll ensure your mid-section is anything but lil'.
Fried Cheese Sandwich
The Sammich Truck,Mobile
Approximate Calorie Count: 550
Not even the horrifying anthropomorphized truck/sandwich hybrid cartoon on the side of this mobile food operation can spoil your appetite once you peep their no-frills, five-item menu that'll put a smile on your face as wide as the one on the aforementioned cartoon, via fist-meals like a white cheddar/ yellow cheddar/ mozzarella/ oven-roasted tomato/ caramelized onion grilled cheese, and this Caprese-style number stuffed with deliciously waist-expanding fried cheese.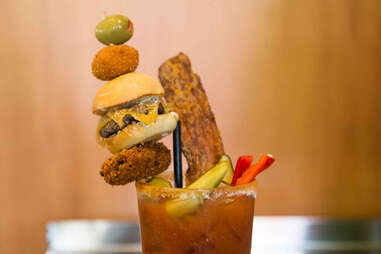 Sport Ultimate Bloody Mary
Sport, Queen Anne
Approximate Calorie Count: 720
John Howie's SPORT 's sweet new Bloody Mary already featured 70 different ingredients designed for AM alcohol consumption, but said massive ingredient menu didn't include things like Wagyu beef sliders, or tempura-fried bacon... so Chef Howie, did something even more amazing than usual: created this off-menu Ultimate Bloody Mary just for us/you!
Waffle Eggs Benedict
Waffle Wagon, Mobile
Approximate Calorie Count: 790
Most wagons are seriously disappointing: a paddy wagon doesn't serve delicious cheeseburgers, and, even more turrible, chuck wagons don't come loaded with Charles Barkley. But, thankfully, WW does sling badass Belgian-style waffles like this Frankenfood, which combines two 'Merican! French and Belgian classics, and then covers 'em in bacon!
Chicken & Waffles
Witness, Capitol Hill
Approximate Calorie Count: 1130
The best place for a witness is obviously hiding out in Amish country with Harrison Ford, but the best place for a bar called Witness is apparently the former Five Fish Bistro space on Cap Hill, 'cause that's where a Knee High Stocking Co. bartender is serving enough corn to suffocate a man! these gorgeous buttermilk waffles topped with a pile of fried chicken and, because syrup is for suckers, a Bourbon maple gravy.
Mac & Cheese Burger
Henry's Tavern, SoDo
Approximate Calorie Count: 1147
When you're hankering for man-sized portions of some serious pub eats, like this double All-American Burger w/ mac & cheese, Applewood-smoked bacon & an Elysian Immortal cheddar sauce, you really have only one place to go: that pub owned by Walter's brother-in-law on Breaking Bad Henry's Tavern. So thank God there're three of them: the PDX original, one in Plano, and now this brick-heavy 270-seater in SoDo from the crew behind places like Cutters and Palisade.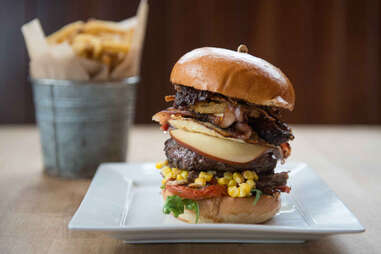 Build Your Own 8oz Burger
8oz Burger Bar, Capitol Hill
Approximate Calorie Count: 2448
Because they're not owned by Digital Underground, most restaurants won't just let you "Doowutchyalike" with their menu... unless you're at a sweet spot like 8oz Burger Bar, where they literally let you build your own meatwich. Well, that's exactly what we went and did, and the result -- a towering monstrosity from 8oz with four different meats on a brioche bun -- is so spectacular that we're pretty confident there's "Nuttin' This Funky" anywhere else in town.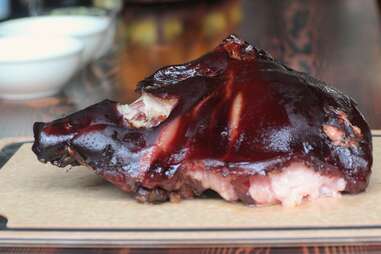 Whole Pig's Head
Radiator Whiskey, Downtown
Approximate Calorie Count: 4000
As Ian and Max learned after messing with Anthony Michael for the entirety of Weird Science, it's not always a good idea to cross the Hall, but that hasn't stopped the guy behind Matt's in the Market from doing literally just that with Radiator Whiskey, a seriously sweet boozer specializing in barrel-aged cocktails and down-home vittles, like this whole pig's head, so good they'll do something even showering with Kelly LeBrock apparently can't do: knock your socks off.