Of all the things people from Seattle love, number one is probably... um, polar fleece (you can wear it anywhere!). But after that, it's probably restaurants. Seriously, it doesn't matter if it's one of the city's best new places to eat, or one of hundreds of teriyaki spots, people here just love restaurants, so much so you'd think there'd be enough love to go around, but sadly there's not.
That's why we asked some serious food experts, from Ethan Stowell to Renee Erickson, to help us pick places in need of more love. The result? Our list of Seattle's 11 most underrated restaurants...
Linda Derschang
Owner, Linda's Tavern (address and info), Tallulah's (address and info), King's Hardware (address and info)
Cafe Pettirosso (address and info)
Capitol Hill
This quaint, and semi-unfinished looking Cap Hill drinkery boasts a concrete floor and a vintage wood bar, from behind which they serve coffee/pastries in the AM, and then start slinging cocktails like the homemade caramel/bourbon/lemon Safe Word, which by the way, should probably be called SixMorePlease.
Why it's underrated: There aren't many places you can get "delicious snacks all day long, then turn into a cute date night/dinner-and-nightcaps spot." Plus, Derschang says, "Cafe Pettirosso is right under our office."
Sara Billups
Editor, Eater Seattle
Pair: (address and info)
Ravenna
Located opposite the venerable Duchess, this spot specialize in Northwest-style eats that are made with mostly local ingredients and served small plate-style.
Why it's underrated: "It's a quaint neighborhood place that's good for a first or fiftieth date. Nettle soup, roast chicken, gratin, bread pudding -- there's nowhere else I'd rather eat after the rain returns."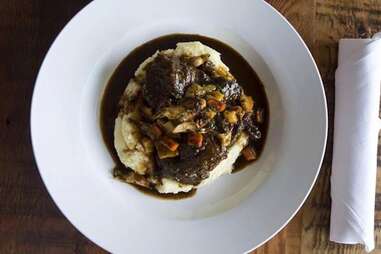 Jason Stoneburner
Chef, Bastille Cafe & Bar (address and info); chef/co-owner, Stoneburner (address and info)
Restaurant Roux (address and info)
Fremont
Opened after a loooong wait in the former Fremont biker bar where a 17-year-old Heath Ledger supposedly went drinking in 10 Things I Hate About You, this 'Nawlins-style eatery is run by the dude behind Seattle's favorite food truck, Where Ya At Matt.
Why it's underrated: "These folks are cooking their asses off and taking chances -- and you can tell they're having a blast doing it. The dishes are comprised of hard work and solid technique -- Roux should be on everyone's top five list."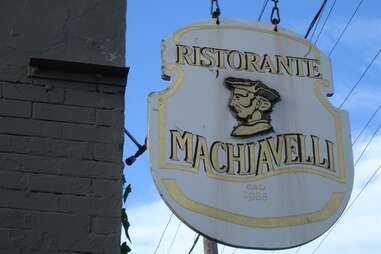 Bethany Jean Clement
Restaurant reviewer and arts editor, The Stranger
Ristorante Machiavelli (address and info)
Capitol Hill
This is always a convivial place to score sweet pasta, and while "the tables in the cozy, low-ceilinged dining room don't have red-and-white-checked tablecloths, they might as well."
Why it's underrated: "Open since 1988, Machiavelli is a reliable friend. The lasagna with spinach noodles and chicken livers is the kind of thing you think about suddenly for no apparent reason -- then you must have it that night, or the next night, or some night very soon. It is especially satisfying in the winter when passersby look cold and miserable, while inside everyone is insulated with good company, beverages, and anticipation. Machiavelli isn't fancy, it's just always good."
Rachel Yang
Chef/Owner, Joule (address and info), Revel (address and info)
Pomerol (address and info)
Fremont
Helmed by a guy who used to own the Pig 'N Whistle in Greenwood and the late-lamented June, this Fremont French-taurant is putting a composed Euro twist on Northwest ingredients via dishes like duck confit, fire-roasted beef short ribs w/ confit shallot, and more.
Why it's underrated: Maybe because "it just opened about two months ago, but Chef Vuong Loc has been around in Seattle for a while with the formal Portage restaurant on top of Queen Anne. His food is always spot-on modern French that is executed flawlessly."
Renee Erickson
Chef, The Walrus and the Carpenter (address and info)
The Fat Hen (address and info)
Phinney Ridge
This brick-fronted eatery in Ballard serves up locally sourced daytime eats ranging from breakfast (eggs and soldiers, baked eggs on ham w/ smoked mozz & Jarlsberg, etc.), to lunch options like the Stufato di Manzo w/ slow braised beef in red wine.
Why it's underrated: It's the perfect place for "simple clean fare, done really well with great ingredients," says to Erickson, who has regularly "been enjoying The Fat Hen for brunch and coffee."
Rebekah Denn
Writer, All You Can Eat at The Seattle Times
Boat Street Cafe (address and info)
Interbay
No longer actually on Boat St or in the University District, this eatery slings Provençal-style food in a casual, semi-subterranean space.
Why it's underrated: "Renee Erickson's other eateries have hour-long waits and get love-fest national reviews, but I think her first restaurant is every bit as good -- and bizarrely under-the-radar. I can never resist the pickle plate for an appetizer, the legendary bread pudding for dessert, and anything in the middle that current Chef de Cuisine Jay Guerrero (formerly of Prune in NYC) recommends."
Jonathan Zwickel
Senior Editor, City Arts
Maneki (address and info)
International District
It's been in business for more than 100 years, it's almost impossible to get a table, and it's a Thrillist favorite, but it's still underrated?! Yup.
Why it's underrated: "Seattle's oldest restaurant is also one of its most affordable and least pretentious restaurants. Reserve a private, shoe-free tatami room in advance or go alone and get a seat right away at the bar (and hope that Grandma's pouring the sake). Salmon nanban -- lightly breaded and fried salmon chunks served cold with ponzu sauce -- is a must-have, as is the miso black cod collar served piping hot."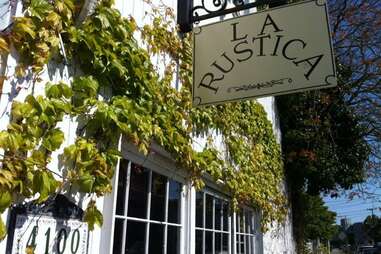 Jason Lajeunesse
Co-owner, Lost Lake Cafe & Lounge (address and info)
La Rustica (address and info)
Alki
One of Seattle's classic date-spots, this boot-foodery slings equally classic pasta dishes.
Why it's underrated: "I LOVE La Rustica in West Seattle, especially in the summer. The outdoor patio at sunset is one of a kind, cute, romantic, and the menu offers great consistent Italian comfort food. I also love that it's family owned and run, and they are always there to greet guests and offer tips on wines and specials in addition to the already great staff. Bellissimo!"
Ethan Stowell
Chef/owner, Staple & Fancy (address and info), How to Cook a Wolf (address and info), Chippy's (address and info), etc.
Nell's Restaurant (address and info)
Greenlake
The casually sophisticated eatery opposite Green Lake offers their locally sourced seasonal fare a la carte or as part of a five-course tasting menu seven nights a week.
Why it's underrated: "Seattle's most underrated restaurant is Nell's on Green Lake. Chef Philip Mihalski is a great chef who produces consistently high quality food, and they also have one of the best wine lists in town. And the patio is super-fun in the summertime."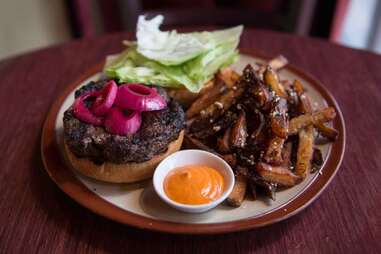 Meeru Dhalwala
Co-owner/chef, Shanik (address and info)
Golden Beetle (address and info)
Ballard
The second restaurant from the Iron Chef contestant behind Tilth, this Ballard eatery specializes in Middle Eastern/Mediterranean eats inspired by Chef Maria Hines' travels to Lebanon, Egypt, and Turkey.
Why it's underrated: Not as lauded as Hines' original spot, the Golden Beetle's still one of Dhalwala's "favorite restaurants in Seattle. I am always in a state of flavor amazement when I eat here, and the bonus for us all is that everything is organic and the dining room is cozy with a perfect combination of Middle Eastern elegant and exotic. The last time I ate here, I tried to convince Maria to open one in Vancouver, BC!"
Sign up here for our daily Seattle email and be the first to get all the food/drink/fun in town.