The Mariners' new Safeco Field menu from Ethan Stowell and Rob Roy
The glorious thing about each new Mariners season is that some things never change: not the crack of the bat from center field's $7 bleachers, or the team overpaying for (supposed) power hitters. But lucky for you, Safeco Field's food has changed (with some help from Bar Cotto's and Ballard Pizza Company's Ethan Stowell, Rob Roy, Georgetown Brewing Co, etc.), and we've tried it all, so, unlike the M's performance at the plate, you'll know what you're getting on yours.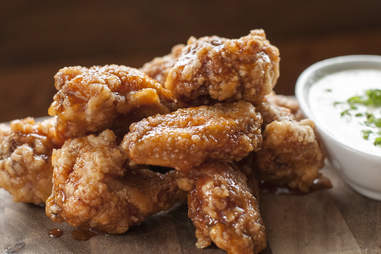 The latest addition to "The 'Pen" is the poultry purveyor Swingin' Wings, which is offering three kinds of Seattle's favorite finger food, (classic, honey serrano & barbeque) all sauced with help from Bonache in Ballard.
They're also doing something you wouldn't think possible: improving on tater tots by adding smoky pork belly, Beecher's Flagship cheese, and pickled peppers.
Beecher's cheddar also shows up in these deep-fried cheese curds that're drizzled with Ballard Bee Co. honey and topped with pickled peppers from Bay Valley, which is even better than Bayside Valley, since Slater always won those match-ups. 
Here's a deep-fried version of what, hopefully, our base runners don't find themselves in: a pickle.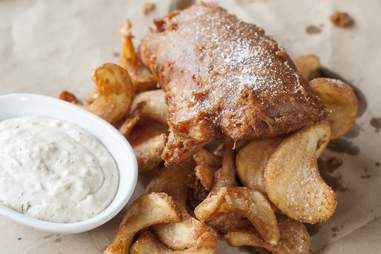 Your hometown team's also really got to figure out the bottom of their rotation... err, sorry'boutthat!... they've also re-imagined Sound Seafood, which is slinging things like local Dungeness crab rolls and Manny's Pale Ale-battered fish...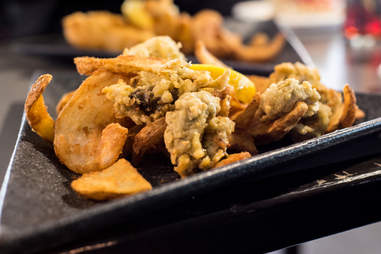 ... and chips that they're calling "sidewinders" 'cause of their curvy corkscrew-shape (the larger surface area makes 'em crispier, apparently), which're also served with fried oysters.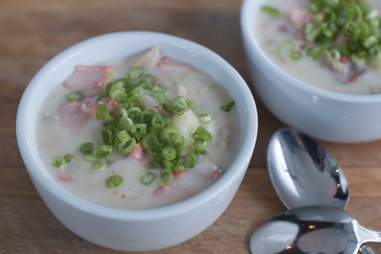 Stowell's also cooking up a classic housemade New England clam chowder that (sadly, unlike our baseball team) is better than what they've got in Boston.
To wash down all the new comestibles, Safeco's doing something places like Coors Field and Miller Park can't: serving over 50 different beers, 70% of which are craft options from places like Fremont Brewing, Diamond Knot Craft, and...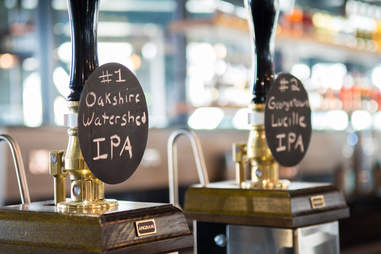 ... Georgetown Brewing, which is now pouring unfiltered and unpasteurized cask-conditioned ales in the "Power Alley" behind home plate, a first for Safeco Field. 
And finally, Rob Roy's Anu Apte is using a slew of local distillates from Woodinville Whiskey Company, Rogue, and Fremont Mischief, etc. to create hand-crafted versions of what you need most after watching most Mariners games... a drink.